Aprons/Pot Holders/Pillows/Etc
Did you get your sewing machines out and ready for this week with Kim? I know I did. If you missed part 1 from last week go check it out! Now on with Kim's lesson and rad coaster tutorial… -Sara
sewing 101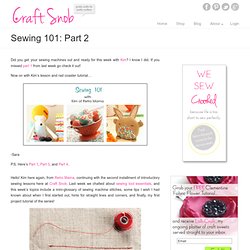 Grocery Bag Dispenser Tutorial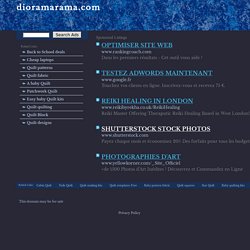 :: December 31, 2006 Grocery Bag Dispenser Tutorial I made and gifted a handful of these grocery bag dispenser-things to go with some more hot mitts I made from the Denyse Schmidt book. They are VERY easy and quick -- and so close in spirit to the toilet paper cozy-type grandma crafts that I hesitated drawing up a tutorial for them, but what the hey. Prepare a rectangle of fabric, approximately 18" by 30".
Placemat Pattern! | Handmade by Alissa
ChickenSense
I'm sure you probably guessed that this craft was mine: Bright, cheery gingham. Love it! Here's how you can make a some of your own. For each placemat, you'll need: 2 pieces of fabric, 15.5" x 20.5" each
a pretty cool life.: SYTYC audition craft: Gingham Placemats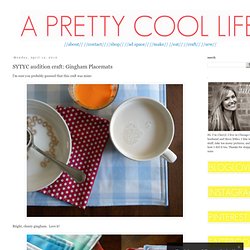 If you weren't able to make it to our free mini-class on how to make potholders, or you just want a reminder of what we covered in the class, check out the tutorial below. Potholders are a quick and easy way to brighten up your kitchen decor! To make these cute-as-a-button potholders, you'll need: Two 12″ x 12″ squares of plain 100% cotton fabric (we used white muslin)One 12″ x 12″ square of 100% cotton battingOne 10″ x 10″ square of cute 100% cotton print fabricTwo 10″ x 10″ squares of Insul-Bright battingOne yard 1/2″ double fold bias tapeThread in a color that will stand out against your plain fabric, we are currently loving the Mettler Neon threads!
Potholder Tutorial and the Fusible Thread Trick! | Modern Domestic | Portland, OR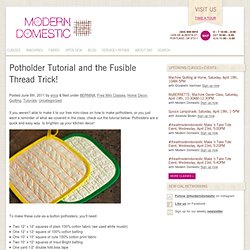 Kitchen/Dining
married to a bmw Free Sewing Patterns: Kitchen + Dining 06. February 2009 · Write a comment · Categories: Sewing Back to Free Sewing Patterns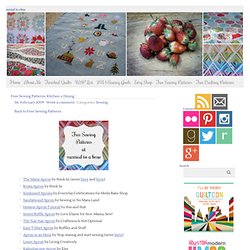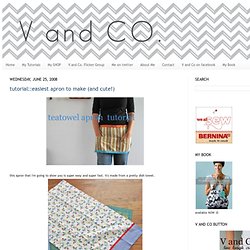 :easiest apron to make (and cute!)
this apron that i'm going to show you is super easy and super fast. it's made from a pretty dish towel. buy your dish towel (mine were on clearance for $1.50 each) this one measures 18 inches by 28 inches (rectangle towels only) fold up your towel just like the picture (in the middle fold up and then fold down halfway again) press your towel for good creases pin your sides down...
Totes make great handmade gifts. Here is a Tuesday Ten that shows a round-up of lovely totes. If you love to sew you might also like these free sewing tutorials right here on Skip to my Lou! Every tote needs a matching pouch.