Tools
Web 2.0 tools
Ways to Evaluate Educational Apps. I am conducting a series of workshops in Florida and was asked to share a rubric to help teachers evaluate educational apps as part of the workshop.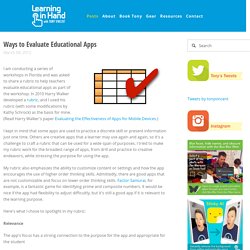 In 2010 Harry Walker developed a rubric, and I used his rubric (with some modifications by Kathy Schrock) as the basis for mine. (Read Harry Walker's paper Evaluating the Effectiveness of Apps for Mobile Devices.) I kept in mind that some apps are used to practice a discrete skill or present information just one time. Others are creative apps that a learner may use again and again, so it's a challenge to craft a rubric that can be used for a wide span of purposes.
Elearning
Maths. Videoconference. MOBILETOOLS. Posterous - uma extensão da sua sala de aula... O Posterous é uma óptima ferramenta educativa que permite agregar e partilhar os mais diversos conteúdos com um grupo/ turma.
O mais difícil de encontrar nesta aplicação são desvantagens, podemos fazer quase tudo com o Posterous . O registo e configuração da conta são feitos de forma muito rápida e intuitiva. Biblioteca Digital Camões. Seja bem-vindo/a à Biblioteca Digital Camões!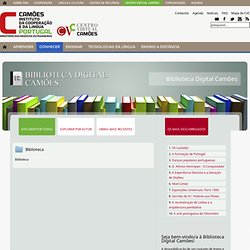 A disponibilização de um conjunto de textos e documentos de grande relevância cultural e linguística insere-se na missão do Instituto Camões: A promoção da língua e cultura portuguesas, de que se vem ocupando desde 1929. A Biblioteca Digital Camões pretende fazer chegar o Português a um universo cada vez mais amplo de falantes e estudantes do Português. Nos próximos meses receberá novos e diversificados parceiros, que a enriquecerão com as suas contribuições e cooperarão na preparação do Instituto Camões para o Séc.
XXI.
Tutorial
Messenger Plus! for Skype: Record video calls and enrich chatting experience. Windows Live Messenger has many features missing and those using Skype might just be well aware of it.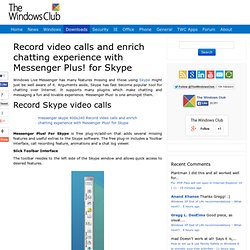 Arguments aside, Skype has fast become popular tool for chatting over Internet. It supports many plugins which make chatting and messaging a fun and lovable experience. Messenger Plus! Is one amongst them. Filetransfer. Presentation Software | Online Presentation Tools | Web Presentations | SlideRocket. Mentimeter | Interact with your audience.
Conversors. Bookmarkrs. Photo Pin : Add Photos to Your Blog Posts. Pics4Learning–Imagens para a educação. Pics4Learning é um espaço do conceituado site Tech4Learning e consiste numa libraria de imagens e de fotos de utilização livre para a educação.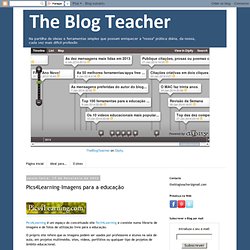 O próprio site refere que as imagens podem ser usados por professores e alunos na sala de aula, em projetos multimédia, sites, vídeos, portfólios ou qualquer tipo de projetos de âmbito educacional. Com imagens de muita qualidade o site agrupa estas em categorias. Este site pode ser adicionado a outros que aqui já abordei e que permitem aos alunos a utilização livre das imagens, algo que como refiro por vezes lhes custa a perceber, está na net, é livre… Outros sites: Compfight. Online tools and applications - Go2web20. The 35 Best Web 2.0 Classroom Tools Chosen By You. 100 Web 2.0 Tools Every Teacher Should Know About 44.24K Views 0 Likes We're always trying to figure out the best tools for teachers, trends in the education technology industry, and generally doing our darnedest to bring you new and exciting ways to enhance the classroom.
But I wanted t... Discovery Education: Web 2.0 Tools. eLearning Club 01 · flpires. Edição multimédia do The Blog Teacher, #3. Já se encontra disponível a edição #3 de Janeiro de 2012 do The Blog Teacher.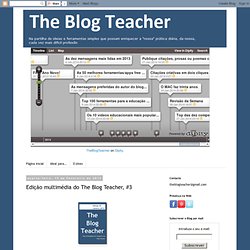 A edição multimédia do blogue é composta por duas secções: Tools, webapps e webservices e, Multimédia and other stuff… Tal cmo as edições anteriores, a edição multimédia não contém todos os posts que coloquei no blogue durante todo o mês, mas sim aqueles que se encaixam nas secções anteriores, contemplando 90% dos posts. Devido ao seu formato, o conteúdo dos posts não é completamente visível, mas oThemeefy tem junto ao número da página dois ícones que permitem aceder diretamente ao post. Secure Social Learning Network for Teachers and Students.
---