Exercise
Tai Chi for Arthritis by Dr. Paul Lam is proven to improve pain
Dr. Fuhrman's Women's Daily Formula +D3 Multivitamin & Mineral Supplement Designed specifically for women Women's Daily Formula begins with the basic formulation similar to Gentle Care and contains maitake mushroom blend extract (beta-glucan), known for its ability to support immune defenses, helping to prevent breast cancer. Also included is a small amount of taurine, an amino acid that may improve athletic performance in physically active women, especially those who follow a plant-based diet. Dr.
Shop | Dr Fuhrman.com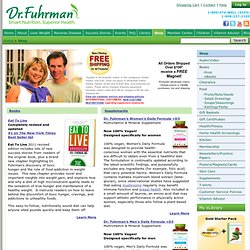 Walking in High Heels
Though many of us love high heels, others don't wear them very often. Some are intimidated by high heels, while others have just never had the occasion to wear high heels. Either way, when a "high heel occasion" rears its ugly head, many will stay home with their trusted friend, the sneaker. If fear is keeping you out of the high heels you covet, set your phobias aside!