Future of TV
Newspapers overtake broadcasters in video streaming. Newspaper sites have overtaken broadcaster sites in the number of videos uploaded, according to a report by Brightcove and TubeMogul.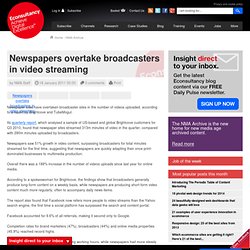 Its quarterly report, which analysed a sample of US-based and global Brightcove customers for Q3 2010, found that newspaper sites streamed 313m minutes of video in the quarter, compared with 290m minutes uploaded by broadcasters. Newspapers saw 51% growth in video content, surpassing broadcasters for total minutes streamed for the first time, suggesting that newspapers are quickly adapting their once print-dominated businesses to multimedia production. What I'm learning about TV and celebrity styling (Part 1) | The Reluctant Stylista.
There's a reason why I love styling for photoshoots the best.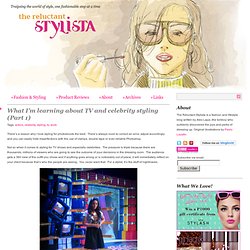 There's always room to correct an error, adjust accordingly and you can easily hide imperfections with the use of clamps, double tape or ever-reliable Photoshop. Not so when it comes to styling for TV shows and especially celebrities. The pressure is triple because there are thousands, millions of viewers who are going to see the outcome of your decisions in the dressing room. The audience gets a 360 view of the outfit you chose and if anything goes wrong or is noticeably out of place, it will immediately reflect on your client because that's who the people are seeing.
Faites Les News.
Convergence strategy at U.K.'s Channel 4 - Entertainment News, T. Under new management, the U.K.'s ad-funded pubcaster Channel 4 has embarked on a quest for "creative renewal" at a time of economic stagnation.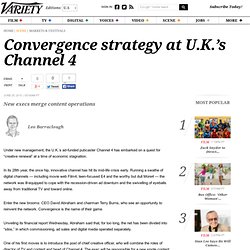 In its 28th year, the once hip, innovative channel has hit its mid-life crisis early. Running a swathe of digital channels — including movie web Film4, teen-focused E4 and the worthy but dull More4 — the network was ill-equipped to cope with the recession-driven ad downturn and the swivelling of eyeballs away from traditional TV and toward online. Enter the new brooms: CEO David Abraham and chairman Terry Burns, who see an opportunity to reinvent the network. Convergence is the name of their game. Rodolphe Belmer : modèles low-cost vs niches. TV aidé par le net. Jamais les audiences n'ont été aussi élevées.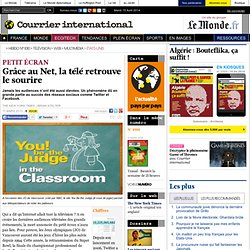 Un phénomène dû en grande partie au succès des réseaux sociaux comme Twitter et Facebook. Qui a dit qu'Internet allait tuer la télévision ? A en croire les dernières audiences télévisées des grands événements, la mort annoncée du petit écran n'aura pas lieu. Pour preuve, les Jeux olympiques (JO) de Vancouver auront été les jeux d'hiver les plus suivis depuis 1994. Cette année, la retransmission du Super Bowl, la finale du championnat professionnel de football américain, a battu tous les records d'audience aux Etats-Unis, du jamais-vu depuis 1983 avec le dernier épisode de M.A.S.H.
Case studies Brand content
Tendances marketing internet 2010 et outils de mesures. Dans le cadre de ma maitrise en commerce électronique à Montréal, j'ai fait beaucoup de recherches sur ces tendances.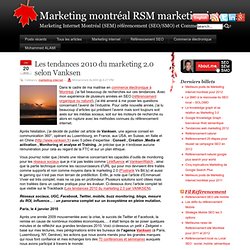 Avec mon expérience de plusieurs années en SEO (référencement organique ou naturel), j'ai été amené à me poser les questions concernant l'avenir de l'industrie. Pour cette nouvelle année, j'ai lu beaucoup d'articles qui prédisent l'avenir mais sont toujours soit axés sur les médias sociaux, soit sur les moteurs de recherche ou alors en rupture avec les méthodes connues du référencement internet. Après hésitation, j'ai décidé de publier cet article de Vanksen, une agence conseil en communication 360°, opérant au Luxembourg, en France, aux USA, en Suisse, en Italie et en Chine ( avec 5 pôles d'expertise : Conseil , Création ,Media et activation , Monitoring et analyse et Training. Advertising Entertainment: Transmedia Goes Mainstream - Branded.
With more and more people watching TV on the Internet, reading magazines on their e-reader and playing games on their smart phone, the terms "old media" and "new media" are becoming meaningless.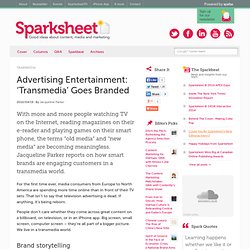 Jacqueline Parker reports on how smart brands are engaging customers in a transmedia world. For the first time ever, media consumers from Europe to North America are spending more time online than in front of their TV sets. That isn't to say that television advertising is dead. NetStrategies. Internet Marketing — NetStrategies Hiring an Internet Marketing Intern NetStrategies is hiring an Internet marketing intern for the fall semester.
You will have the opportunity to learn and grow in one or more of the following areas: Google AnalyticsSearch engine optimizationPay per click advertisingSocial-media managementOnline-reputation managementBloggingWebsite writing and content creationWebsite video productionOnline engagement You will receive:
---