Facebook
Facebook-Instagram Acquisition (April 2012): What was it about Instagram that made it worth a $1B acquisition by Facebook
Facebook not only is on course to go bust but will take the rest of the ad-supported Web with it. Given its vast cash reserves and the glacial pace of business reckonings, this assertion will sound exaggerated. But that doesn't mean it isn't true. At the heart of the Internet business is one of the great business fallacies of our time: that the Web, with all its targeting abilities, can be a more efficient, and hence more profitable, advertising medium than traditional media. Facebook, with its 900 million users, its valuation of around $60 billion (as of early June), and a business derived primarily from fairly traditional online advertising, is now at the heart of the heart of this fallacy.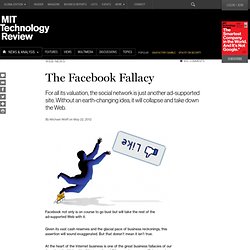 The Facebook Fallacy
This Is Why You Were Friended or Unfriended [STUDY]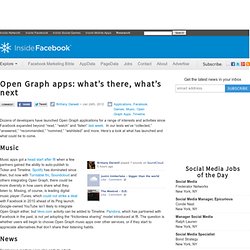 Inside Facebook · Open Graph apps: what's there, what's next
Dozens of developers have launched Open Graph applications for a range of interests and activities since Facebook expanded beyond "read," "watch" and "listen" last week . In our tests we've "collected," "answered," "recommended," "nommed," "wishlisted" and more. Here's a look at what has launched and what could be to come. Music Music apps got a head start after f8 when a few partners gained the ability to auto-publish to Ticker and Timeline. Spotify has dominated since then, but now with Turntable.fm , Soundcloud and others integrating Open Graph, there could be more diversity in how users share what they listen to.
What's an average day like on Facebook? Using data from a 2011 study by the Pew Internet and American Life Project , Jess3, a creative agency, has created a new infographic that paints a portrait of who's using Facebook and how. The colorful visualization highlights the commenting, photo-uploading, "liking," and messaging that goes on on Facebook and presents some interesting stats about U.S. users on the social network.
The Average Facebook User: Stats Show How We Use The Site (INFOGRAPHIC)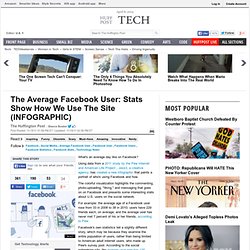 Facebook, le réseau social que tous les marketeurs ciblent pour leurs actions. Actions au travers des pages fans qui permettent "gratuitement" d'avoir un espace de visibilité. Par Cédric Deniaud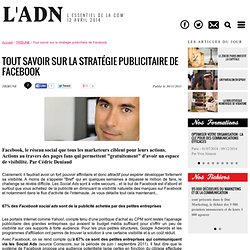 The Business Behind Facebook [INFOGRAPHIC]
Social networking: Failure to connect | Media
T he first time I joined Facebook , I had to quit again immediately. It was my first week of university. I was alone, along with thousands of other students, in a sea of club nights and quizzes and tedious conversations about other people's A-levels. This was back when the site was exclusively for students. I had been told, in no uncertain terms, that joining was mandatory.
Facebook for Business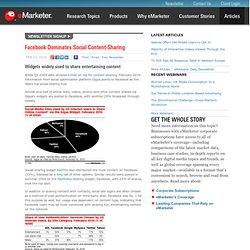 While Q3 2009 data showed e-mail on top for content-sharing , February 2010 information from social optimization platform Gigya points to Facebook as the Web's top social sharing hub. Almost one-half of article links, videos, photos and other content shared via Gigya's widgets are posted to Facebook, with another 29% broadcast through tweets. Social sharing widget AddThis also distributed the most content on Facebook (33%), followed by a long tail of other options.
Facebook Dominates Social Content-Sharing
Facebook mobile compte cent millions d'utilisateurs
Tim Berners-Lee Calls Facebook a Walled Garden - Is That Fair?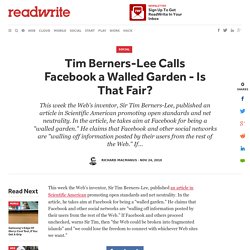 This week the Web's inventor, Sir Tim Berners-Lee, published an article in Scientific American promoting open standards and net neutrality. In the article, he takes aim at Facebook for being a "walled garden." He claims that Facebook and other social networks are "walling off information posted by their users from the rest of the Web."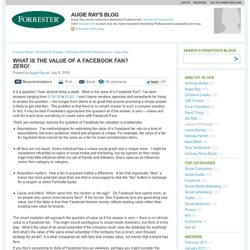 What is the value of a Facebook Fan? Zero!
It is a question I hear several times a week: What is the value of a Facebook Fan? I've seen answers ranging from $136.38 to $3.60 . I can't blame vendors, agencies and consultants for trying to answer the question -- the hunger from clients is so great that anyone promising a simple answer is likely to get attention. The problem is that there is no simple answer to such a complex question. In fact, it may be best if marketers approached this question as if the answer is zero -- unless and until the brand does something to create value with Facebook Fans. There are numerous reasons the question of Facebook fan valuation is problematic:
Facebook Growth Stats Tell Some Stories
Confidentalité / Sécurité sur Facebook
When a service such as Facebook limits users' creative freedom, it is inevitable that other add-on services will overcome this limitation. This is why then, we see more and more Facebook tab apps that give us more control and freedom when it comes to customizing a fan page or a personal profile. I can't really understand why Facebook doesn't create an editor that lets users create a super fan page. I can only guess they don't want to deal with it and prefer their uniform design, which may be boring but at least it is consistent and familiar. Instead, Facebook lets other people get creative and offer an array of Facebook related apps built on the API. In any case, you must know this by now: A personalized page can drive more attention and probably, more traffic to your brand.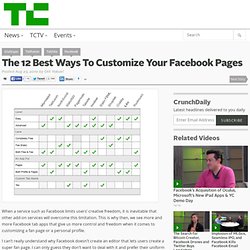 The Business Model Database (tbmdb.com) - A blog about business models