Entertainment
The Witspotter's Top TV Shows in Social Media
London 2012.com olympic games digital round up 13 august 2012
Last week, we wrote about the social media campaign Paramount was using with the low-budget horror film, "Paranormal Activity." Although the goal of 1,000,000 requests for wide-release was met, the real test of the campaign's success came over the weekend. The results? Spectacular . The film expanded to 160 screens and averaged $49,379 per screen. That's the highest per-screen average ever for a film playing in more than 100 theaters.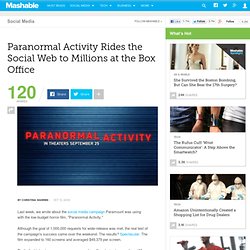 Paranormal Activity Rides the Social Web to Millions at the Box Office
Se ruer vers le kiosque pour acheter le dernier Closer ou Public et se délecter des derniers clichés de ses stars préférées n'est dorénavant plus nécessaire. Il suffit d'être sur Facebook ou Twitter. La fièvre des réseaux sociaux s'est aussi emparée du star-system Outre-Atlantique, à l'instar d'Eva Longoria-Parker qui partage de manière très décomplexée son intimité avec plus de 580 000 fans à travers sa page Facebook et ses quelques 400 000 followers sur Twitter : on y trouve pêle-mêle des photos d'un dîner aux chandelles à Paris, d'une visite chez le dentiste, de moments de shopping à Madrid (parce qu'elle le vaut bien), de poses langoureuses sur un yacht en Croatie…
Les stars du show business et les réseaux sociaux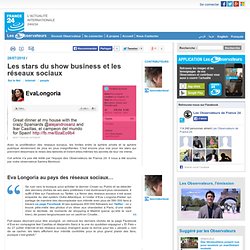 Updated: The Giant's fourth-quarter victory help the Super Bowl become the biggest social TV event in history so far. Bluefin Labs says it counted 12.2 million social media comments, surpassing the previous all-time record high of 3 million held by the MTV VMAs. Trendrr said this year's Super Bowl had approximately 5X the social activity over last year.
The biggest social media moments of the Super Bowl