Hanmadeology
Writing Expert Product Descriptions for Your Etsy Shop. Fabric Fiber Brooch Pin Hand Embroidered Queen Annes Lace Textile by: waterrose Writing Expert Product Descriptions for Your Etsy Shop Great product descriptions are pivotal to engaging customers and helping them to understand what is so special about your product and why they need to purchase it.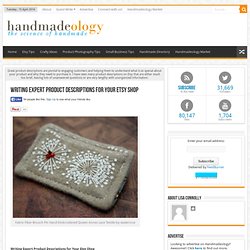 I have seen many product descriptions on Etsy that are either much too brief, leaving lots of unanswered questions or are very lengthy with unorganized information. It takes practice to master the creation of a strong description. 10 Things Buyers Are Looking For On Your Product Pages. Feathery Plumes No. 22 watercolor painting When shopping online, your customers don't have the luxury of trying on your products, touching them, feeling them or asking you questions about them.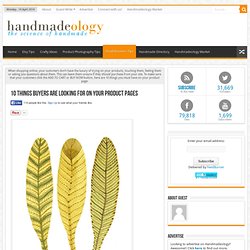 This can leave them unsure if they should purchase from your site. To make sure that your customers click the ADD TO CART or BUY NOW button, here are 10 things you must have on your product page: The middle finger project » Key to Money-Makin' Bliss: Don't Just Sell Your Stuff. STRUT Your Stuff. We need to talk.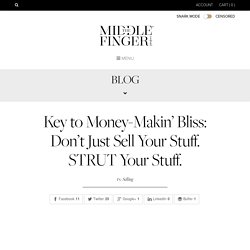 (Did you just cringe a little?) Don't worry. What we need to talk about are your selling strategies. Starting an Etsy Shop? Here are 8 Articles You Must Read First. Gypsy earrings – handmade chandelier earrings – Gypsy, Yellow Article by: Jenny Hoople Lots of people have been asking me lately what they should know about setting up a shop on Etsy.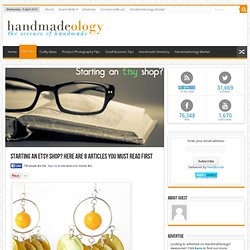 Here I've gathered together the articles that have been golden nuggets of advice for me in a sea of information. Know at the beginning that making amazing products is only half the battle, the other half of your time will be making sure that the right people are aware of them. I've found that the marketing part of owning an indie craft business is just as fun and creative as the making part. The Most Important Part of Your Creative Business. Make Time Square Tile Magnet by: 26MileStones Have you guessed it already?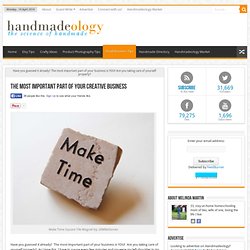 The most important part of your business is YOU! Are you taking care of yourself properly? As I type this, I have to pause every few minutes and squeeze my left shoulder to try to bring some relief to what I think is a pinched nerve, caused by all of the sitting and typing and browsing and sewing I've been doing. The Ultimate Craft Show Preparation Link List. How-to Place a Button On Your Blog. So, you have seen the beautiful squares on blog sidebars with the unreadable HTML code underneath and have read the blog authors' words encouraging you to GRAB THEIR BUTTON!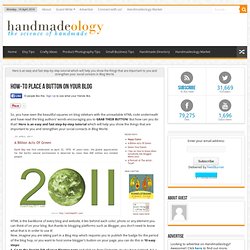 But how can you do that? Here is an easy and fast step-by-step tutorial which will help you show the things that are important to you and strengthen your social contacts in Blog World. HTML is the backbone of every blog and website, it lies behind each color, photo or any element you can think of on your blog. But thanks to blogging platforms such as Blogger, you don't need to know what that is in order to use it! 10 Blogging Tips to Increase Sales. Vixen Fox Necklace.
Modern Sterling Silver pendant. by: Joannarutter Anyone who has ever started a blog knows that the saying "build it and they will come" is a myth.
---