Hanmadeology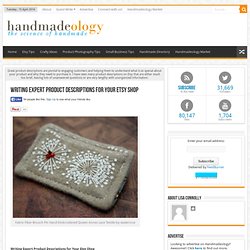 Writing Expert Product Descriptions for Your Etsy Shop
Fabric Fiber Brooch Pin Hand Embroidered Queen Annes Lace Textile by: waterrose
10 Things Buyers Are Looking For On Your Product Pages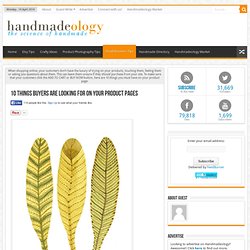 Feathery Plumes No. 22 watercolor painting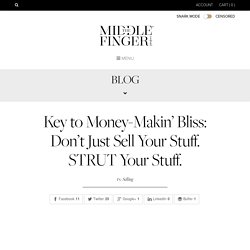 the middle finger project » Key to Money-Makin' Bliss: Don't Just Sell Your Stuff. STRUT Your Stuff.
We need to talk.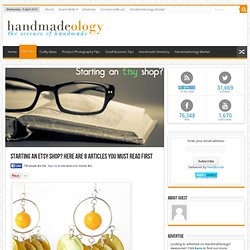 Gypsy earrings - handmade chandelier earrings - Gypsy, Yellow Article by: Jenny Hoople Lots of people have been asking me lately what they should know about setting up a shop on Etsy. Here I've gathered together the articles that have been golden nuggets of advice for me in a sea of information. Know at the beginning that making amazing products is only half the battle, the other half of your time will be making sure that the right people are aware of them. I've found that the marketing part of owning an indie craft business is just as fun and creative as the making part.
The Most Important Part of Your Creative Business
Make Time Square Tile Magnet by: 26MileStones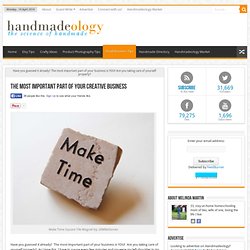 The Ultimate Craft Show Preparation Link List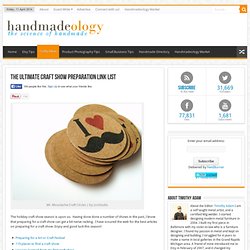 Posts Handmadeology The Science Of Handmade 05. Dec, 2011 13 Comments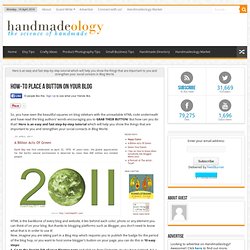 How-to Place a Button On Your Blog
So, you have seen the beautiful squares on blog sidebars with the unreadable HTML code underneath and have read the blog authors' words encouraging you to GRAB THEIR BUTTON!
Vixen Fox Necklace. Modern Sterling Silver pendant. by: Joannarutter Anyone who has ever started a blog knows that the saying "build it and they will come" is a myth.
10 Blogging Tips to Increase Sales