Totally Random
- StumbleUpon. Stereomood - emotional internet radio - music for my mood and activities. Exciting Links for Boring Days. Robot For President YouTube - Hitler Banned From iSketch!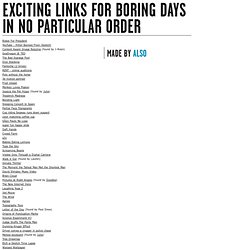 Content Aware Image Resizing (found by J-Roen)SeaDragon @ TEDThe Bad Signage PoolDice StackingFantoche (2 times)RENT - online auditionsPolo without the horse3d motion portraitFruit VesselMonkey Loves PigeonJessica the Pet Hippo (found by Julia)Treadmill MadnessBending LightSleeping Concert In SpainPartial Face TransplantsCop riding Segway runs down suspectcolor matching coffee cupSão Paulo No Logosuper fun happy slide Daft HandsCrowd FarmzZzBabies Eating LemonsType the SkyScreaming BeansVisible Only Through a Digital CameraWalk it Out (found by Lauren)Inmate ThrillerThe Moment the Tallest Man Met the Shortest ManDavid Shrigley Music VideoBrain CloudPictures at Right Angles (found by Doodles)The New Internet HeroLaughing Yoga 2Jed MovieThe WindApneeTypography ToysLetter of the Day (found by Paul Drew)Origins of Punctuation Marks.
Compassion Pit. TrickedOutTimeline - Create the coolest Facebook Timelines, Cover Photos and Profile Photos, and wow your friends! True Facts. Facts - interesting, provocative, well-seasoned One out of ten children in Europe are conceived on an IKEA bed.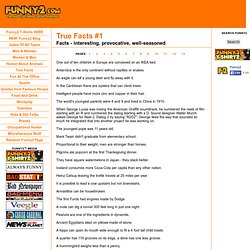 Antarctica is the only continent without reptiles or snakes. An eagle can kill a young deer and fly away with it. In the Caribbean there are oysters that can climb trees. Intelligent people have more zinc and copper in their hair. Amazing Fact Generator - StumbleUpon.
---