Guitar Stuff
In Your Arms Chords by Kina Grannis. Dream Chords by Priscilla Ahn. Beautiful Disaster Chords (ver 2) by Jon Mclaughlin. Sing-Along, Folk, &Rock Guitar Songs (chords &lyrics) This simple, elegant, printable online songbook, with chords and lyrics for many of my favorite songs, began as a binder of typewritten songs that my mom assembled before I was born.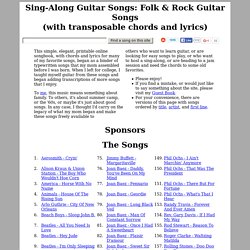 When I left for college, I taught myself guitar from these songs and began adding transcriptions of more songs that I enjoy. To me , this music means something about family. To others, it's about summer camp, or the '60s, or maybe it's just about good songs. Runaway Train Chords by Busted. Viva La Vida Chords by Coldplay. I Wont Give Up Chords (ver 3) by Jason Mraz.
The Best Day Chords (ver 7) by Taylor Swift. Hey There Delilah Chords (ver 4) by Plain White Ts. Good Riddance Time Of Your Life Chords (ver 3) by Green Day. American Honey Chords by Lady Antebellum.
---