Musiques
Grooveshark Mobile Music. ZEBRA. DJ Zebra. Un article de Wikipédia, l'encyclopédie libre.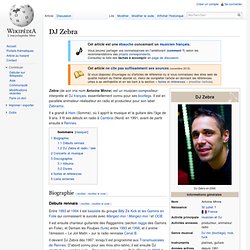 DJ Zebra DJ Zebra en 2006 Biographie[modifier | modifier le code] Débuts rennais[modifier | modifier le code] Il est ensuite chanteur-guitariste des Raggamins (section ragga des Gamins en Folie), et Demain les Poulpes (funk) entre 1993 et 1998, et il anime l'émission « Le Joli Matin » sur la radio rennaise Canal B. EARMILK.COM. NO CLUE ENTERTAINMENT sur Myspace. Youngunz. DIGIKID84 sur Myspace Music - Ecoute gratuite de MP3, Photos et clips vidéos. DJ Earworm - Music Mashups. Le blog de Paul a.k.a. Yo.K. iTunes - Everything you need to be entertained. Chaîne de jonsapp83. Topito : le site des petites top listes et classements - humour, insolite, utile, et découverte ! Make Your Own Ringtones Online - Free Ringtone Maker.
Beemp3.com - MP3 Search & Free MP3 Downloads. HipHopThugz.com - Mixtapes | Mix Tapes | Mixtape.
---