Bijoux
DIY Embellished Friendship Bracelets. The weather is warming up and my wrists are feeling rather lonely and bare after hiding under long sleeves all season long.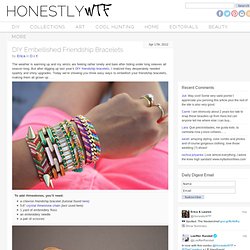 But after digging up last year's DIY friendship bracelets, I realized they desperately needed sparkly and shiny upgrades. Today we're showing you three easy ways to embellish your friendship bracelets, making them all grown up . . . Utility Cord Bangle. ANNOUNCEMENT: A select number of these bracelets are available for sale here.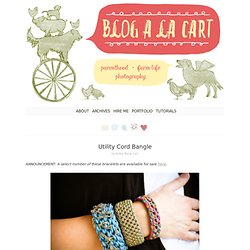 I know, I know. ENOUGH ALREADY WITH THE UTILITY CORD AND BRACELETS! I couldn't resist! I had extra utility cord lying around from last week's project, and was highly inspired by these Orly Genger bangles. Thus, today's latest DIY accessory. DIY Geometric Necklace. Happy Friday!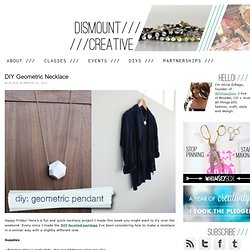 Here's a fun and quick necklace project I made this week you might want to try over the weekend. Every since I made the DIY faceted earrings I've been considering how to make a necklace in a similar way with a slightly different look. DIY Braided Bead Bracelet. It's been awhile since our last bracelet DIY.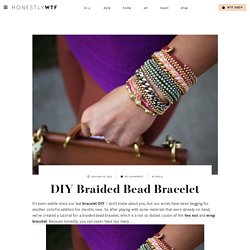 I don't know about you, but our wrists have been begging for another colorful addition for months now. So after playing with some materials that were already on hand, we've created a tutorial for a braided bead bracelet, which is a not so distant cousin of the hex nut and wrap bracelet. Because honestly, you can never have too many . . . You'll need: Cut the waxed linen cord into a 26″ and 19″ piece. DIY Braided Hex Nut Bracelet.
We're nuts for nuts.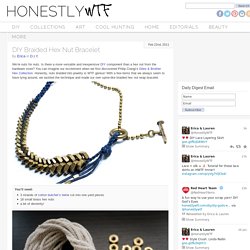 Is there a more versatile and inexpensive DIY component than a hex nut from the hardware store? You can imagine our excitement when we first discovered Philip Crangi's Giles & Brother Hex Collection. Honestly, nuts braided into jewelry is WTF genius! With a few items that we always seem to have lying around, we tackled the technique and made our own spine-like braided hex nut wrap bracelet. DIY Beaded Bracelet « greeneyed.com. ANNOUNCEMENT: A select number of these bracelets are available for sale here.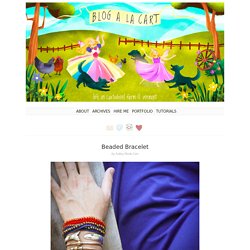 I'm super excited to share this project with you, as it has been over two weeks in the making. I fussed around with many a mini-crochet needle and embroidery thread, and my house is now littered with bitty seed beads, to arrive at what I think is my favorite and most unique tutorial yet! Woo hoo! Materials: Embroidery thread (I used 6 stranded thread) Crochet hook size 1 (2.75mm) Seed beads Jewelry clasps Needle Scissors Directions: Note: This pattern is for a bracelet that measures 6.5″ at completion. DIY: How to make a friendship bracelet. DIY BRACELETS. There has been so much chitter chatter on pinterest lately about the stacking bracelet trend (or as some people call it - "an arm party") and I think I am jumping on the bandwagon.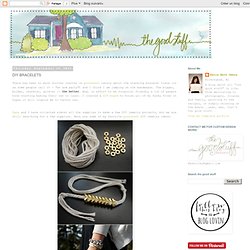 The bigger, bolder, chunkier, gold-er :: the better. And, in effort to be financial friendly a lot of people have starting making their own to layer. I created a DIY board to house all of my funky finds in hopes it will inspire me to tackle one.Dana and I have collected almost all the supplies to make a few DIY jewelry projects, but we are still searching for a few supplies. DIY $220 Bracelet for $5 | henry happened.
DIY Friendship Bracelet. For several months now, we've been receiving emails requesting a friendship bracelet DIY.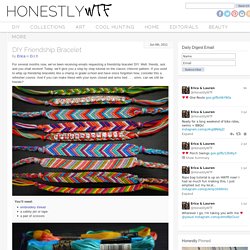 Well, friends, ask and you shall receive! Today, we'll give you a step by step tutorial on the classic chevron pattern. If you used to whip up friendship bracelets like a champ in grade school and have since forgotten how, consider this a refresher course. And if you can make these with your eyes closed and arms tied . . . umm, can we still be friends? DIY Wrap Bracelet. You should all know by now that we are all about stacking bracelets on our wrists.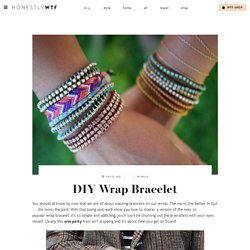 The more, the better. In fact . . . the most, the best! With that being said, we'll show you how to master a version of the ever so popular wrap bracelet. It's so simple and addicting, you'll soon be churning out these wristlets with your eyes closed. Clearly this arm party train isn't stopping and it's about time you get on board!
---