Art
15 janvier 2014 Mini-maisons d'artistes Je les ai regroupées sous ce titre, bien qu'elles aient été conçues avec des techniques différentes : La sculpture microscopique pour Willard Wigam, que je vous ai déjà présenté il y a quelques jours.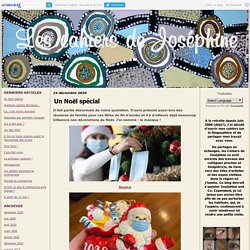 JEUX INTERACTIFS puzzles | BLOG de Monsieur Mathieu NDL Cycle2 Grande section CP CE1
My students will begin their 2014 Journals by dedicating one page to each Element of Art. Why do they need to know these elements, you might ask? It will help them develop their vocabulary and thought process so instead of saying, "That painting is pretty" students might say (and think) "That painting is pretty because the trees have so much form and the colors look so bright together". That kind of thoughtful analysis is needed in all areas of study, so why not support that with their art class too?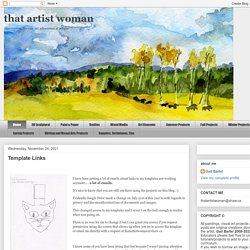 Here is another angel project. The unique thing about these angels is that a bottle, (recycled water bottle, pop bottle) forms the base. You can make small or large ones depending on what's in your recycle bin. MATERIALS REQUIRED:- plastic bottles, (water or pop), rinsed out and dried- paper, I'm using kraft paper but you can use wrapping paper, newspaper, whatever you have on hand- paint and markers- thin cardboard (cereal box)- string or cording- glue and tape- styrofoam ball for the head, you could also papier mach over foil ball or rolled newspaper ball- garland or ribbon for hairPROCEDURE: Take your bottles and cut off the bottom.
Pastels Plus Links to Tutorials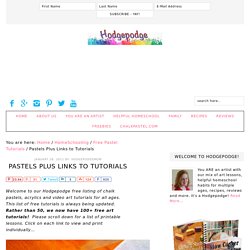 We love pastels. Nana has taught us to appreciate how beautiful and easy it is to use them. We even keep them close so we can use them for our nature journal entries. I've had a few questions about what pastels our children use and where to purchase them. So, I went to the expert – Nana! Below is a suggested list of resources.
This week we revisited our Famous Artist studies, and added Monet to our list! If you're new to our blog we've been using The World's Greatest Artist series to take a mini-survey of various artists and their work. It's a pretty low-key approach. We read the book. Look at the art. Then we make our own.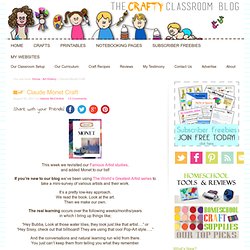 Claude Monet Craft « The Crafty Classroom