Art
Les cahiers de Joséphine. JEUX INTERACTIFS puzzles | BLOG de Monsieur Mathieu NDL Cycle2 Grande section CP CE1. Art Projects for Kids. Arts visuels. That artist woman. Pastels Plus Links to Tutorials.
Claude Monet Craft « The Crafty Classroom. This week we revisited our Famous Artist studies, and added Monet to our list!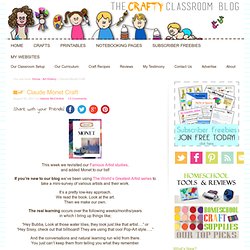 If you're new to our blog we've been using The World's Greatest Artist series to take a mini-survey of various artists and their work. It's a pretty low-key approach. We read the book. Look at the art. Then we make our own.
---