Lilapage
Lila Page
Library Media Specialist at Greene Central Schools, Greene NY
School Libraries: Maine State Library. The State of Maine Department of Education School Library/Technology Integration Coordinator provides professional services to ensure Maine students are digital citizens with the access and skills necessary to be information literate in a technological environment.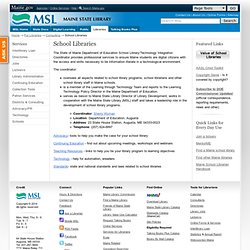 The coordinator: oversees all aspects related to school library programs, school librarians and other school library staff in Maine schools. Is a member of the Learning through Technology Team and reports to the Learning Technology Policy Director in the Maine Department of Education. Serves as liaison to Maine State Library Director of Library Development, works in cooperation with the Maine State Library (MSL) staff and takes a leadership role in the development of school library programs.
7m1.pdf (application/pdf Object)
Book Lists Historical Fiction
Radiolab / NPR | "Words" Information Fluency. Works Cited. Conferences. Libraries. Grant Opportunities. GSA Materials. Metadata. Infographics. Management. Education. Media Literacy Resources. Style Guides. Radiolab and NPR Present Words.
Lesson Plans & Ideas. Projects. Primary Source Documents and Activities. Ebooks. Grants. Fun Sites. Travel.
Legos. 1545_Pival.pdf (application/pdf Object)
Marcellus Shale. BYOD. Common Core. Public Libraries.
---