Scotlandyear
TSR Wiki > University > Choosing a University > University Guides > Edinburgh Napier University Edinburgh Napier University (formerly just Napier University) is a new university in Edinburgh, based around a number of campuses. It gained university status in 1992, but was formerly Napier Technical College (founded 1964). The four main campuses are Merchiston, Craighouse, Craiglockhart and Sighthill and they are all based in and around Edinburgh. Medical campuses exist at other locations around the city and several other buildings within Edinburgh are also used by the uni.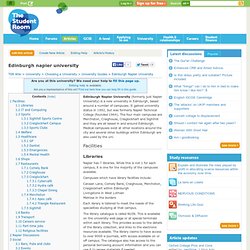 Edinburgh Napier University
37 Holyrood Road EdinburghEH8 8BA By day the Bongo Club is a cafe, exhibition and rehearsal space, by night it's a multi-functional, multi media venue for live music, theatre and clubs. In 2003 moved from the much-loved, but disintegrating site in New Street (behind Waverley Station) to its new location in Holyrood Road. It's a great club space on two levels, with stage for DJs and bands and grooving on the bottom and lounge/chilling bar with DJ upstairs.
The Bongo Club | EdinburghGuide.com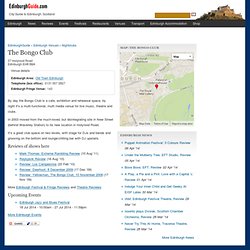 *Click on the pics for a link to Galleries* #notsosilent presents Joy Orbison & Roman Flugel Friday 22nd February The Blackout
Gallery | Liquid Room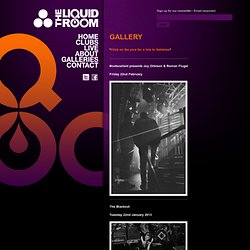 The Bongo Club - Edinburgh, Scotland
Cabaret Voltaire | EdinburghGuide.com
Cabaret Voltaire 36-38 Blair Street EdinburghEH1 1QR Cabaret Voltaire is one of Edinburgh's subterranean club and rock venues.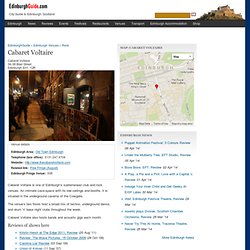 Préparation du TOEIC, Comment réussir le TOEIC ?
Des jeunes écossais confondent Hitler et un entraîneur de foot, actualité Insolites : Le Point
Un enfant sur vingt en Ecosse croit qu'Adolf Hitler était un entraîneur de l'équipe de football d'Allemagne, et 6% pensent que l'Holocauste est une commémoration de la fin de la Seconde guerre mondiale, selon une étude diffusée par une association d'anciens combattants. L'étude se présentant sous la forme d'un questionnaire à réponses multiples a été effectuée auprès de 2.000 enfants en prévision du 11 novembre, jour anniversaire de l'armistice ayant mis fin à la Première guerre mondiale en 1918. Les résultats révèlent que la majorité des enfants sondés a une connaissance sommaire des deux guerres mondiales, tandis qu'une importante minorité ignore complètement l'essentiel. Selon les résultats, 77% des enfants âgés de 9 à 15 ans savent qu'Hitler était le leader du parti nazi, mais 13,5% pensent qu'il a découvert le concept de gravité en 1650 et 5% sont persuadés qu'il a entraîné l'équipe d'Allemagne.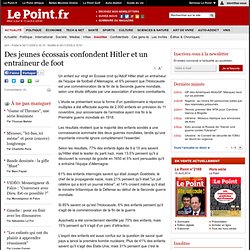 Edinburgh festival 2011 | Culture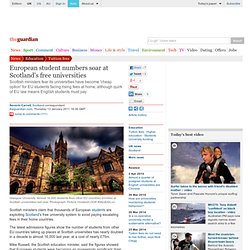 European student numbers soar at Scotland's free universities | Education
Glasgow University. Almost 16,000 students from other EU countries enrolled at Scottish universities last year. Photograph: Picture Hooked/LOOP IMAGES/Loo Scottish ministers claim that thousands of European students are exploiting Scotland's free university system to avoid paying escalating fees in their home countries. The latest admissions figures show the number of students from other EU countries taking up places at Scottish universities has nearly doubled in a decade to almost 16,000 last year, at a cost of nearly £75m. Mike Russell, the Scottish education minister, said the figures showed that European students were becoming an increasingly significant drain on the university sector at a time of deepening cuts in public spending.
Scotland
Come and discover Scotland, world-famous for its awesome scenery, vibrant culture and spectacular heritage. It's a land packed with brilliant moments, those sights, sounds and experiences that make your break truly memorable, especially in 2014, our Year of Homecoming. You're invited to join our year-long celebration of all that makes Scotland great and an amazing place to visit. Plan your break with great accommodation deals, helpful travel advice and inspiring ideas for what to see and do.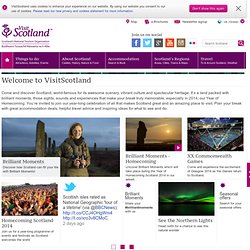 Home | VisitScotland SurpriseYourself
The page you are looking for can't be found. It may have moved, or it may no longer be available. Please try one of the options below: Check the Web address you entered to make sure that it's correct Try to access the page directly from the Home Page or Site Map, instead of using a bookmark. If it has moved, reset your bookmark. This information may be printed and reproduced provided it is copied unaltered and in its entirety, including UKCISA's logo, disclaimer, copyright statement and the reference to UKCISA's website as a source of further updates, and provided that no charge is made to any persons for copies.
Accommodation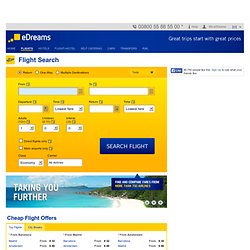 Please wait whilst we search for on the dates you selected: Searching... Aegean Airlines|Aer Lingus|Aigle Azur|Air Arabia Maroc|Air Berlin|Air Corsica|Air Europa|Air Italy|Air One|American Airlines|Blue Air|Blue Panorama|Brussels Airlines|Easyjet|Emirates|Germanwings|Jetairfly|Jetstar|Lan|Lot|Lufthansa|Meridiana|Monarch|Norwegian Air|Pegasus Airlines|Qatar|Renfe|Royal Air Maroc|Ryanair|SAS|Swiss Airlines|TAP|Transavia|Tunis Air|Turkish Airlines|United Airlines|US Airways|Volotea|Vueling|Wizz Air|Vietnam Airlines|Tarom|Finnair|TAM|Etihad|Virgin Atlantic Concorde Hotels|Best Western|Radisson Edwardian|Sol Melia Hotels|Mandarin Oriental|Derby Hotels Collection|Westin Hoteles|Hesperia|Le Meridien Hotels & Resorts|Maritim Hotels|The Ritz-Carlton Hotels|NH Hoteles|Starwood Hotels|Ibis Hotels|Sheraton Hotels & Resorts|Vincci Hotels|Westin Hotels & Resorts|Sokos Hotels|Occidental Hotels & Resorts|Marriot Hotels|Hoteles Silken|St. Regis Hotels|Golden Tulip|Starhotels|Ramada Int.
Select flights - eDreams
Education UK | Pays | La vie et la culture au Royaume-Uni
Education UK | Pays | Réductions pour les étudiants étrangers
Sunday roast
The Sunday roast is a traditional British and Irish main meal that is traditionally served on Sundays but can be eaten on any day of the week, consisting of roasted meat, roast potato or mashed potato,[citation needed] with accompaniments such as Yorkshire pudding, stuffing, vegetables and gravy. Other names for this meal are cooked dinner, Sunday dinner, Sunday lunch, Sunday tea, Roast dinner, and Sunday joint (joint referring specifically to the joint of meat). The meal is often comparable to a less grand version of a traditional Christmas dinner.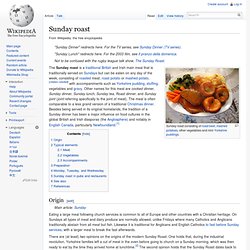 Edinburgh Napier University
Dashboard