Gamer -Geek
Wiki. Woot® : One Day, One Deal™ Dragon Language. This article is about Dragon Language.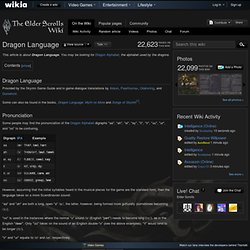 You may be looking for Dragon Alphabet, the alphabet used by the dragons. Dragon Language Some can also be found in the books, Dragon Language: Myth no More and Songs of Skyrim[1]. Pronunciation Some people may find the pronunciation of the Dragon Alphabet digraphs "aa", "ah", "ei", "ey", "ii", "ir", "uu", "ur", and "oo" to be confusing. Alchemy Ingredients - The Elder Scrolls V: Skyrim - Darliandor's Alchemy Lab.
Skyrim Alchemy Profitability Calculator. The Gamer's Alphabet. So, being the loyal readers that all of you are, you've seen our awesome Geek Alphabet, right?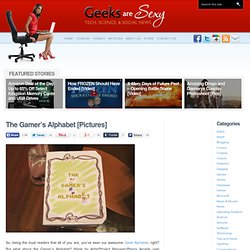 But what about the Gamer's Alphabet? Made by Artist/Project Manager/Penny Arcade user ElJeffe as a book for his daughter Madilyn, the Gamer's Alphabet illustrates each of the letters of the alphabet and pairs them with something related to the world of gaming. And when you read the whole thing from beginning to end, it makes a really geeky poem! Check it out: A is Atari, the first on the scene. The Cute Side of the Force. Art, Featured — By BB Admin on July 28, 2011 12:00 am A short time ago on a website not so far away… It is a period of creative chaos.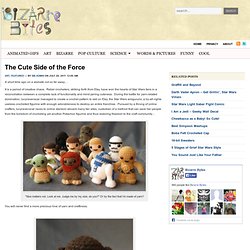 Rebel crocheters, striking forth from Etsy, have won the hearts of Star Wars fans in a reconciliation between a complete lack of functionality and mind-jarring cuteness. During the battle for yarn-related domination, lucyravenscar managed to create a crochet pattern to sell on Etsy, the Star Wars amigurumi, a by-all-rights useless crocheted figurine with enough adorableness to destroy an entire franchise. The Video Games of Today Reimagined in 8 and 16 Bits. Today's games are great, but they just don't carry the same immeasurable nostalgic value as, say, Chrono Trigger, Link's Awakening, or even Number Crunchers.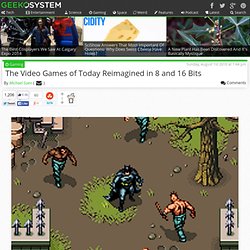 Now Stockholm-based pixel artist Junkboy has hypothesized for Swedish magazine Level what it might have looked like had contemporary games—Arkham Asylum, Bioshock, Guitar Hero, Little Big Planet, Red Dead Redemption, Super Smash Bros. Brawl, Soul Calibur, and more—existed in the golden age of 8- and 16-bit gaming. Of course, several of these games indeed had low-bit predecessors! Compare the full series of "demake" images to their modern originals, below. Gameroom. Metroid Wiki. NIWA - Nintendo Independent Wiki Alliance. Epic Animatronic Halo Elite costume. Long before digital effects appeared, animatronics was making cinematic history, we've seen some pretty epic ones in theme parks or movies back in the days and this one is no different.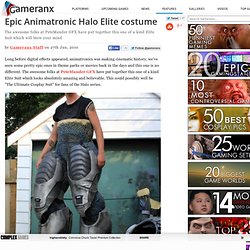 The awesome folks at PeteMander GFX have put together this one of a kind Elite Suit which looks absolutely amazing and believable. This could possibly well be "The Ultimate Cosplay Suit" for fans of the Halo series. via Device Magazine Stories from around the web. HBO Elite Namelizer. 70 Things Every Computer Geek Should Know. | Arrow Webzine. The term 'geek', once used to label a circus freak, has morphed in meaning over the years.
What was once an unusual profession transferred into a word indicating social awkwardness. As time has gone on, the word has yet again morphed to indicate a new type of individual: someone who is obsessive over one (or more) particular subjects, whether it be science, photography, electronics, computers, media, or any other field. Help.jpg (JPEG Image, 786x1000 pixels) - Scaled (64%) Awesome Xbox 360 Case Modifications. February 1, 2010 by Thomas Hardy As sleek as the original Xbox 360 design is it becomes pretty boring after a while, which is why a lot of people have customized theirs.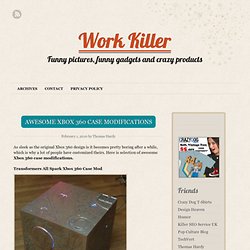 Here is selection of awesome Xbox 360 case modifications. Transformers All Spark Xbox 360 Case Mod. Fan made Iron Man suit is pretty freakin' great. Fan made Iron Man suit is pretty freakin' great Anthony Le is such a fan of Iron Man that he built his own War Machine outfit.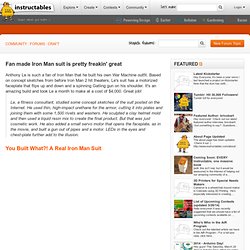 Based on concept sketches from before Iron Man 2 hit theaters, Le's suit has a motorized faceplate that flips up and down and a spinning Gatling gun on his shoulder. Hylian Shield: Zelda Ocarina of Time. Hylian Shield: Zelda Ocarina of Time This is Link's Hylian Shield from Zelda: Ocarina of Time.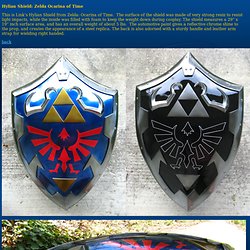 The surface of the shield was made of very strong resin to resist light impacts, while the inside was filled with foam to keep the weight down during cosplay. The shield measures a 29" x 19" inch surface area, and has an overall weight of about 5 lbs. The automotive paint gives a reflective chrome shine to the prop, and creates the appearance of a steel replica. The back is also adorned with a sturdy handle and leather arm strap for wielding right handed. The Vader Project. C O N S O L L E C T I O N. What Stormtroopers Do On Their Day Off – Part 2. Jeff Russell's STARSHIP DIMENSIONS.
---