DIY clothes and fabric stuff
» How to Make a Fabric Bow | Tutorial » Whipperberry. The Costumer's Guide to Movie Costumes. Eowyn "Shieldmaiden" Gown This Eowyn gown was used in the advertising for The Lord of the Rings: The Two Towers, but was cut from the movie.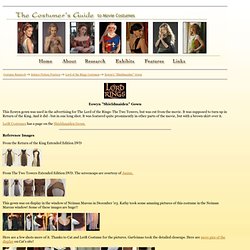 It was supposed to turn up in Return of the King. And it did - but in one long shot. Recycled glove chipmunk. Make a Dress from a Button-Down Shirt. If you don't already have an old shirt you can recycle for this purpose, you should be able to find one easily at a thrift store.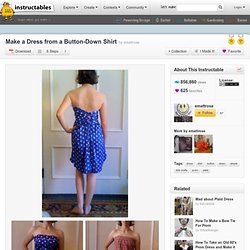 Hold the collar under your arms, and make sure it's long enough that you'll be comfortable wearing it as a dress. Short sleeves are ok, but make sure they're long to reach around your chest and overlap in the back. Also, try and find a shirt that has darts in the middle of the back. If the darts are at the shoulders, it won't fit as well. It seems like women's shirts mostly have darts in the middle, and men's shirts have darts at the shoulders. Large T-Shirt to Fitted Tee Tutorial | a.steed's.life. I have these two t-shirts that I love.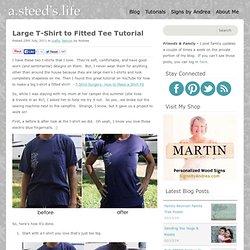 They're soft, comfortable, and have good worn (and sentimental) designs on them. But, I never wear them for anything other than around the house because they are large men's t-shirts and look completely shapeless on me. The 30 Minute $6 Dress Tutorial. Guest post by Rachael at Talk 2 the Trees.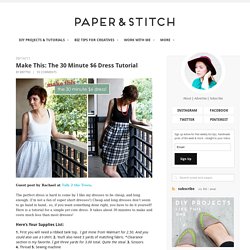 The perfect dress is hard to come by. I like my dresses to be cheap, and long enough. (I'm not a fan of super short dresses!) Cheap and long dresses don't seem to go hand in hand.. so, if you want something done right, you have to do it yourself! Here is a tutorial for a simple yet cute dress.
---