Classic
Play SNES games online (no download required) Portal: The Flash Version. Adventures of Lolo - Play the Nintendo game Adventures of Lolo online. Free Space Invaders. Free Tetris. Toss the Turtle. First-Person Tetris. Free online play. Classic video games online. Play FREE Arcade games! 1980s Shockwave, Flash, Java and DOS classic games for your PC. Brought to you by Triplets and Us. Play Mario Crossover Flash Game. Pacxon.
Additional Information: Use Pacman to capture sections of the board in Pacxon.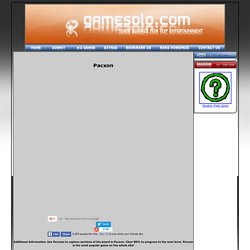 Clear 80% to progress to the next level. Pacxon is the most popular game on the whole site! Pacxon is the most popular game on the site. It's a classic combination of retro arcade games Pacman and Xonix. Pacman, is one of the most recognised and played arcade games in history.
---