Bakery
Chocolate Cheesecake Cake. Chocolate Cheesecake Cake You know how some people really don't get along well with their In-Laws?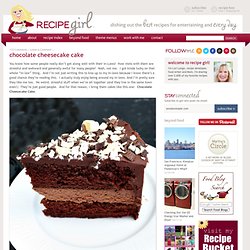 How visits with them are stressful and awkward and generally awful for many people? Yeah, not me. I got kinda lucky on that whole "in-law" thing. And I'm not just writing this to kiss-up to my in-laws because I know there's a good chance they're reading this. Apple Shaped Cupcakes. It's September, so apples are on the brain, can you tell?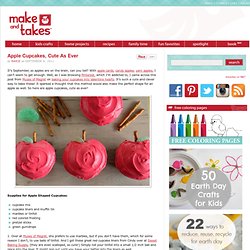 With apple cards, candy apples, yarn apples, I can't seem to get enough. Well, as I was browsing Pinterest, which I'm addicted to, I came across this post from Muses of Megret on baking your cupcakes into Valentine hearts. It's such a cute and clever way to bake these! It sparked a thought that this method would also make the perfect shape for an apple as well. Chocolate Wasted Cake. Ever since my brother started using the phrase "I wanna get chocolate wasted" from the movie Grown Ups, I've been wanting to make this cake for his birthday.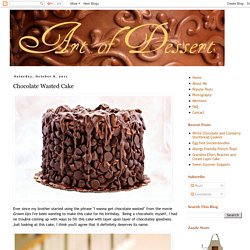 Being a chocoholic myself, I had no trouble coming up with ways to fill this cake with layer upon layer of chocolatey goodness. Just looking at this cake, I think you'll agree that it definitely deserves its name. Photo Credit: Ryan Rivera To create this chocolate beauty, I baked two layers of delicious chocolate cake. Chocolate Chip Cheesecake Dip « Slice & Dice. 6 Oct This dip might put me into rehab.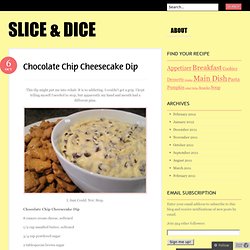 It is so addicting. Zebra cake recipe, Zebra Cheesecake recipe. You know the story - girl meets recipe and falls in love after seeing recipe across the crowded internet.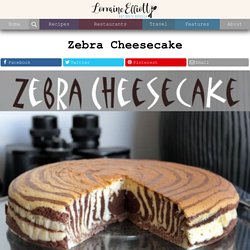 The recipe looks a bit different from what she is used to so girl is instantly intrigued. After the first tempting glimpse, girl can't get recipe out of her mind. Crazy Domestic: Popsicle Brownies. Here's a super fun and easy idea for kids or for a summer party!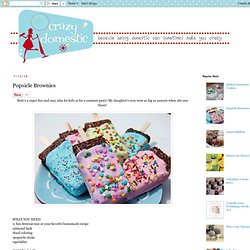 My daughter's eyes were as big as saucers when she saw these! WHAT YOU NEED:•1 box brownie mix or your favorite homemade recipe•almond bark•food coloring•popsicle sticks•sprinkles HOW TO DO IT:1. Make the brownies according to the directions and let them cool completely.2. Www.bulkbarn.ca. You don't have to be a pro to make these delicious holiday pops.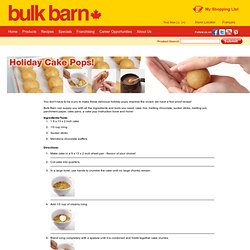 Impress the crowd, we have a fool proof recipe! Bulk Barn can supply you with all the ingredients and tools you need; cake mix, melting chocolate, sucker sticks, melting pot, parchment paper, cake pans, a cake pop instruction book and more! Ingredients/Tools: 1 9 x 13 x 2 inch cake 1/2 cup icing Sucker sticks Merckens chocolate waffersDirections: Make cake in a 9 x 13 x 2 inch sheet pan - flavour of your choice! Cut cake into quarters. In a large bowl, use hands to crumble the cake until no large chunks remain.
Icings Recipes at Bake Decorate Celebrate! Gingerbreads Heads. The season of giving will be upon us in just a few short days.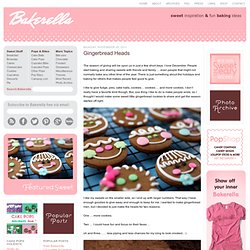 I love December. People start baking and sharing sweets with friends and family … even people that might not normally bake any other time of the year. There is just something about the holidays and baking for others that makes people feel good to give. Cute & Easy Mini Santa Hat Brownies.
*Post Edit:- I had forgotten to mention the step where the sugar goes in the recipe image below….as pointed out by several people in the comments.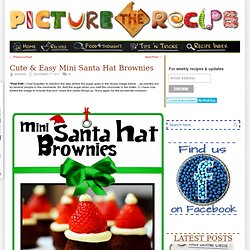 So, Add the sugar when you melt the chocolate in the butter. =) I have now edited the image to include that and I hope this clears things up. Sorry again for the accidental omission. Makes: 48 mini muffin sized brownies or 24 regular muffin sized brownies. Fudge Brownie Recipe Ingredients: 250gms (2 1/2 Sticks) Butter 250gms (approx. 2 cups) Chocolate Chips or chunks 12 oz (1 1/2 Cup) fine Sugar 1 tsp Vanilla extract 2 Cups of all purpose Flour 2 tsps Baking Powder 6 large Eggs 1 Cup of chopped Walnuts or Almonds (optional) Chocolate Chip Cookie Dough + Cupcake = The BEST Cupcake. Ever. Recipe.
Cheesecake Cookie Bars". Mingmakescupcakes.yolasite. Easy Truffles. This is the fastest and easiest recipe for making delicious, perfectly flavored chocolate truffles.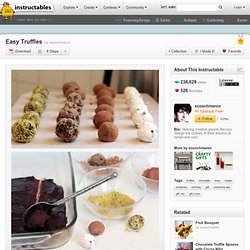 Customize the flavors and toppings to suit your exact tastes. You'll get hooked on trying to come up with the perfect combinations, and your friends and family will be more than happy to help judge their favorites! DIY Pie on a Stick « How-To News. How to make space invaders cookies | WireSmash.
---