Cms
When a WordPress blog page is opened in a browser, a flurry of activity goes on behind the scenes. This activity determines what is to be presented on the browser page that is delivered to the user. The core WordPress files, which thankfully do not require modification, assemble that page based on the options you set in the WordPress administration pages. For example, if your theme is widget-ready and you have widgets activated on your sidebar, then WordPress will take the following steps: Confirm your theme supports widgetsAcquire the code for the widgets you have activatedPopulate the widgets from the database or external sourceDisplay the widgets in your sidebar as the page is loaded All this is done between the time you browse to the page and the time the page is displayed in your browser.
Editing a WordPress theme with Adobe Dreamweaver CS5 – Part 1: Learning the basics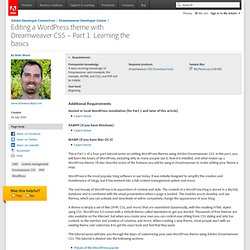 Premium Wordpress Themes | Theme Coupon Codes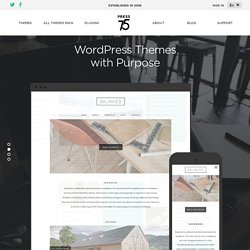 Create your site with WordPress publishing platform and any Press75 theme. Starting at just $75, you can get access to all 17 of our themes. That's just $4.41 per theme! Each membership includes theme updates, documentation, priority support, and unlimited use for all themes.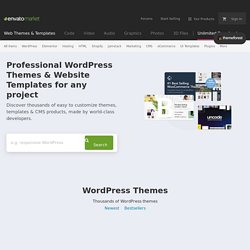 12,750 Site Templates and Themes from $3 HTML, Email, WordPress, PSD, Joomla, Magento Start Browsing Popular Files Learn More Weekly Features Next
WPRemix Premium Wordpress CMS Theme
May 05 2009 This is the first article in the three-part series, "The Comprehensive Guide for a Powerful CMS using WordPress". Throughout this article, we'll be focus on many WordPress Theme hacks, ideas, tips and useful tutorials you need to have ready in hand when developing WordPress websites. The Comprehensive Guide for a Powerful CMS using WordPress – Part 2 The Comprehensive Guide for a Powerful CMS using WordPress – Part 3 There are some technical stuff we have to get out of the way first.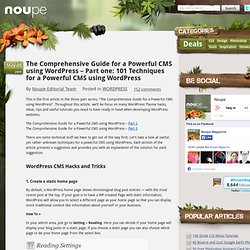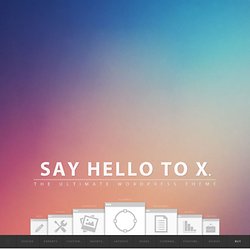 Carrington - The CMS Theme Framework for WordPress
Official website for the Legislative Assembly of the Autonomous Region of Madeira (ALRAM), featuring legislation, session summaries, biographies of all representatives, the agenda of the President and of the commissions, and assorted information related to the legislative process on Madeira Island. The site is mostly in Portuguese, although a few parts have been translated into English. All developed based on Carrington JAM, with a text-only version using Carrington Text (with several tweaks), and a mobile version using Carrington Mobile. SINFIC http://www.sinfic.pt/ SINFIC is a Portuguese company spanning several areas, including IT, and regularly works for the regional government of Madeira Island. For this WordPress-based website, the actual development was hired to an independent freelancer, working on top of a design provided by ALRAM itself.