Redesign
Advertisement When it comes to designing in Photoshop, there is a myriad of ways one could use to achieve a certain result, especially when it comes to photo retouching. Designers use technique they are most confident as well as comfortable with, which is great because it's always useful to peek into the workflow of our colleagues and learn new design approaches. We have had articles on cloning, compositing, masks and obscure Photoshop time-savers in the past. This article is different. I'll be covering some of the useful techniques and tricks which I've learned from my experience.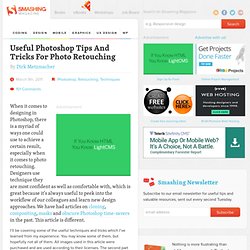 The 20 Most Practical and Creative Uses of jQuery - NETTUTS
There have been plenty of posts on the number of awesome jQuery plugins and where to find them. However, sometimes it is best not to rely on third party plugins and resources. Do it yourself the old fashioned way!
33 Exceptional Logo Rebranding In 2008 For Your Inspiration - Opensource, Free and Useful Online Resources for Designers and Developers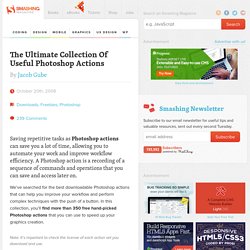 Advertisement Saving repetitive tasks as Photoshop actions can save you a lot of time, allowing you to automate your work and improve workflow efficiency. A Photoshop action is a recording of a sequence of commands and operations that you can save and access later on. We've searched for the best downloadable Photoshop actions that can help you improve your workflow and perform complex techniques with the push of a button. In this collection, you'll find more than 350 free hand-picked Photoshop actions that you can use to speed up your graphics creation.