Web and Tech
Is The Decline Of IT Employment The Fault Of The Educational System? « Revelations From An Unwashed Brain. Yes, You Can do Open Source on Windows Phone - Port 25: The Open Source Community at Microsoft. Core Concerns - WebGL and Hardware Acceleration. LXD PRESENTS: "MATCHED" STARRING HARRY SHUM JR. N=billions: The smartphone revolution in the behavioral sciences. March 12, 12:30pm ETBerkman Center for Internet & Society, 23 Everett St, 2nd FloorThis event is now at capacity, please join the webcast. 5.9 billion people now use mobile phones, of which 1.1 billion are smartphones.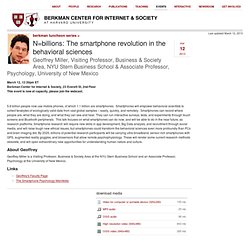 Smartphones will empower behavioral scientists to collect terabytes of ecologically valid data from vast global samples – easily, quickly, and remotely. Smartphones can record where people are, what they are doing, and what they can see and hear. They can run interactive surveys, tests, and experiments through touch screens and Bluetooth peripherals. How does open source affect company culture? Image by opensource.com An open source company is naturally a company that produces open source code for others to consume.
But how does the notion of producing software code in the open affect company culture? I believe that an organization cannot produce open source code if it is not generally open itself. Who Rules the Web Now? - Peter C. Horan and Jeffrey F. Rayport - The Conversation. By Peter C.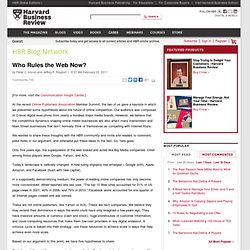 Horan and Jeffrey F. Rayport | 8:57 AM February 22, 2011 [For more, visit the Communication Insight Center.] At the recent Online Publishers Association Member Summit, the two of us gave a keynote in which we presented some hypotheses about the future of online competition. Our audience was composed of C-level digital executives from nearly a hundred major media brands. Explore museums from around the world! LONDON, Tuesday 1st February.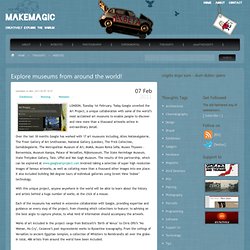 Today Google unveiled the Art Project, a unique collaboration with some of the world's most acclaimed art museums to enable people to discover and view more than a thousand artworks online in extraordinary detail. Over the last 18 months Google has worked with 17 art museums including, Altes Nationalgalerie, The Freer Gallery of Art Smithsonian, National Gallery (London), The Frick Collection, Gemäldegalerie, The Metropolitan Museum of Art, MoMA, Museo Reina Sofia, Museo Thyseen - Bornemisza, Museum Kampa, Palace of Versailles, Rijksmuseum, The State Hermitage Museum, State Tretyakov Gallery, Tate, Uffizi and Van Gogh Museum.
The results of this partnership, which can be explored at www.googleartproject.com involved taking a selection of super high resolution images of famous artworks, as well as collating more than a thousand other images into one place. Firefox 4 T-shirt Design Challenge Design Challenge - Mozilla Creative Collective. Social Networks - desktop clients. I usually don't like software that resembles a website's functionality.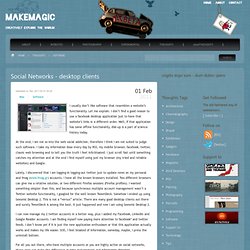 Let me explain. I don't find a good reason to use a facebook desktop application just to have that website's links in a different order. Well, if that application has some offline functionality, dial-up is a part of science history today. At the end, I am not so into the web social addiction, therefore I think I am not suited to judge such software. Underheard in New York | Fighting homelessness 140 characters at a time. IBM's Strategy to Manufacture Social Networking Surprises - CIO Central - CIO Network. The World Is Obsessed With Facebook.
Social media users grapple with information overload. By Jon Swartz, USA TODAY Updated 2/2/2011 10:55:31 AM | SAN FRANCISCO — Jose Huitron had just hit the digital wall.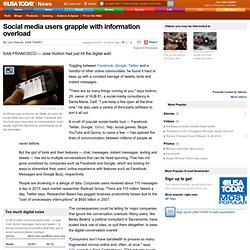 Frank Franklin II, APAn iPhone user accesses his Twitter account. As social media toys such as Twitter, Facebook and YouTube open more lines of communication, more people might find themselves overwhelmed by all the information. Peartrees - is the social curation community. An new mashup in the social network family.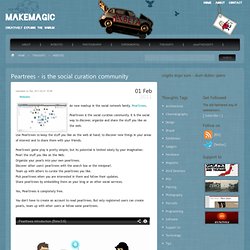 Pearltrees. Pearltrees is the social curation community. It is the social way to discover, organize and share the stuff you like on the web. How to Suck at Facebook. Disney Acquires Social Network For Kids Togetherville. Disney has just acquired Togetherville, a social network for kids 10 years of age or younger, we've confirmed with the company.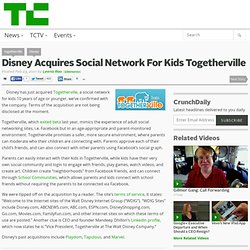 Terms of the acquisition are not being disclosed at the moment. Togetherville, which exited beta last year, mimics the experience of adult social networking sites, i.e. Facebook but in an age-appropriate and parent-monitored environment. Togetherville promises a safer, more secure environment, where parents can moderate who their children are connecting with. Parents approve each of their child's friends, and can also connect with other parents using Facebook's social graph. » Is Technology Isolation Syndrome a Myth? - Social Media & Technology - Lockergnome.
Twitter tells third-party devs to stop making Twitter client apps. In a statement issued today by Twitter on its official developer mailing list, the company informed third-party developers that they should no longer attempt to build conventional Twitter client applications.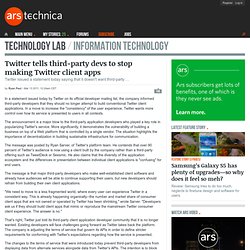 In a move to increase the "consistency" of the user experience, Twitter wants more control over how its service is presented to users in all contexts. The announcement is a major blow to the third-party application developers who played a key role in popularizing Twitter's service. Facebook adds Trusted Friend and other safety features. During a recent White House anti-bullying conference, Facebook, in order to help users who are being bullied or abused, has created a new 'Trusted Friend' feature on their website.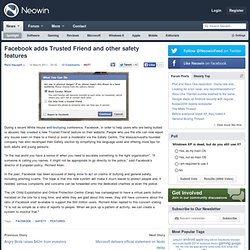 People who use the site can now report any issues seen on there to a friend or even a moderator via the Safety Centre. The Massachusetts-founded company has also revamped their Safety section by simplifying the language used and offering more tips for both adults and young persons. Conversations - The official Nokia Blog. More details about Nokia-Windows Phone 7 deal revealed. The deal which is meant to see Windows Phone 7 on Nokia devices has taken a new turn according to the 20-F document Nokia have filed at the Securities and Exchange Commission.
The PDF shows that the deal has not been finalised and states that the "planned partnership with Microsoft remains subject to negotiation and execution of definitive agreements by the parties", followed by "there can be no assurances that definite agreements will be entered into. The future impact to Nokia Group's financial statements resulting from the terms of any definitive agreements will be evaluated once those terms are agreed. " Microsoft paying Nokia $1 billion to use WP7? Cheap at twice the price. Bloomberg reported yesterday that Microsoft will end up paying Nokia more than $1 billion to promote and develop Windows Phone 7 handsets, citing two unnamed sources said to be knowledgable of the terms of the agreement.
Nokia's commitment to the platform is also long-term: the agreement lasts more than five years, according to the sources. The people also confirmed that the final contract between the two companies still hasn't been signed. For this reason many of the details and specifics are still not public. New Windows Phone 7 ads go head-to-head with your current smartphone. Microsoft is getting ready to take to cut-throat world of internet advertising in a desperate bid to get its fledgling, and stumbling, Windows Phone 7 smartphone OS off the ground.
In leaked advertisements obtained by WinRumors, the Redmond outfit is taking on its smartphone competitors head-to-head in an attempt to convince potential buyers that the WP7 way of doing things is indeed the quickest. The ads ask game punters to pit their existing phones against WP7 in some simple tasks to see which proves the best at getting you back to what's happening around you - not unlike the original WP7 ads that aired on TV around the platform's launch in late 2010. Understanding the Rise of Social Networking in Brazil. Orkut was the first major social networking service to arrive in Brazil and it has just passed the seven-year mark. Although several other social networking sites like Facebook and Twitter are growing in popularity, Orkut maintains a strong leadership position and it is still growing.
It's intriguing to explore how and why Orkut established such a strong foothold on the Internet in a country that didn't have high Internet adoption rates when Orkut first arrived in January 2004. As soon as Google launched Orkut, it spread rapidly among technology workers and students. People quickly became interested in the ability to connect to people they admired. Also, many of these early Brazilian users lived away from their hometowns and friends, some in order to attend college, some in order to work. Thunderbolt smokes USB, FireWire with 10Gbps throughput.
Eben Moglen Is Reshaping Internet With a Freedom Box. Facebook Photo Trends [INFOGRAPHIC] | Pixable Blog. Top PayPal Alumni: "Silicon Valley Lacks Radical Innovation" PayPal Mafia. Digits Digest: Tech By The Numbers (STATS) Unrest Continues in Libya - Pictures of the Day. Streetphotographynowproject.wordpress.
---