Cyberlaw
Texas Motor Speedway Wants Copyrights Of Photographers. A photographer seeking credentials to shoot at the Texas Motor Speedway reportedly was handed a harsh agreement to sign, which includes a transfer of copyrights to the photos taken there and restricts what the photographer can do with the photos.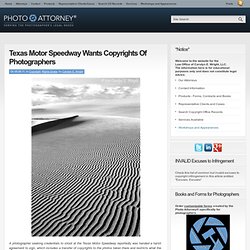 It appears that the Speedway has joined other rights grabs in exchange for access. Specifically, the Agreement states, in pertinent part: [The Texas Motor] Speedway . . . shall have and own in connection with any race . . . the sole and exclusive right to commercially exploit such Speedway Events or any portion thereof, including. . . and to copyright, reproduce, distribute, display, perform, sell, license of the same for any purpose whatsoever, including . . . alterations and additions to each of the above. Photographer agrees that Photographer will not reproduce, sell, or otherwise use or exploit any photograph, video . . . without Speedway having given its prior written consent . . . . MythWeb. John Hasnas (1) Copyright 1995 by The Board of Regents of the University of Wisconsin System Reprinted by permission of the Wisconsin Law Review Originally published in 1995 Wisconsin Law Review 199 (1995) Stop!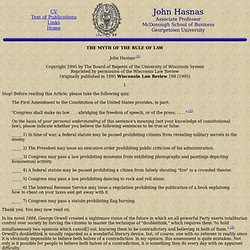 Before reading this Article, please take the following quiz. The First Amendment to the Constitution of the United States provides, in part: "Congress shall make no law . . . abridging the freedom of speech, or of the press; . . . . " (2)On the basis of your personal understanding of this sentence's meaning (not your knowledge of constitutional law), please indicate whether you believe the following sentences to be true or false. _____ 1) In time of war, a federal statute may be passed prohibiting citizens from revealing military secrets to the enemy. _____ 2) The President may issue an executive order prohibiting public criticism of his administration. _____ 3) Congress may pass a law prohibiting museums from exhibiting photographs and paintings depicting homosexual activity. The Apache Software Foundation Subpoenaed to Produce Documents in Oracle America vs. Google.
The Apache Software Foundation Subpoenaed to Produce Documents in Oracle America vs.
Google The Apache Software Foundation (ASF) has received a [United States District Court subpoena] requiring the production of documents related to the use of Apache Harmony code in the Android software platform, and the unsuccessful attempt by Apache to secure an acceptable license to the Java SE Technology Compatibility Kit. The request, received from Oracle America's attorneys on May 2nd gives the Foundation until May 13th, 2011 to produce the required materials. Apache will, of course, be complying with all court requirements. PC rental store accused of using webcams, keyloggers on customers. Built-in webcams are becoming more and more common in computers these days, and in turn, they are becoming more and more of a liability.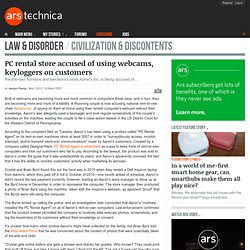 A Wyoming couple is now accusing national rent-to-own chain Aaron's Inc. of spying on them at home using their rented computer's webcam without their knowledge. Aaron's also allegedly used a keylogger and took regular screenshots of the couple's activities on the machine, leading the couple to file a class-action lawsuit in the US District Court for the Western District of Pennsylvania. According to the complaint filed on Tuesday, Aaron's has been using a product called "PC Rental Agent" on its rent-to-own machines since at least 2007 in order to "surreptitiously access, monitor, intercept, and/or transmit electronic communications" made by Aaron's customers. Created by a company called DesignerWare, PC Rental Agent is advertised as a way to keep track of rent-to-own computers and lock out customers who fail to pay.
Privacy...?: Foggy thinking about the Right to Oblivion. I was lucky enough to spend a few days in Switzerland working on Street View.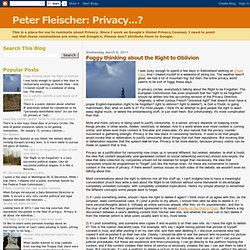 And I treated myself to a weekend of skiing too. The weather wasn't great, we had a lot of mountain fog, but then, the entire privacy world seems to be sort of foggy these days. In privacy circles, everybody's talking about the Right to be Forgotten. Lawyers Use Google To Help Pick Jurors. When picking a jury, lawyers always try to choose people they believe will find in favor of their client.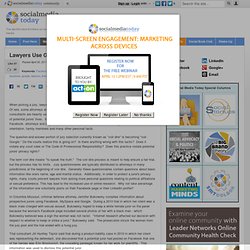 Of late, some attorneys are taking juror research to a new level. Many lawyers and their jury consultants are heavily using social media sites and other Internet sites to discover the intimate details of potential jurors' lives. In light of the information people are posting about themselves on sites like Facebook, attorneys and jury consultants are able to discover political leanings, income level, sexual orientation, family members and many other personal facts. The question-and-answer portion of jury selection currently known as "voir dire" is becoming "voir Google.
" Do the courts realize this is going on? A Customer Service Nightmare: Resolving Trademark and Personal Reputation in a Limited Name Space. Yesterday, I threw a public hissy fit when I found out that Tumblr's customer service had acted on a trademark request from a company called Zephoria who had written them to ask that they release my account to them.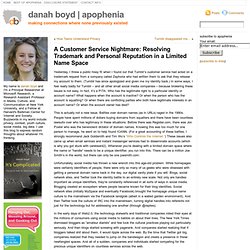 (Tumblr has since apologized and given me my identity back.) In some ways, I feel really badly for Tumblr – and all other small social media companies – because brokering these issues is not easy. In fact, it's a PITA. Who has the legitimate right to a particular identity or account name? Appeals Court: No Hacking Required to Be Prosecuted as a Hacker | Threat Level. Employees may be prosecuted under a federal antihacking statute for taking computer files that they were authorized to access and using them in a manner prohibited by the company, a federal appeals court has ruled.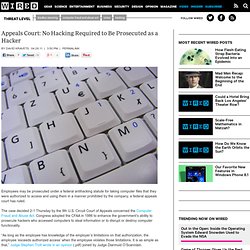 The case decided 2-1 Thursday by the 9th U.S. Circuit Court of Appeals concerned the Computer Fraud and Abuse Act. Congress adopted the CFAA in 1986 to enhance the government's ability to prosecute hackers who accessed computers to steal information or to disrupt or destroy computer functionality. "As long as the employee has knowledge of the employer's limitations on that authorization, the employee 'exceeds authorized access' when the employee violates those limitations. It is as simple as that," Judge Stephen Trott wrote in an opinion (.pdf) joined by Judge Diarmuid O'Scannlain. Gregory Katsianas: How Apple tracks your loca... Jobs Concedes Apple's Mistakes in iPhone Location Data. Court grapples with 'cast of thousands' in Paul Allen suit vs. Google, Apple and others.
With more than a dozen lawyers looking on — representing Google, Apple, eBay, Yahoo, Facebook and other Internet titans — a federal judge in Seattle heard arguments yesterday in the lawsuit brought on behalf of Paul Allen's former Interval Research lab.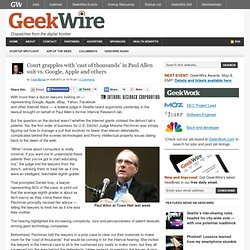 But the question on the docket wasn't whether the Internet giants violated the defunct lab's patents. No, the first order of business for U.S. District Judge Marsha Pechman was simply figuring out how to manage a suit that involves no fewer than eleven defendants, complicated behind-the-scenes technologies and thorny intellectual property issues dating back to the dawn of the web. Security Risks of Running an Open WiFi Network. As I've written before, I run an open WiFi network.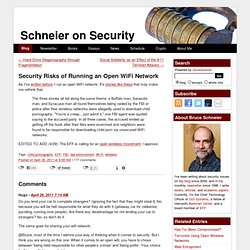 It's stories like these that may make me rethink that. The three stories all fall along the same theme: a Buffalo man, Sarasota man, and Syracuse man all found themselves being raided by the FBI or police after their wireless networks were allegedly used to download child pornography. European Copyright Law: Collusion for the Control of the Net. In the coming days, a college meeting of the European Commissioners will take place to decide the future of European copyright policy.
This revision takes place in conditions that raise severe concerns from a democratic perspective and put fundamental rights at risk, especially when it comes to the Internet. The "Internal Market" General Directorate, under the responsibility of French Commissioner Michel Barnier, just completed a public consultation process. This consultation took the form of comments on a report purporting to be an "impact assessment" of the European copyright enforcement policy, and of the 2004/48/CE "IPRED" directive, also known as the Fourtou directive1.
In reality, this document recycles arguments and proposals directly fed by the entertainment industry: that culture is on the verge of demise due to online piracy, and that the only solution lies in more repressive measures specifically targeting the Internet. Android phones keep location cache, too, but it's harder to access. After this week's disturbing revelation that iPhones and 3G iPads keep a log of location data based on cell tower and WiFi base station triangulation, developer Magnus Eriksson set out to demonstrate that Android smartphones store the exact same type of data for its location services. While the data is harder to access for the average user, it's as trivial to access for a knowledgeable hacker or forensics expert. On Wednesday, security researchers Alasdair Allan and Pete Warden revealed their findings that 3G-capable iOS devices keep a database of location data based on cell tower triangulation and WiFi basestation proximity in a file called "consolidated.db.
" The iPhone, as well as 3G-equipped iPads, generate this cache even if you don't explicitly use location-based services. Gregory Katsianas: How Apple tracks your loca... Nude Nuns Judge Questions Mass BitTorrent Lawsuit | Threat Level. A federal judge wants a Los Angeles film company to explain why it's targeting nearly 6,000 John Doe defendants around the country in a single lawsuit for torrenting the 2010 B-movie revenge flick Nude Nuns With Big Guns. Camelot Distribution Group Inc., which claims to own the rights to the movie about a sister who is "one bad mother," has until May 13 to "show cause why the Doe defendants should not be severed and/or dismissed from this action based on improper joinder of parties or lack of personal jurisdiction," U.S. Magistrate Judge Fernando Olguin ruled (.pdf) Friday. Olguin appointed the Electronic Frontier Foundation to act as amicus counsel on the side of the defendants, who at this stage are known only by their internet IP addresses and rough geographic location.Camelot's lawsuit, first reported by Threat Level, is the latest effort by independent film companies to turn piracy lawsuits into a profit center.
Software as Evidence. Increasingly, chains of evidence include software steps. It's not just the RIAA suing people -- and getting it wrong -- based on automatic systems to detect and identify file sharers. It's forensic programs used to collect and analyze data from computers and smart phones. It's audit logs saved and stored by ISPs and websites. It's location data from cell phones. Uh, I thought YOU got the release . . . Photographers often take photos of people. If a photo is used editorially, then no model release is needed. If used commercially, then permission is needed to use the person's right of publicity. A Flickr group is reporting that a photo posted on Flickr was used for an ad campaign by Virgin Mobile in Australia.
The photograph allegedly was posted under a Creative Commons license that may not have allowed commercial uses so Virgin may be liable for copyright infringement. The model and her brother are claiming that the model never gave permission to use the photo for the campaign so Virgin may be liable for violating her right of publicity.
Gregory Katsianas: #cyberlaw Cellphones Track... What the app privacy investigation means to you (FAQ) | Signal Strength. How Apple tracks your location without consent, and why it matters. Settle up: voicemails show P2P porn law firms in action. RIM Said Weighing Bid to Top Google Offer for Nortel Patents. French law requires service providers to store and surrender passwords. On Google and censorship | Carlo Piana :: Law is Freedom :: At Long Last? Pamela Jones and Groklaw: An Appreciation. Linux defender Groklaw shuts down - in victory :: The Skinny at WRAL Tech Wire. The end of Groklaw. Gregory Katsianas: :( "Groklaw Articles Endin...
Zuckerberg's Goodfellas. The Facebook Lawsuit That Wasn't In The Movie « Above the Law: A Legal Tabloid - News and Colorful Commentary on Law Firms and the Legal Profession. Could 7-year-old emails halve Zuckerberg's Facebook stake? Man demands 50-50 share of Facebook, has emails to prove it. Legal disclaimers: Spare us the e-mail yada-yada. Microsoft: Google lying to Government.
Chief Judge Kozinski to the Winklevii: Please Go Away Now « Above the Law: A Legal Tabloid - News and Colorful Commentary on Law Firms and the Legal Profession. Theresa May pushes for air passenger data storing to be expanded | World news. Groklaw Articles Ending on May 16th. Legislative Update! Ideas For A Better Internet. Diary of a Copyright Infringement Lawsuit – 1. Forum: 140 Characters to Copyright Infringement: Twitter Take-down Notices Raise Legal Questions. Net giants challenge French data law. Small Firms, Big Lawyers: The Perfect Font … To Show You Don't Care « Above the Law: A Legal Tabloid - News and Colorful Commentary on Law Firms and the Legal Profession. Autocompletion brings liability | Carlo Piana :: Law is Freedom :: Cybercrimes in Taiwan -- Experiences and challenges we face. Quora Makes Changes Aimed at Doctors and Lawyers. Microsoft files antitrust complaint against Google // Slexy 2.0. Google Faces Another Antitrust Complaint in Europe. Nokia says about Symbian: "We're Open". The New License Shows Otherwise.
Nokia publishes Symbian source code. Can Class-Action Lawsuits Be Too Big to Deliver Justice? Ironic Message About What You Can Do With A Law Degree « Above the Law: A Legal Tabloid - News and Colorful Commentary on Law Firms and the Legal Profession. Photography, Copyright, and the Law. Law & Life: Silicon Valley » Android and the Kernel: It is Not that Simple. Linus Speaks Regarding Claims About Bionic: "It Seems Totally Bogus" - Updated. West Censoring East: The Use of Western Technologies by Middle East Censors, 2010-2011. LawPivot Seeks To Kill (Well, Slash) Startup Lawyer Fees | Epicenter  Russian Site Aims to Expose State Corruption. Internet Privacy Advocates Appeal Twitter Subpoena « News and Views. High-Tech Flirting Turns Explicit, Altering Young Lives.
_Wikileaks_current. Gregory Katsianas: #tech #sw Richard Stallman... Cellphones Track Your Every Move, and You May Not Even Know. Hard drive search warrants: should there be any limits? Apple Wins Trade Ruling in Nokia Patent Fight Over Phones. From The Dalai Lama To A Harvard Law Fellow? Free Tibet Movement Could Get Hardcore. « Above the Law: A Legal Tabloid - News and Colorful Commentary on Law Firms and the Legal Profession. ΕΠΙΤΡΟΠΗ ΑΝΤΑΓΩΝΙΣΜΟΥ. Steve Jobs has been ordered by a federal judge to testify in a case between Apple and RealNetworks. Linux-Kernel Archive: Re: Gauntlet Set NOW! Does Google's Android violate Linux's Copyright? More Proof That Lawyers Will Fight Over Anything « Above the Law: A Legal Tabloid - News and Colorful Commentary on Law Firms and the Legal Profession.
(Unofficial) Departure Memo of the Day: Take a Picture of Your Bank Account Because It'll Never Look This Good Again « Above the Law: A Legal Tabloid - News and Colorful Commentary on Law Firms and the Legal Profession.
---