Travel community
We Said Go Travel - Home. Tripping - A Global Community of Travelers. Free Homestay, Couch Surfing, Cultural Exchange, Travel Tips and more. Participate in Creating a Better World, One Couch At A Time. About BeWelcome - The concept. Dreaming alone is not enough.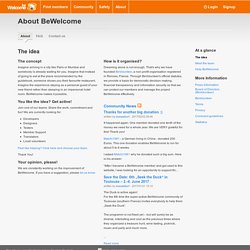 That's why we have founded BeVolunteer, a non-profit organisation registered in Rennes, France. Through BeVolunteer's official statutes, we provide a basis for democratic decision making, financial transparency and information security so that we can protect our members and manage the project BeWelcome effectively. Public BoD meeting tonight 21.30 CET. Links - Backpacking, budget travel internet web resources. Here's a ton of links that should give you a hand in the planning stay of your trip and hopefully some general surfing enjoyment.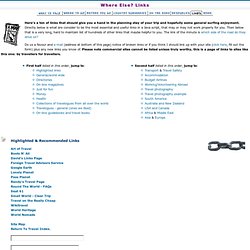 Directly below is what are consider to be the most essential and useful links in a Java script, that may or may not work properly for you. Then below that is a very long, hard to maintain list of hundreds of other links that maybe helpful to you. The link of the minute is which side of the road do they drive on? Do us a favour and e-mail (address at bottom of this page) notice of broken links or if you think I should link up with your site (click here, fill out the form) plus any new links you know of.
---