Adventure & Fantasy
Edit Storyline Set in 1872, the story focuses on Passepartout, a Chinese thief who steals a valuable jade Buddha and then seeks refuge in the traveling companionship of an eccentric London inventor and adventurer, Phileas Fogg, who has taken on a bet with members of his gentlemen's club that he can make it around the world in a mere 80 days, using a variety of means of transportation, like boats, trains, balloons, elephants, etc. Along the way, Passepartout uses his amazing martial arts abilities to defend Fogg from the many dangers they face.. One major threat to their adventure is a detective that's following them. Why?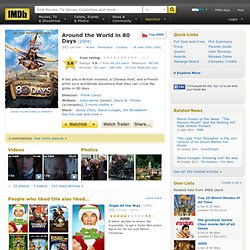 Around the World in 80 Days (2004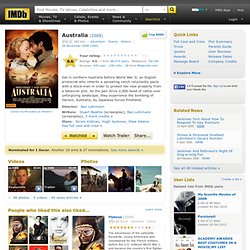 Edit Storyline In northern Australia at the beginning of World War II, an English aristocrat inherits a cattle station the size of Maryland. When English cattle barons plot to take her land, she reluctantly joins forces with a rough-hewn stock-man to drive 2,000 head of cattle across hundreds of miles of the country's most unforgiving land, only to still face the bombing of Darwin, Australia, by the Japanese forces that had attacked Pearl Harbor only months earlier. Written by Anonymous Plot Summary | Plot Synopsis
Australia (2008
Edit Storyline Alexander, the King of Macedonia, leads his legions against the giant Persian Empire. After defeating the Persians he leads his Army across the then known world venturing further than any Westerner had ever gone all the way to India. Written by Anonymous Plot Summary | Plot Synopsis
Alexander (2004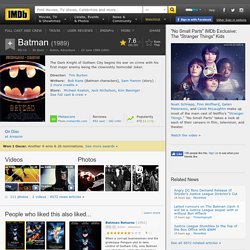 Edit Storyline Gotham City: dark, dangerous, 'protected' only by a mostly corrupt police department.
Edit Storyline When his parents were killed, millionaire playboy Bruce Wayne relocates to Asia when he is mentored by Henri Ducard and Ra's Al Ghul in how to fight evil.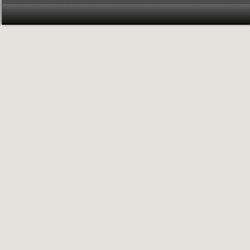 Trivia During the scene where the Joker crashes Bruce Wayne's party for Harvey, when he first appears in the elevator Alfred was meant to have some lines, however this was the first time Michael Caine had seen Heath Ledger with the Joker make up on, you can even see the shocked expression on his face as the Joker walks past him. See more » Quotes


Edit Storyline The story revolves around a dying father and his son, who is trying to learn more about his dad by piecing together the stories he has gathered over the years. The son winds up re-creating his father's elusive life in a series of legends and myths inspired by the few facts he knows. Through these tales, the son begins to understand his father's great feats and his great failings.
Big Fish (2003
Goofs En route to Hanratty's first confrontation with Frank Abagnale Jr., Amdursky and Fox are wearing sunglasses in one shot as the car turns into the hotel parking lot (after the "knock-knock joke"), but not in others. See more » Quotes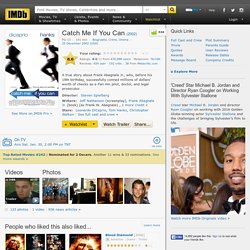 Charlie and the Chocolate Factory (2005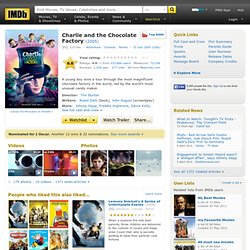 Edit Storyline When Willy Wonka decides to let five children into his chocolate factory, he decides to release five golden tickets in five separate chocolate bars, causing complete mayhem. The tickets start to be found, with the fifth going to a very special boy, called Charlie Bucket. With his Grandpa, Charlie joins the rest of the children to experience the most amazing factory ever. But not everything goes to plan within the factory.
The Cell (2000
Edit Storyline Krank (Daniel Emilfork), who cannot dream, kidnaps young children to steal their dreams. One (Ron Perlman), a former whale hunter who is as strong as a horse, sets forth to search for Denree, his little brother who was kidnapped by Krank's men.
La cité des enfants perdus (1995
Edit Storyline At a Los Angeles hospital in the 1920s, Alexandria is a child recovering from a broken arm. She befriends Roy Walker, a movie stunt man with legs paralyzed after a fall.
The Fall (2006
Edit Storyline Maximus is a powerful Roman general, loved by the people and the aging Emperor, Marcus Aurelius.
Edit Storyline Harry Potter and the Philospher's Stone is the first film in the Harry Potter series based on the novels by J.K.
Edit Storyline Forced to spend his summer holidays with his muggle relations, Harry Potter gets a real shock when he gets a surprise visitor: Dobby the house-elf, who warns Harry Potter against returning to Hogwarts, for terrible things are going to happen. Harry decides to ignore Dobby's warning and continues with his pre-arranged schedule. But at Hogwarts, strange and terrible things are indeed happening: Harry is suddenly hearing mysterious voices from inside the walls, muggle-born students are being attacked, and a message scrawled on the wall in blood puts everyone on his/her guard - "The Chamber Of Secrets Has Been Opened. Enemies Of The Heir, Beware" .
Hidalgo (2004
Inkheart (2008
The Mask of Zorro (1998
Master and Commander: The Far Side of the World (2003
Lord of War (2005
Moonlighting (TV Series 1985–1989
The Mummy (1999
Spider-Man (2002
Spider-Man 2 (2004
Tin Man (TV mini-series 2007–
Vidocq (2001