Pinterest
100 Ways to Make Your Marriage Rock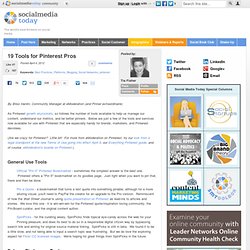 By Bliss Hanlin, Community Manager at eModeration (and Pinner extraordinaire) As Pinterest growth skyrockets, so follows the number of tools available to help us manage our content, understand our metrics, and be better pinners. Below are just a few of the tools and services now available for use with Pinterest that are especially handy for brands, marketers, and Pinterest devotees. (Are we crazy for Pinterest? Little bit!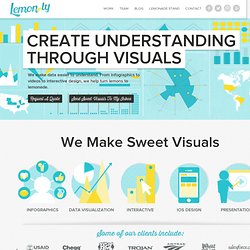 With the 56th annual GRAMMY Awards coming up, we teamed up with the GRAMMYs to showcase the history of the biggest GRAMMY winners of all time by decade and genre along with the artists most nominated for the 2014 GRAMMY Awards. Who do you think will walk away with the most this year? To learn more about the nomination process and see the most buzzed-about act after the nominations concert, see our other GRAMMY infographics [...]
lemon.ly
Pinterest Aims at the Collector Hidden Inside All of Us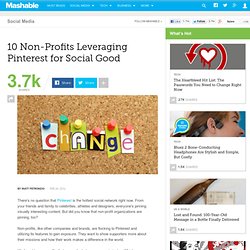 There's no question that Pinterest is the hottest social network right now. From your friends and family to celebrities, athletes and designers, everyone's pinning visually interesting content. But did you know that non-profit organizations are pinning, too?
10 Non-Profits Leveraging Pinterest for Social Good
"I was Pinterest's first investor." That's a sentence I bet you wish you could say. Here at SXSW, I find myself sitting opposite angel investor Brian Cohen who happily owns that distinction. In other words, he found, as he calls them, a couple of young guys from NYU (Ben Silbermann and Evan Sharp) at a business plan competition where angel investors "forage for new opportunities." The rest is startup legend. Cohen, who has a background in publishing and is now the founder and chairman of the New York Angels, wanted to talk about what it was like to work with Pinterest in those early days, how the idea for Pinterest blossomed out of a different project Silbermann was working on, and what makes the Pinterest team different and therefore successful.
Pinterest's First Investor Explains the Secret to the Startup's Success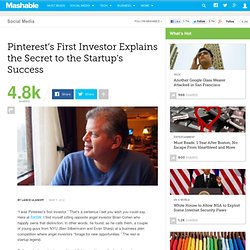 Pinterest: The New Facebook For Lifestyle Magazines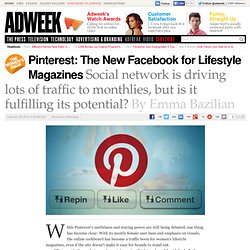 While Pinterest's usefulness and staying power are still being debated, one thing has become clear: With its mostly female user base and emphasis on visuals, the online corkboard has become a traffic boon for women's lifestyle magazines, even if the site doesn't make it easy for brands to stand out. "Pinterest is the perfect complement for a visually driven brand," said Gayle Butler, Better Homes and Gardens' editor in chief. Editors from other magazines like Real Simple, Martha Stewart Living and Martha Stewart Weddings echoed that sentiment, noting that recipe and "how-to" photos have proved especially popular on the site. A big selling point of Pinterest is that photos, whether posted directly from a website or reposted within Pinterest, lead directly back to the source material. "From an SEO standpoint, it's a boon," said Herndon Hasty, associate director for digital marketing firm iProspect.
It's hard to write a story or post about Pinterest and copyright law without at least one reader leaving a comment along the lines of "What about Tumblr?" Indeed, comparisons between the two sites are fairly obvious: while Tumblr is more of a blog platform and Pinterest is more of a link-sharing site, both are set up to allow users to easily share content they find on the Internet, and both do a great job of displaying visual content - whether or not the person sharing that content has rights to share that work. But Pinterest, in large part because of its rapid growth and sudden popularity, gets the lion's share of heat when people talk about what social networks can and can't do when it comes to copyright.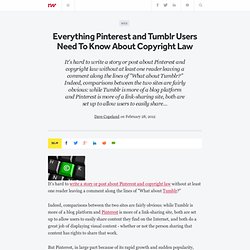 Everything Pinterest and Tumblr Users Need To Know About Copyright Law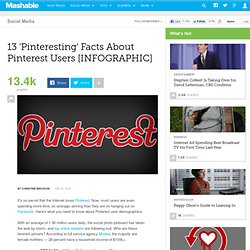 It's no secret that the Internet loves Pinterest. Now, most users are even spending more time, on average, pinning than they are on hanging out on Facebook. Here's what you need to know about Pinterest user demographics. With an average of 1.36 million users daily, the social photo pinboard has taken the web by storm, and top online retailers are following suit. Who are these feverish pinners?
Pinterest's Got a Copyright Problem
Search results for shoehorn entertainment
Even if you haven't ever visited popular visual bookmarking site Pinterest, you might recognize its design elements — which have been popping up everywhere since the startup burst onto the mainstream scene in 2011. The site doesn't use traditional web building blocks. "It's almost like a window-shopping mode," says Khoi Vinh, the former design director for NYTimes.com. "It puts the ball back in the user's court," muses Andrew Beck, a web designer at Blue Fountain Media.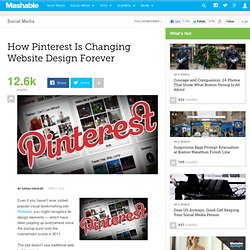 Designers Make Data Much Easier to Digest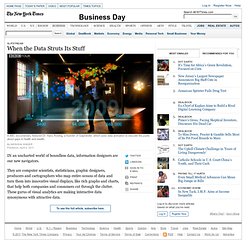 They are computer scientists, statisticians, graphic designers, producers and cartographers who map entire oceans of data and turn them into innovative visual displays, like rich graphs and charts, that help both companies and consumers cut through the clutter. These gurus of visual analytics are making interactive data synonymous with attractive data. "Statistics," says Dr. Hans Rosling, a professor of international health at the Karolinska Institute in Sweden, "is now the sexiest subject around." Dr.
INFOGRAPHICS / Pinterest is taking the Internet by storm. These are the must-know facts about Pinterest user demographics. via @mashable 13 'Pinteresting' Facts About Pinterest Users [INFOGRAPHIC] http://t.co/8YEur8le
In the world of blogging, a common courtesy among us is the practice of source 'crediting' if you choose to to use it within your content. With the recent phenomenon of Pinterest, many bloggers have been tripple-ing their traffic through the use of Pinterest 'pins.' Some bloggers are up in arms with this recent practice solely because their 'own' images have been the source of other bloggers' traffic success and/or creative ideas. Amy Locurto of Living Locurto recently blogged about 'How Pinterest is Changing How I Blog and Feature Creative Content", in that "…the average person probably doesn't realize the amount of traffic people are getting from Pinterest. In the creative community, the referral traffic is higher from Pinterest than any other social media platform as of now.
Pinterest: The Content {Source} Issue