GOT2 2012
Director Standards and Practices. Find VP Marketing jobs at Dice. Job Posting: Vice President Marketing & Communications, United Way Los Angeles, Los Angeles, California. How Pinterest Can Help Boost Your Career. Pinterest is a new type of social media website that serves as a virtual bulletin board (or "pinboard") where web content can be shared.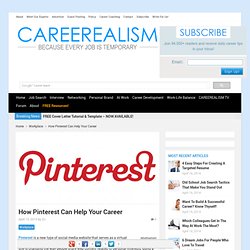 This unique site is changing the way people share web content related to personal interests, using a design style that relies on images rather than text. Pinterest can help your career. We'll explain how below. Pinterest members (referred to as "Pinners") gather and share images of interesting things that they find online, creating "Pins." The Linkedin Profile. Just a few years ago, professional networking meant printing off your resume, attending job fairs, and scheduling coffee dates with old co-workers or friends of friends who could help you land your next dream job.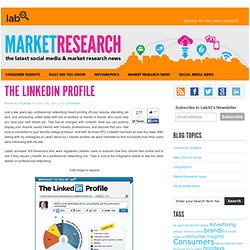 That has all changed with LinkedIn. Now you can publicly display your resume, easily interact with industry professionals, and discover that your new boss is connected to your favorite college professor. And with its recent IPO, LinkedIn has been all over the news. After talking with my colleagues at Lab42 about our LinkedIn profiles, we were interested to find out exactly how other users were interacting with the site. Lab42 surveyed 500 Americans who were registered LinkedIn users to discover how they utilized their profile and to see if they valued LinkedIn as a professional networking tool.
Job Networking with Social Media [INFOGRAPHIC] 570 Flares Twitter 250 Facebook 52 Google+ 18 Pin It Share 250 570 Flares × Social media is becoming increasingly important for job networking.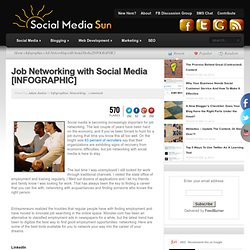 The last couple of years have been hard on the economy, and if you've been forced to hunt for a job during that time you know this all too well. On the bright side 63 percent of recruiters say that their organizations are exhibiting signs of recovery from economic difficulties, but job networking with social media is here to stay. The last time I was unemployed I still looked for work through traditional channels. Bridging the digital literacy divide - Business of Life. Updated: Sun, Mar 04 2012. 08 42 PM IST When Anne Klein shut down its designer line in 2008, Eileen McMaster was among the fashion professionals there who found themselves without a job.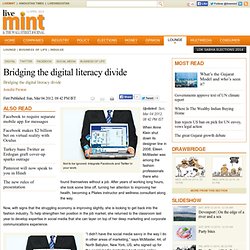 After years of working long hours, she took some time off, turning her attention to improving her health, becoming a Pilates instructor and wellness consultant along the way. Now, with signs that the struggling economy is improving slightly, she is looking to get back into the fashion industry. To help strengthen her position in the job market, she returned to the classroom last year to develop expertise in social media that she can layer on top of her deep marketing and corporate communications experience. Not to be ignored: Integrate Facebook and Twitter in your work. About. Guerrilla Freelancing is a website dedicated to helping every freelancer still in the trenches, working as hard as they can to build up a solid freelance business.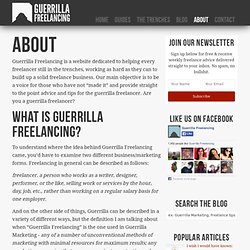 Our main objective is to be a voice for those who have not "made it" and provide straight to the point advice and tips for the guerrilla freelancer. Are you a guerrilla freelancer? Business Blogging: Essential for Business Reach. Business Blogging as a Critical Tool There is a wide misconception among SMBs that business blogging is a waste of time.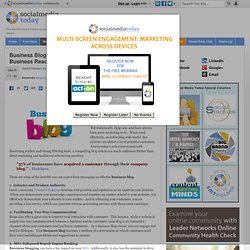 But realistically, blogs are, and have always been great marketing tools. When used effectively, an active blog with useful, free content can attract a lot of potential customers. And in today's web environment with discerning readers and strong filtering tools, a compelling blog article can reach audiences further than direct marketing and traditional advertising practices. "57% of businesses have acquired a customer through their company blog. " - HubSpot. » Should I start a blog? Yes, you should start a blog.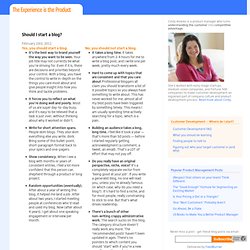 It's the best way to brand yourself the way you want to be seen. Your job title may not currently be what you're striving for. Games | Online Games | Kids Games | Disney Toontown Online. Intangible Benefits, Tangible Rewards - Remodeling, Business, Consultants, Sales, Awards - Remodeling Magazine. At the heart of every great remodeling company is a great workforce: productive, resourceful, accountable, and loyal.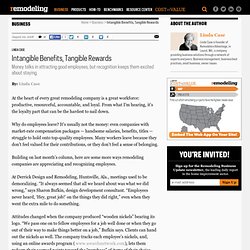 From what I'm hearing, it's the loyalty part that can be the hardest to nail down. Why do employees leave? It's usually not the money: even companies with market-rate compensation packages — handsome salaries, benefits, titles — struggle to hold onto top-quality employees. Many workers leave because they don't feel valued for their contributions, or they don't feel a sense of belonging. Building on last month's column, here are some more ways remodeling companies are appreciating and recognizing employees. Social Recruiting Infographics. RecruitersSocialNetworking-Bullhorn-final.png (1000×5370) Social Recruiting Reports. How to Secretly Update your LinkedIn Profile - The Social Media Guide.
---