Mapas conceptuales
Composar un mapa mental. Ara mateix em trobo davant d'una d'aquestes situacions que pot capgirar-reorientar la meva carrera professional.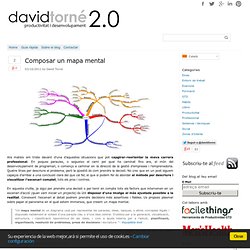 En poques paraules, o segueixo el camí pel qual he caminat fins ara, el món del desenvolupament de programari, o començo a caminar en la direcció de la gestió d'empreses i l'emprenedoria. Quatre línies per descriure el problema, però la qüestió és com prendre la decisió. CmapTools - Home Page Cmap.html. SmartDraw - Communicate Visually with the World's First Visual Processor(tm)
Mind42.com - Collaborative mind mapping in your browser. Curso básico de Mapas Mentales.
---