Osama bin Laden
President Obama on Death of Osama bin Laden. Fosters.com - Dover NH, Rochester NH, Portsmouth NH, Laconia NH, Sanford ME. DURHAM — Experts anticipate the announcement of Osama bin Laden's death could improve President Barack Obama's approval rating, even if just temporarily.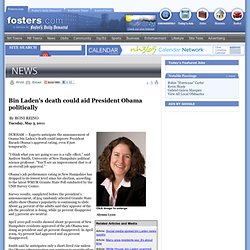 "I think what you are going to see is a rally effect," said Andrew Smith, University of New Hampshire political science professor. "You'll see an improvement that is of an overall job approval. " Obama's job performance rating in New Hampshire has dropped to its lowest level since his election, according to the latest WMUR Granite State Poll conducted by the UNH Survey Center. Survey results, completed before the president's announcement, of 504 randomly selected Granite State adults show Obama's popularity is continuing to slide. About 44 percent of the adults said they approve of the job the president is doing, while 52 percent disapprove and 5 percent are neutral. Osama bin Laden's killing: Was it legal? - BlogPost. Posted at 11:16 AM ET, 05/03/2011 May 03, 2011 03:16 PM EDT TheWashingtonPost Was Osama bin Laden assassinated?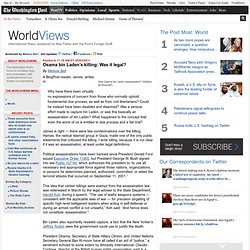 (Mazhar Ali Khan/AP) A BlogPost reader, James, writes in: Why have there been virtually no expressions of concern from those who normally uphold fundamental due process, as well as from civil libertarians? White House Weighing Release of Bin Laden Photographs from Pakistan, Afghanistan, and Deck of Aircraft Carrier - Political Punch.
May 3, 2011 6:07pm ABC News has learned that the Obama administration possesses a number of photographs of Osama bin Laden's corpse, taken in Pakistan, Afghanistan, and from the deck of the aircraft carrier USS Carl Vinson.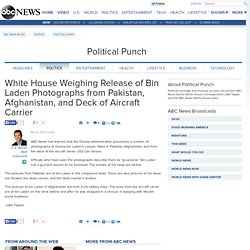 Officials who have seen the photographs describe them as "gruesome." Bin Laden has a gunshot wound to his forehead. Religion and politics after bin Laden - Georgetown/On Faith. Posted at 06:40 PM ET, 05/03/2011 May 03, 2011 10:40 PM EDT TheWashingtonPost By Ross Berg As details surrounding the death of Osama bin Laden continue to emerge, this week's episode of The God Vote, hosted by Sally Quinn and Jacques Berinerblau, considers the political and religious ramifications of bin Laden's demise.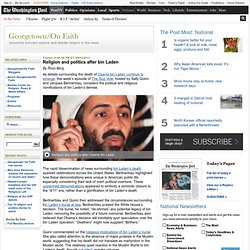 Al-Qaeda's effect weakens in Mideast. By Jim Michaels, USA TODAY Updated 5/4/2011 1:49 PM | Even before the death of Osama bin Laden, al-Qaeda was losing relevance in the Arab world as youth-led uprising swept leaders from power and left other countries racked by violence, some experts say.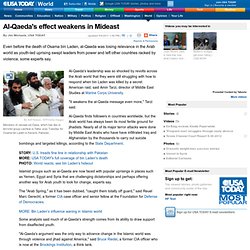 By Asif Hassan, AFP/Getty Images. Bin Laden's death a turning point for Millennials.
---