La mobilité des jeunes dans l'union européenne
L' Injep, observatoire de la jeunesse, opérateur de mobilité, pour les acteurs de jeunesse et d'éducation populaire, vous souhaite une heureuse année 2014. Le plan pluriannuel contre la pauvreté et pour l'inclusion sociale adopté lors du comité interministériel de lutte contre les exclusions (CILE) du 21 janvier 2013 avait prévu la création d'une « Garantie jeunes ». Quels sont l'esprit et les principes structurant de cette garantie ? Comment va-t-elle se mettre en œuvre ? Où et quand ? Éléments de réponses à travers un dossier thématique consacré à la « Garantie jeunesse », qui croise analyses, avis d'experts, textes officiels et revue de presse.
Institut National de la Jeunesse et de l'Education Populaire (Injep)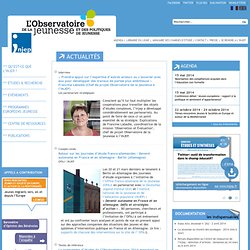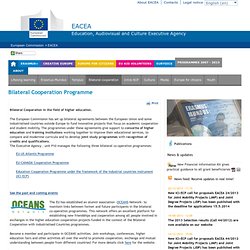 Bilateral Cooperation
Bilateral Cooperation in the field of higher education. The European Commission has set up bilateral agreements between the European Union and some industrialised countries outside Europe to fund innovative projects that focus on academic cooperation and student mobility. The programmes under these agreements give support to consortia of higher education and training institutions working together to improve their educational services, to compare and modernise curricula and to develop joint study programmes with recognition of credits and qualifications.
Centre franco-russe de recherche en sciences humaines et sociales de Moscou
Portail Jeunesse - Actualité
Regards citoyens
Jeunesse
Youth in Action is the Programme the European Union has set up for young people. It aims to inspire a sense of active European citizenship, solidarity and tolerance among young Europeans and to involve them in shaping the Union's future.More about Youth in Action The Education, Audiovisual and Culture Agency Executive Agency (EACEA) is responsible for the management of certain parts of the Youth in Action programme under supervision from its parent Directorate-General for Education and Culture (DG EAC of the European Commission).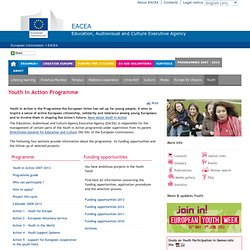 Le plan Education et formation de l'Union européenne (anciennement appelé Socrates) comprend quatre programmes : Erasmus : Aide à la mobilité universitaire des étudiants et enseignants. Pour les étudiants, départ possible entre la deuxième année d'études jusqu'au doctorat inclus pour une durée de 3 à 12 mois. Montant moyen de l'allocation étudiante : 155, 71 euros par mois. Près de 23 000 étudiants français sont partis avec Erasmus pour l'année universitaire 2006/2007.
Génération Erasmus : Mobilité des jeunes, en savoir plus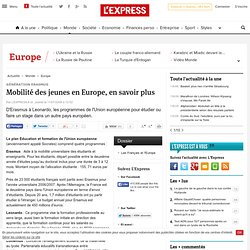 strasbourg l'Europe
EESC European Economic and Social Committee | A bridge between Europe and organised civil Society