Government, politicans & actions
Edward Snowden Threatens the Establishment, Not Our Security
fisainfographic3_nofoot.jpg (700×2200)
Inadequate regulation in a critical U.S. transportation industry has brought dirty air and dead-end jobs for too long.
Environment Petition: Make the Trucking Industry Clean Up Its Act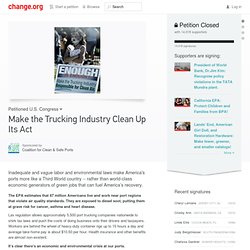 Maybe you spent the last weekend shopping for gifts, writing out holiday cards or studying for final exams. For most of America, the end of the year is a busy time. In Congress, this is a season usually spent trying to jam through bad bills while they hope no one is looking. The Senate voted last Thursday to pass S. 1867, the National Defense Authorization Act (NDAA), which would authorize the president to send the military literally anywhere in the world to imprison civilians without charge or trial. Prison based on suspicion alone.
Behind Closed Doors: Congress Trying to Force Indefinite Detention Bill on Americans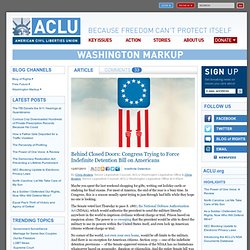 Even The Ancient Roman Empire Wasn't As Unequal As America Today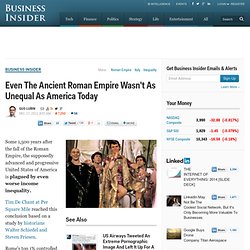 Some 1,500 years after the fall of the Roman Empire, the supposedly advanced and progressive United States of America is plagued by even worse income inequality. Tim De Chant at Per Square Mile reached this conclusion based on a study by historians Walter Schiedel and Steven Friesen. Rome's top 1% controlled 16 percent of the wealth, compared to modern America where the top 1% controls 40 percent of the wealth.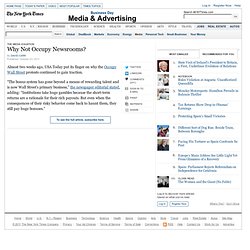 "The bonus system has gone beyond a means of rewarding talent and is now Wall Street's primary business," the newspaper editorial stated, adding: "Institutions take huge gambles because the short-term returns are a rationale for their rich payouts. But even when the consequences of their risky behavior come back to haunt them, they still pay huge bonuses."
Bonuses Worthy of Protest for Gannett and Tribune Executives
NY Deputy Mayor: press don't have the right to report in vicinity of NYPD ops
Anonymous Hackers Now Fighting Child Pornography
Anonymous, the group of high-powered hackers famous for targeting Bank of America and Sony, has turned its vigilante brand of online activism to child pornography sites.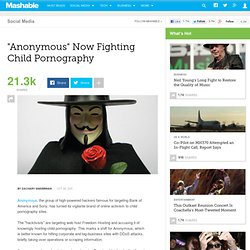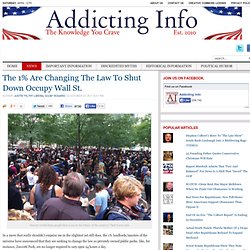 Heaven forbid these people have a say in the future of the country! They're not rich!
The 1% Are Changing The Law To Shut Down Occupy Wall St.
New Bill Being Considered In Congress Could Shut Down Social Media Sites Crucial To 'Occupy' Protests
In what would be a stunning disregard for First Amendment rights, rumors are swirling that the Republican controlled Congress is now considering a new bill that could blackout sites such as YouTube, Twitter, Facebook, and other sites that utilize content generated by users.