Virtual worlds
Gehan Kamachi - Digital city and virtual worlds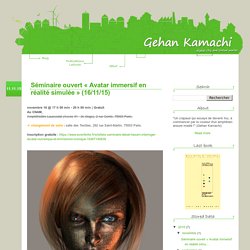 Un simple billet pour vous faire part d'une publication intitulée : "La numérisation de la ville et ses représentations" Ce texte est paru dans le dernier numéro de la revue MCD #73 : "La numérisation du monde" (NB : toutes les contributions de ce numéro ont été réalisées par des chercheurs académiques). Premières lignes du texte : Note : Pour soutenir le travail de cette revue, mon texte n'est pas immédiatement disponible en accès libre.
Cinq mois après le lancement du projet "Magic Ring", nous présentons ici les premiers résultats des données récoltées. Nous tenons d'abord à remercier l'ensemble des participants, nos partenaires, nos amis qui ont relayé l'information, et bien sûr le CRCA de l'Université Californienne de San Diego pour le soutien technique, puisqu'en cinq mois :179 avatars ont participé au projet ; nous avons près de 2 millions de points de données (un point est récupéré toutes les cinq secondes lorsqu'un avatar porte l'objet et chaque envoi comprend une vingtaine de paramètres).1 - Répartition des avatars par durée globale de connexion Ce premier schéma montre la répartition des avatars par temps de connexion total dans Second Life ou OpenSim.
Scientific investigation in Second Life and Open Sim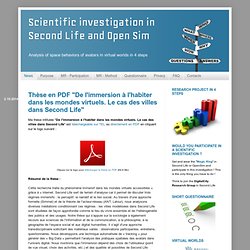 2ndMe.com - Home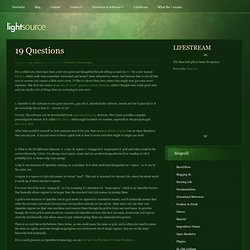 Gepostet von wp_admin am Jun 2nd, 2011 in Tutorials | 2 Kommentare For a while now, there have been a few very good and thoughtful threads sitting around on SLU by a user named KKaras, which sadly were somewhat overlooked and haven't been adressed too much. And because they're not all that easy to answer and require a little more room, I'd like to adress them here, where they might even get some more exposure. This first one covers 19 20 lots of "noob" questions about OpenSim, which I thought were really good ones and can clarify a lot of things that are confusing to new users.
19 Questions : Tell Gayle I Bleed