Virtual worlds
Gehan Kamachi - Digital city and virtual worlds. Scientific investigation in Second Life and Open Sim. 2ndMe.com - Home.
3D
Second Life. 19 Questions : Tell Gayle I Bleed. Gepostet von wp_admin am Jun 2nd, 2011 in Tutorials | 2 Kommentare For a while now, there have been a few very good and thoughtful threads sitting around on SLU by a user named KKaras, which sadly were somewhat overlooked and haven't been adressed too much.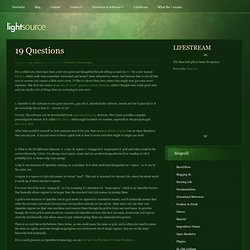 And because they're not all that easy to answer and require a little more room, I'd like to adress them here, where they might even get some more exposure. This first one covers 19 20 lots of "noob" questions about OpenSim, which I thought were really good ones and can clarify a lot of things that are confusing to new users. Tout sur l'OpenSim. BLUE MARS 3D Social Worlds - Play, Chat, Create.
---