Deploy-firefox
Mozilla to Let Enterprises Build Custom Firefox Browsers - Busin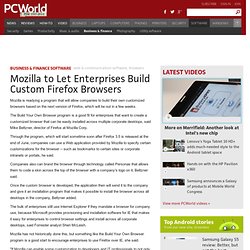 Mozilla is readying a program that will allow companies to build their own customized browsers based on the next version of Firefox, which will be out in a few weeks. The Build Your Own Browser program is a good fit for enterprises that want to create a customized browser that can be easily installed across multiple corporate desktops, said Mike Beltzner, director of Firefox at Mozilla Corp. Through the program, which will start sometime soon after Firefox 3.5 is released at the end of June, companies can use a Web application provided by Mozilla to specify certain customizations for the browser -- such as bookmarks to certain sites or corporate intranets or portals, he said. Companies also can brand the browser through technology called Personas that allows them to code a skin across the top of the browser with a company's logo on it, Beltzner said.
Before you proceed any further with mass deployment of Firefox in your organization or entire network, conduct a survey to determine the websites used by your employees to do their job. Then, test those websites in Firefox and ensure that they work [in most cases they will]. You are now ready to deploy Firefox throughout your network. We will cover two topics in this post. We will learn about a way to deploy Firefox on all the computers in your organization.We will then learn to control various settings of Firefox like we do for Internet Explorer, such as proxy settings, enabling and disabling certain options etc. Mass Deployment
How To: Deploy Firefox throughout your Organization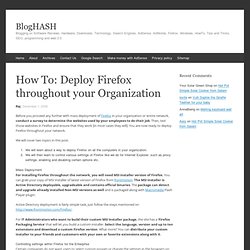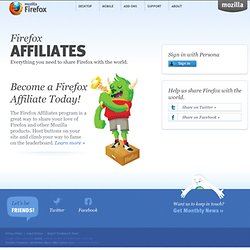 The Firefox Affiliates program is a great way to share your love of Firefox and other Mozilla products. Host buttons on your site and climb your way to fame on the leaderboard. Learn more »
Enterprise | Spread Firefox
Internet Explorer 8 vs. Firefox 3 – Deployment and Management
<span class="big">Please enable Javascript, because you won't see all of the content.</span> In my last post I covered the arguments usually heard when people compare Internet Explorer and Firefox. From my perspective however, other factors have to be considered when comparing the two vis-a-vis the corporate environment. I outlined these issues in my previous posts, which dealt with earlier versions of the two programs.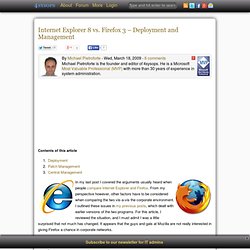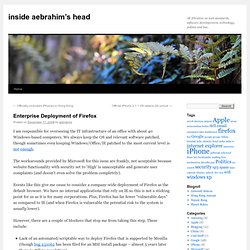 inside aebrahim's head » Enterprise Deployment of Firefox
I am responsible for overseeing the IT infrastructure of an office with about 40 Windows-based computers. We always keep the OS and relevant software patched, though sometimes even keeping Windows/Office/IE patched to the most current level is not enough. The workarounds provided by Microsoft for this issue are frankly, not acceptable because website functionality with security set to 'High' is unacceptable and generate user complaints (and doesn't even solve the problem completely).