Peanut Butter
Food I Love / Peanut Butter Fudge Pie. Rating: 5 stars. Comments: This is the pie my aunt always makes, so I made it for Christmas this year. It is deadly good. Peanut Butter "Cheese Ball" I wasn't kidding when I said I've been obsessed with peanut butter lately.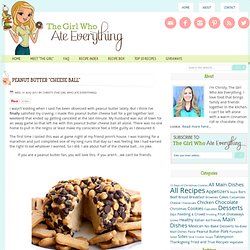 But I think I've finally satisfied my craving. I made this peanut butter cheese ball for a get together last weekend that ended up getting canceled at the last minute. My husband was out of town for an away game so that left me with this peanut butter cheese ball all alone. There was no one home to pull in the reigns or least make my conscience feel a little guilty as I devoured it. Ultimate Chocolate Chip Cookie n' Oreo Fudge Brownie Bar. On Wednesday, I wondered what would happen if you combined Oreo Stuffed Chocolate Chip Cookies with Oreo Stuffed Brownies.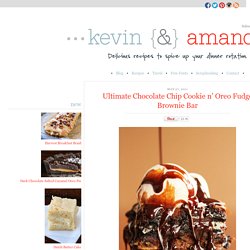 On Thursday I found out. And on Friday… I had this. This beautiful, ridiculous, indulgent, outrageous, illegal in 48 states, totally wonderful ultimate layered cookie and brownie treat. Peanut Butter Cup Brownies. They are as good as they look.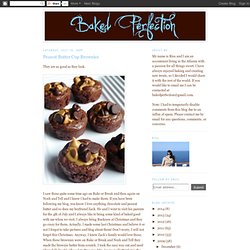 I saw these quite some time ago on Bake or Break and then again on Nosh and Tell and I knew I had to make them. If you have been following my blog, you know I love anything chocolate and peanut butter and so does my boyfriend Zack.
---