Gamez
Welcome to the World of Playing Cards - The World of Playing Cards
Blood Bowl
It is currently 02 April 2013, 23:19 News 25 Topics 558 Posts Last post by Celia B 26 February 2013, 10:46 General Forum Everything dealing with the video game developed by Cyanide! 600 Topics 10615 Posts Last post by booncabal76 02 April 2013, 23:00 Roster & Strategies Your rosters, your strategies, advice, etc. 261 Topics 8195 Posts Last post by khaspah 02 April 2013, 22:28 You vs AI This is the zone for the ones who prefer to play against the machine. 75 Topics 782 Posts Last post by Ixnatifual 01 April 2013, 19:28 League Info & Recruitment Present your league and recruit new challengers!
Blood Bowl • Index page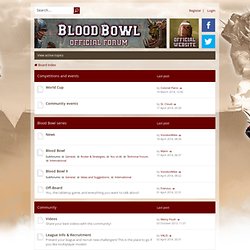 Ogame startpagina
Main Page - OGame.NL forum
Sins of a Solar Empire
Sins of a Solar Empire
Runic Games • Index page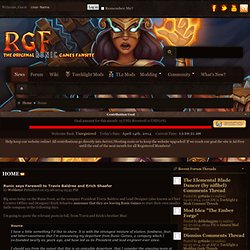 Runic Games Fansite - Home
Hello everyone. First up, we're back online. I'm sorry for the downtime ( details here , for the technical folks out there). We would have been online sooner if I didn't need a little thing called sleep.
Torchlight Armory - Home