Gamez
Jaques' Snap January 05, 2014 Snap, the Old Original Game, has captured the imaginations of children for over a century! Naipes El León, Mexico November 21, 2011 Naipes El León Piatnik Tarock cards August 08, 2010 Deck of "Industrie und Glück" or "Rural Scenes" tarock cards manufactured by Ferd Piatnik & Söhne, Vienna, c.1910. The Trumps feature rural scenes and costumes from different regions. Trump II shows a crowned eagle with a sword and sceptre clasped in one claw, perched on a rock bearing the legend "Industrie und Glück".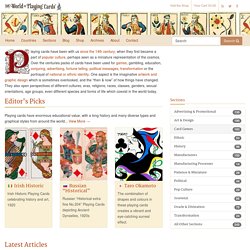 Blood Bowl • Index page
Ogame startpagina
Main Page - OGame.NL forum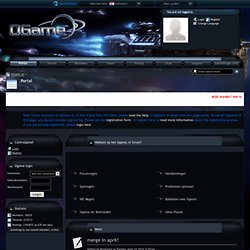 Beste spelers en spelerinnen, Graag wil ik jullie mededelen dat het groene stokje weder is overgedragen. Enige tijd geleden heeft Potentiel00s aangegeven dat hij binnen niet afzienbare tijd afstand wilde gaan doen van zijn taken en verantwoordelijkheden als smod.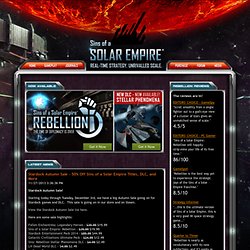 Sins of a Solar Empire
Explore the newest, most dangerous battlefield yet The ever-expanding conflicts within and between the TEC, Vasari, and Advent have pushed the battlegrounds into uncharted space. The sectors now being drawn into the war feature the most dangerous and powerful natural phenomena in the galaxy. In addition, Stellar Phenomena lets players seize the moment with 11 optional random events that can alter the fate of not just your empire but the galaxy at large.
Sins of a Solar Empire
Runic Games • Index page
It is currently Fri Jan 17, 2014 8:35 pm View unanswered posts • View active topics Who is online In total there are 100 users online :: 5 registered, 0 hidden and 95 guests (based on users active over the past 5 minutes)Most users ever online was 1762 on Sun Sep 23, 2012 8:51 am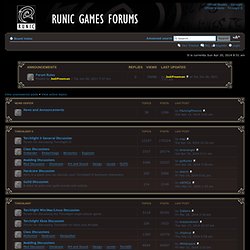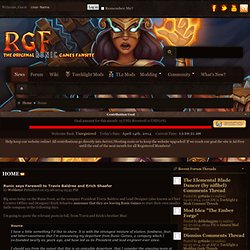 Runic Games Fansite - Home
I have a little something I'd like to share. It is with the strangest mixture of elation, fondness, fear, and bitter-sweetness that I'm announcing my departure from Runic Games, a company which I co-founded nearly six years ago, and have led as its President and lead engineer ever since. I should say from the outset that this is an amicable departure, that I consider the amazing team at Runic my friends and family, and that it is a privilege that they've let me get away with running the place for this long. I love them all, and the biggest downside to all of this is that I won't get to see them every day.
Torchlight Armory - Home