Discussions
Life @ Paris. Alexander Ljung: Impossible to find a damn... Eric Wahlforss: Very amusing trying to ord... Mood!!! Robert Scoble: Wifi at LeWeb is frustrati... Wifi at LeWeb is frustrating. Even ethernet in... - leweb - Frie. Chris Prakoso: #leweb2008 Business, don\'t... Chris Prakoso: #leweb Chris Anderson, cur... Chris Prakoso: #leweb the last session wa... Alexander Ljung: At leweb (with a cold), In... Henri Kaufman: Le Web 08 en direct. Il fa... Chris Prakoso: #leweb Coffee Break now, n... Melody McCloskey: Viewdle wins #leweb startu... Le Web Has A Room With A Viewdle - Startup Winners Picked. Le Web, a key event for Europe's traveling circus of startup communities, ran a pitch competition alongside the main track again this year.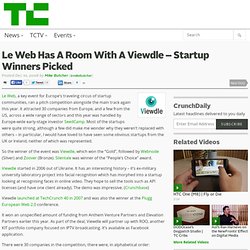 It attracted 30 companies from Europe, and a few from the US, across a wide range of sectors and this year was handled by Europe-wide early-stage investor SeedCamp. Most of the startups were quite strong, although a few did make me wonder why they weren't replaced with others – in particular, I would have loved to have seen some obvious startups from the UK or Ireland, neither of which was represented. Chris Prakoso: #leweb Next session is gon... Romain Péchard: LeWeb reviewed by The Guar... Freezing cold, no internet, boring: it\'s a French web 2.0 confe. Bon soir from Paris.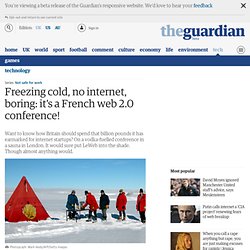 It's 3am on Wednesday morning and I've just stumbled back to my hotel from a MySpace-sponsored party at Palais Maillot and an after-party in a bizarre dive bar where water dripped from the ceiling and the DJ played nothing but Jive Bunny. I'm in town for LeWeb, Europe's largest web 2.0 conference, with 1,800 entrepreneurs from around the world each paying €1,500 to meet their peers, demo their startups and generally try to pretend that their businesses aren't completely and totally doomed.
The conference ends in a little over 12 hours which, annoyingly, is about five hours after this column is due to be published. I shouldn't necessarily be surprised at the deadline inconvenience. Previous LeWebs have been marred by controversy and negative press coverage so this year organiser Loic Le Meur has come up with a cunning plan to head off criticism.
Social Platform. Dave Morin: Great panel on the future... Eric Wahlforss: great panel on openness/so... Chris Prakoso: #leweb they are talking ab... Peter Berg: Listening to some interest...
---