Tips
yourgreendrycleaner.com
Kitchen Tour: Kittie's Precision Micro KitchenNew York | Apartment Therapy The Kitchn
Kittie lives in a 170 square foot studio, so you can imagine how small her kitchen must be. The original Pullman kitchen dated from the 1920's and was like a narrow closet behind french doors. When Kittie renovated her apartment, she knew she wanted to build a working kitchen regardless of how miniaturized it would have to be. Unlike many New Yorkers who use their micro apartment as an excuse to eat out every night, Kittie feels strongly that it " is possible to make real meals in a tiny studio kitchen, even with no range and minimal equipment."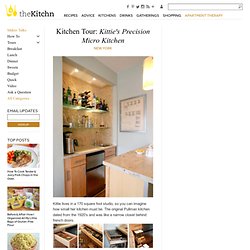 Od kiedy tylko dowiedziałem się o istnieniu broni nuklearnej i ogólnych sposobach jej użycia, zastanawiałem się, jak by wyglądał świat po pełnoskalowej wojnie nuklearnej. Czy życie na Ziemi zostałoby unicestwione do ostatniej bakterii? A może przetrwają owady i bakterie, może trochę ryb głębinowych , ale wyginą wszystkie wyżej zorganizowane gatunki? A może w ogólnym zarysie życie na Ziemi przetrwa bez większych strat, tylko wyginie ludzkość? Być może ludzkość też przetrwa, tylko zginie cywilizacja? Czy możliwe jest, że nawet cywilizacja nie zginie, tylko dozna potężnego wstrząsu i zmiany?
Czy można przeżyć wojnę nuklearną?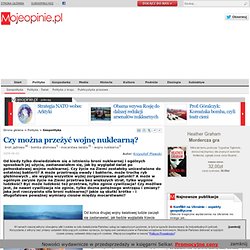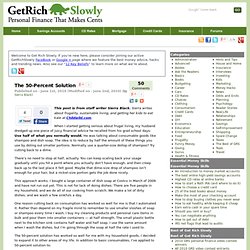 This post is from staff writer Sierra Black. Sierra writes about frugality, sustainable living, and getting her kids to eat kale at Childwild.com . When I started getting serious about frugal living, my husband dredged up one piece of juicy financial advice he recalled from his grad school days: Use half of what you normally would. He was talking about consumable goods like shampoo and dish soap.
The 50-Percent Solution
While reading Amy Dacyczyn's The Complete Tightwad Gazette this afternoon, I learned a great new money hack. Dacyczyn (pronounced "decision") advocates using a grocery price book to save big bucks at the supermarket. A grocery price book is an ongoing list of the items you most commonly purchase and how much you paid for them. This list allows you to detect price cycles, spot bargains, and plan your shopping trips for maximum savings . Dacyczyn explains: My price book is a small loose-leaf binder.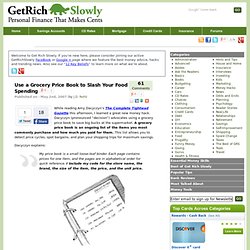 Use a Grocery Price Book to Slash Your Food Spending
How to Survive in the Post-Apocalyptic World | DelSquacho
Schmoozing 101: Tips for shy techies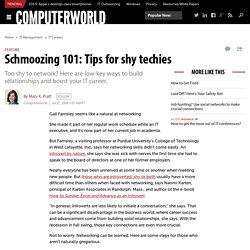 By Mary K. Pratt July 27, 2009 12:01 AM ET Computerworld - Gail Farnsley seems like a natural at networking.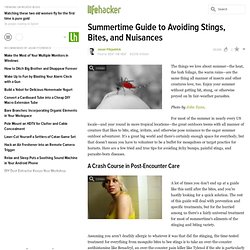 Summertime Guide to Avoiding Stings, Bites, and Nuisances
The things we love about summer—the heat, the lush foliage, the warm rains—are the same thing all manner of insects and other creatures love, too. Enjoy your summer without getting bit, stung, or otherwise preyed on by fair-weather parasites. Photo by John Tann .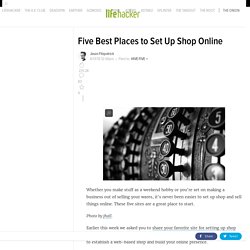 Five Best Places to Set Up Shop Online
Whether you make stuff as a weekend hobby or you're set on making a business out of selling your wares, it's never been easier to set up shop and sell things online. These five sites are a great place to start. Photo by jhall . Earlier this week we asked you to share your favorite site for setting up shop online . Now we're back with the results and an overview of the five best places to establish a web-based shop and build your online presence. Big Cartel (Web-Based, Basic: Free/Premium: From $9.99 per month)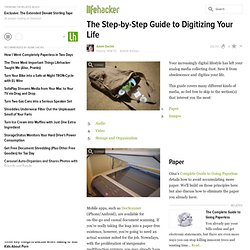 Your increasingly digital lifestyle has left your analog media collecting dust. Save it from obsolescence and digitize your life. This guide covers many different kinds of media, so feel free to skip to the section(s) that interest you the most: Paper Gina's Complete Guide to Going Paperless details how to avoid accumulating more paper.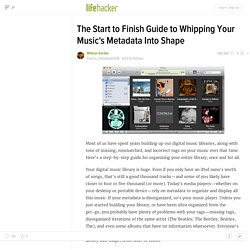 Most of us have spent years building up our digital music libraries, along with tons of missing, mismatched, and incorrect tags on your music over that time. Here's a step-by-step guide for organizing your entire library, once and for all. Your digital music library is huge. Even if you only have an iPod nano's worth of songs, that's still a good thousand tracks—and some of you likely have closer to four or five thousand (or more). Today's media players—whether on your desktop or portable device—rely on metadata to organize and display all this music.
Set up a healthy, usable workspace
Click to view We spend a lot of time at Lifehacker helping you make the most of your computer, including how to make the most of the workspace surrounding your computer. After all, you don't work in a computer - you work at one. That's why today, in the spirit of our ongoing Coolest Workspace Contest , we're taking a step back to examine your physical workspace. I'm going to highlight a few important pointers for setting up a healthy and usable workspace to keep you effortlessly and painlessly cranking out work. A healthy desk As Lifehacker's resident RSI-expert, the healthy desk holds a special place in my heart.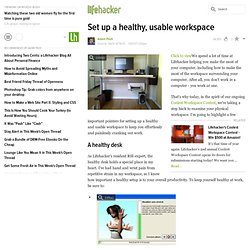 Master the Art of Working Remotely - Gina Trapani
by Gina Trapani | 10:23 AM June 16, 2009 Over the past five years I've worked off-site and online for employers across the country using email, chat, and web-based collaboration apps. My work life has been the envy of my traditional nine-to-five friends.
by Gina Trapani As a computer programmer in a new apartment, I've taken the same approach to setting up my home as I would developing a software application: with a focus on usability. Like any good software package, my home should be a tool that helps me get things done, a space that's a pleasure to be in and a launch pad for daily tasks as well as my life goals. Whether the task at hand is to relax after work, phone a family member, or keep track of a dry cleaning receipt, there are lots of simple ways to create a living space that makes getting things done a breeze. I'm no home organization expert, but here are a few tips I've gleaned over time that can help make your house a Usable Home. Create space for incoming stuff
Geek to Live: The Usable Home
Post written by Leo Babauta . Follow me on twitter . Often my articles on family are about spending time with your kids, but today we'll talk about another important aspect of families: couples. If you've got a significant other, I highly recommend you keep the spark of your relationship alive and find ways to show you appreciate each other, every week and every day, if possible. Look for little, inexpensive ways to be romantic, and it will pay off for your relationship in innumerable ways.
50 Ways to Be Romantic on the Cheap | zen habits
A year in Lifestyle – from dire rumblings over biofuel to the unprecedented eco-promises of President Elect Obama, from ravaged coral to eco sunscreen, personal sustainability to green careers. It's been a whirlwind 12 months…and here's why. January: we first look at the menaces of urban tumbleweed , plastic hotel toiletries , greenwashing , and pondered the wisdom of using silicone cookware and fuel in place of food . February : Kim checks out Japanese holistic toothpaste ; salmon stocks crash in north California; we suggest shedding some light ; orangutans swipe chopsticks for a good cause ; Freecycle helps us get household essentials entirely for free; a mousetrap even mice might like ; catalytic converters lose their green credentials ; Luanne finds a coral cemetery ; travel journals are an Art form – look !; and the bamboo that helps you read in the bath.
Top Lifestyle Stories of 2008: 220 Tips, How-Tos, and News Articles | EcoSalon: Organic Green Fashion, Design, Food, Tech, Travel, Culture, Pets and Lifestyle
How to Get Rid of Ear Mites
I used to think pets that walked in circles and attacked their ears were cute, until I did a little bit of research about getting rid of ear mites (Otodectes cynotis). Ear mites are a bit scary, actually, if they're allowed to do enough damage to your pet. As it turns out, cats and dogs can get an infection from ear mites if they aren't treated, doing damage to their middle ear which throws off their balance and either causes them to not walk or to walk in circles constantly. Worse still, ear mites have been implicated as the cause of allergic reactions similar to those of dust mites . In fact, many people who test positive for dust mite allergies also test positive for ear mite allergies (see: mites ). Considering how many people own pets , the potential for your chronic allergies to be caused by an ear mite infestation.
Firefox News : » How to reduce computer energy consumption
Własna firma w Rwandzie « Konrad jest w Rwandzie
Dress Code: When You're Sick Of All Your Clothes
Advice on Dressing Like a Post-Collegiate Adult Male
Set Up a Fully Automated, Torrent-Seeding Media Center
Czyszczenie klawiatury - jak oczyścić klawiaturę