Webcomics
Daily Lessons in Science, Literature, Love and Life . . . Updated Seven Days A Week
Double Indemnity
Saturday Morning Breakfast Cereal
Ages
archive
Buttersafe – Updated Tuesdays and Thursdays
Subnormality
Dueling Analogs - Gaming Webcomic
Cyanide & Happiness
AmazingSuperPowers: Webcomic at the Speed of Light
That logic doesn't bode well for Life Coaches. Do you know my favorite sign around airport security? It's the one that says something along the lines of "Making jokes about bombs will be taken seriously, and will come with severe criminal charges." That's right, there are places in the US where jokes are actually illegal.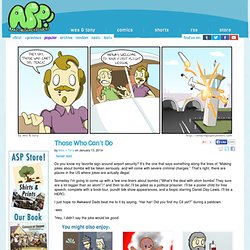 theWAREHOUSE web comic
Hi again guys and gals! I need your votes. (link isn't quite right yet, i'll try to update when the design is available, but I wanted to make this post now. Look for the one that's the astronaut on orange, as pictured here) I put together what I think is a super neat illustration of a spaceman jumping off a swing. You can see it over at Threadless.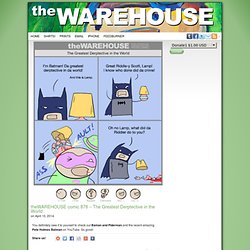 Penny Arcade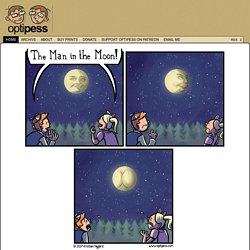 Optipess
So I had a comic in mind for today, but apparently over the weekend I completely lost the ability to produce these strips, resulting in me scrapping said comic altogether. Not the best feeling, but with some luck I should be able to relearn it all in time for the next update. Hopefully? In any case, here are some other comics I've been reading lately. Maybe you'll like them too?
Basic Instructions