Webs Sites
Home - Clayblob Music
Home - Clayblob Music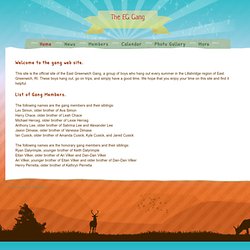 EG Gang
The following names are the gang members and their siblings: Lev Simon, older brother of Ava Simon Harry Chace, older brother of Leah Chace Michael Herceg, older brother of Lexie Herceg Anthony Lee, older brother of Sabrina Lee and Alexander Lee Jason Dimase, older brother of Vanessa Dimase
Home - Linkapallooza
Home - E.G.N.M.S Reporters
Home - Random Things to Say and Do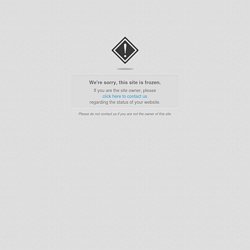 Home - Destroy the Brookside
Since our Lillabridge soldiers have been dispatched, they found one of the hideouts used to rendezvous with their supplies crate. As soon as our soldiers reached the hideout, one of our brave soldiers stole a molotov cocktail and threw it at the crates of TNT. None of our soldiers died, but most of the Brooksiders with minimally injured with cuts and 1st degree burns. Our first step has been completed.
Home - Hap
Home - FTS
Home - HAP Yard Service
Home - Hanks Pranks
Home - The Brookside Times
Home - BrookBlob
Home - Triton's Site
Home - Leo's Site
Home - Panda99j.com
Bugville - Home
Pi - Home
Home - PIE!
Home - Customized
Home - Clayblob
Home - BrookBlob