Good one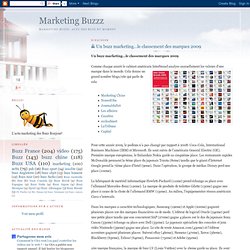 Un buzz marketing...le classement des marques 2009 Comme chaque année le cabinet américain Interbrand analyse annuellement les valeurs d'une marque dans le monde. Cela donne un grand nombre blogs/site qui parle de cela Pour cette année 2009, le podium n'a pas changé par rapport à 2008: Coca-Cola, International Business Machines (IBM) et Microsoft.
Un buzz marketing...le classement des marques 2009
628 milliards de dollars, soit 427 milliards d'euros : c'est ce que valent au total les 20 marques les plus chères au monde, selon le classement annuel réalisé par Interbrand. Si beaucoup d'entre elles ont laissé des plumes dans la crise financière, le palmarès n'a pas pour autant été bouleversé. Quels sont les gagnants et les perdants ? Comment s'en sortent les marques françaises ? Qu'est-ce qui fait la force de Coca-Cola, IBM ou Google ? Voici le top 20 du classement 2009 d'Interbrand.
Les marques les plus chères en 2009 - Journal du Net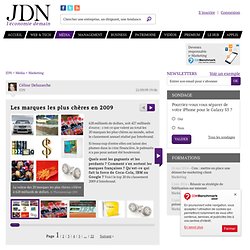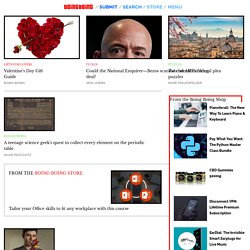 Xeni Jardin at 11:21 am Fri, Jan 17, 2014 • 0 Image: Reuters Reuters reports that digital security firm IntelCrawler claims to have uncovered "at least six ongoing attacks at merchants across the United States whose credit card processing systems are infected with the same type of malicious software used to steal data from some 40 million credit cards at Target Inc." The firm has alerted "law enforcement, Visa Inc and intelligence teams at several large banks about the findings." Xeni Jardin at 11:02 am Fri, Jan 17, 2014 • 1 Here is a PDF transcript of the president's speech on surveillance and national security today.
Pubs Fred Et Farid © BLOG O PUB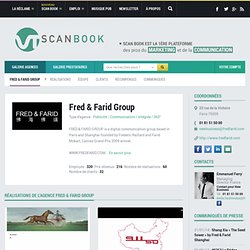 Type d'agence : Publicité / Communication / Intégrée / 360° FRED & FARID GROUP is a digital communication group based in Paris and Shanghai founded by Frederic Raillard and Farid Mokart, Cannes Grand Prix 2009 winner. WWW.FREDFARID.COM... En savoir plus
Top 20 Viral Videos