Militär
Frieden ist Krieg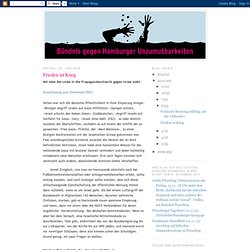 Druckfassung zum Download (PDF) Selten war sich die deutsche Öffentlichkeit in ihrer Empörung einiger: »Blutiger Angriff Israels auf Gaza-Hilfsflotte« (Spiegel online); »Israel schockt den Nahen Osten« (Süddeutsche); »Angriff Israels auf Solifahrt für Gaza« (taz); »Israel ohne Maß« (FAZ) – so oder ähnlich lauteten die Überschriften, nachdem es auf einem der Schiffe der so genannten »Free Gaza«-Flotilla, der »Mavi Marmara«, zu einer blutigen Konfrontation mit der israelischen Armee gekommen war. Fast unwidersprochen kursierte zunächst die Version der an Bord befindlichen Aktivisten, Israel habe eine humanitäre Mission für das notleidende Gaza mit brutaler Gewalt verhindert und dabei kaltblütig mindestens neun Menschen erschossen.
Obviously, many of those in the "Freedom Flotilla" were not engaged in a humanitarian mission.
Analysis: The flotilla fiasco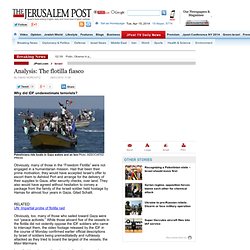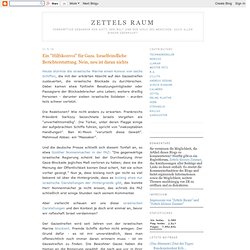 Heute stürmte die israelische Marine einen Konvoi von sechs Schiffen, die mit der erklärten Absicht auf den Gazastreifen zusteuerten, die israelische Blockade zu durchbrechen. Dabei kamen etwa fünfzehn Besatzungsmitglieder oder Passagiere der Blockadebrecher ums Leben; weitere dreißig Personen - darunter sieben israelische Soldaten - wurden teils schwer verletzt. Die Reaktionen? Wie nicht anders zu erwarten. Frankreichs Präsident Sarkozy bezeichnete Israels Vorgehen als "unverhältnismäßig". Die Türkei, unter deren Flagge einige der aufgebrachten Schiffe fuhren, spricht von "inakzeptablen Handlungen".
Ein "Hilfskonvoi" für Gaza. Israelfeindliche Berichterstattung. Nein, neu ist daran nichts
Israel Navy commandos: Gaza flotilla activists tried to lynch us
Text size An activist holding a knife aboard a Gaza-bound aid ship on May 31, 2010. Photo by Provided by IDF Spokesperson's Unit related articles By Reuters and Haaretz Service May.31,2010 | 12:18 AM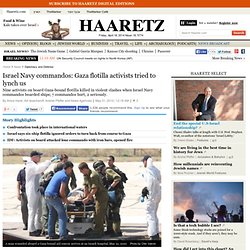 Artikel per E-Mail empfehlen "Solidaritätsflotte" als Provokation gegen Israel Die "Solidaritätsflotte" für die Palästinenser ist unterwegs. Den Organisatoren geht es dabei vor allem um Provokation.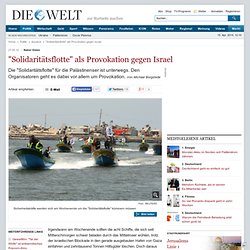 Naher Osten: "Solidaritätsflotte" als Provokation gegen Israel - Nachrichten Politik - Ausland
A brutal ambush at sea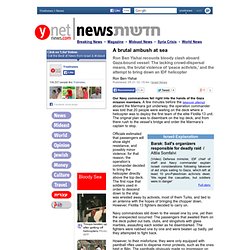 Ron Ben Yishai recounts bloody clash aboard Gaza-bound vessel: The lacking crowd-dispersal means, the brutal violence of 'peace activists,' and the attempt to bring down an IDF helicopter Our Navy commandoes fell right into the hands of the Gaza mission members. A few minutes before the takeover attempt aboard the Marmara got underway, the operation commander was told that 20 people were waiting on the deck where a helicopter was to deploy the first team of the elite Flotilla 13 unit. The original plan was to disembark on the top deck, and from there rush to the vessel's bridge and order the Marmara's captain to stop. Officials estimated that passengers will show slight resistance, and possibly minor violence; for that reason, the operation's commander decided to bring the helicopter directly above the top deck.
Navy escorts flotilla ships to Ashdod