Vintage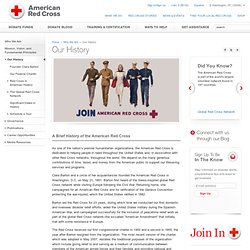 As one of the nation's premier humanitarian organizations, the American Red Cross is dedicated to helping people in need throughout the United States and, in association with other Red Cross networks, throughout the world. We depend on the many generous contributions of time, blood, and money from the American public to support our lifesaving services and programs. Clara Barton and a circle of her acquaintances founded the American Red Cross in Washington, D.C. on May 21, 1881. Barton first heard of the Swiss-inspired global Red Cross network while visiting Europe following the Civil War. Returning home, she campaigned for an American Red Cross and for ratification of the Geneva Convention protecting the war-injured, which the United States ratified in 1882.
American Red Cross Museum
The 1940s in Britain was a high point for hand knitting. Women on the home front could make a contribution to the war effort by knitting for the troops using patterns that were often given away free. Many specialised patterns developed such as the balaclava helmet with ear flaps for use in telephone operations or the mittens with a separate forefinger for firing a trigger in the cold. 'Spiral-spun waistcoat' Pattern for a waistcoat From Essentials for the Forces Jaeger Handknit 1940s 'Spiral-spun waistcoat' Pattern for a waistcoat From Essentials for the Forces Jaeger Handknit 1940s
1940s Patterns to Knit | V&A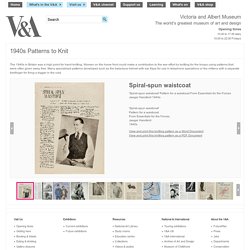 The Project Gutenberg EBook of Exercises in Knitting, by Cornelia Mee This eBook is for the use of anyone anywhere at no cost and with almost no restrictions whatsoever. You may copy it, give it away or re-use it under the terms of the Project Gutenberg License included with this eBook or online at www.gutenberg.org Title: Exercises in Knitting Author: Cornelia Mee Release Date: April 11, 2007 [EBook #21032] Language: English Character set encoding: UTF-8 *** START OF THIS PROJECT GUTENBERG EBOOK EXERCISES IN KNITTING *** Produced by Andrew Sly, Mark C. Orton and the Online Distributed Proofreading Team at http://www.pgdp.net
Exercises in Knitting
Vintage Knitting Patterns
Baby Dee Fundraiser: Vintage Knitting, Crochet, Needlework Patterns... and more!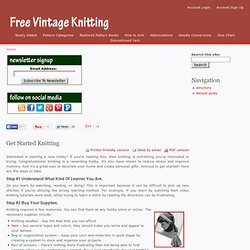 Printer-friendly version Send by email PDF version
Free Knitting Patterns | Free Vintage Knitting Patterns