Search
Share This With Friends Google just announced that it will stop its historic newspaper archive project. This is a sad day as the Google news archive was an important source of information for genealogists wanting to trace their ancestors. The project had already scanned roughly 2,000 historic newspapers from around the world.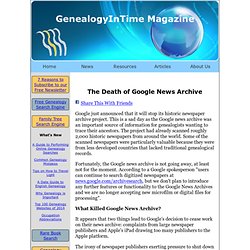 The Death of Google News Archive
Advanced Google Search skills tools
Google Genealogy Searching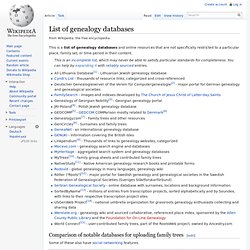 List of genealogy databases
This is a list of genealogy databases and online resources that are not specifically restricted to a particular place, family set, or time period in their content. Genealogy of Georgian Nobility Georgian genealogy portalCyndi's List, containing >250,000 resource links, categorized and cross-referenced in more than 180 categories.Deutscher Genealogieserver of the Verein für Computergenealogie, major portal for German genealogy and genealogical societies.FamilySearch - a database developed by The Church of Jesus Christ of Latter-day Saints. Over 60 million people in the Pedigree Resource File.JRI-Poland - JRI-Poland, Polish Jewish genealogy database. Over 5 million recordsAll Lithuania Database - All Lithuania Database, Lithuanian Jewish genealogy database.
the general list of search engines for all-purpose search engines that can be used for academic purposesbibliographic databases for information about databases giving bibliographic information about finding books and journal articles. Note that "free" or "subscription" can refer both to the availability of the database or of the journal articles included. This has been indicated as precisely as possible in the lists below. See also[edit] References[edit]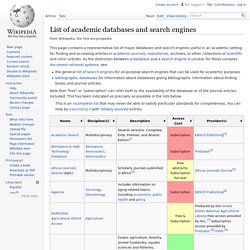 Category:Mass digitization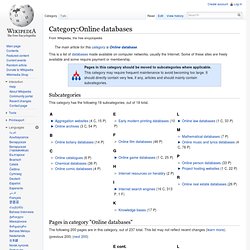 Category:Online databases
This is a list of databases made available on computer networks, usually the Internet. Some of these sites are freely available and some require payment or membership. Subcategories
International & Passenger Records