Oh ! wedding !
Utterly Engaged } The 1st Online Wedding & Bridal Magazine. Inspiring Brides with Style.
brooke schwab photography
Discover Yourself!
Cabin 7 | Spring Dinner Party Ideas | DIY Spring Time Party | Wedding Ideas Blog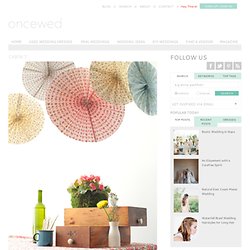 It's always exciting to see a fellow blogger launch a new venture, so I was really excited to hear from Jen about her new online store, Cabin 7. Jen teamed up with Charlotte Jenks Lewis to pull together a lovely spring time photo shoot around some of the products she is selling in her new shop and the images were so adorable I couldn't resist sharing a few here on Once Wed. Jen was also kind enough to send over some great DIY ideas from the shoot to help you recreate your own spring time celebration…
Jordan Ferney | Oh Happy Day!
Luna Bazaar is one of those sites that we easily get lost in.