Crochet Knit Sewing
mardi 19 novembre 2013 Tutoriel passepoil maison A l'occasion de la réalisation d'une jupe, d'un coussin, en tous les cas lorsqu'on veux marquer, créer un contraste, éclairer un tissu uni, on peut poser un passepoil, c'est très simple à faire..... tutoriel passepoil maison (clic) ex la jupe: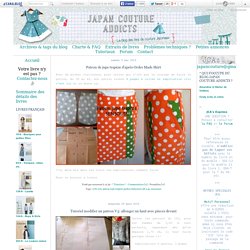 * Tutoriaux * - Japan couture addicts
le blog de Miss Plush Plush
Knitting Crochet Sewing Crafts Patterns and Ideas!
by sophie b. l'éco-design à la française
MILCH »COLLECTION
Tee-soi Itse Valas
You can find the tutorial in English here. ETA in February 2012: Hi! Nice of you to stop by! There will eventually be an English translation of this tutorial, so please have some patience:)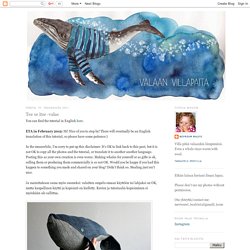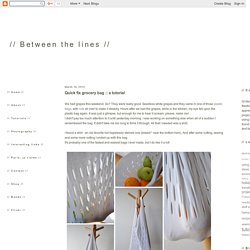 Quick fix sac d'épicerie :: un tutoriel
We had grapes this weekend.
Neat Ripple Pattern
Ahhhhhhhh look at all those hooky ripplesome ripples, aren't they glorious? I love crocheting this pattern, its relatively simple, rhythmic and soothing, but playing with colours in this way is also energising, exciting and a lot of fun. Well to me it is any road. there's something magical and mesmerising about the way the ripple effect makes the colours sing and dance next to each other, and it's a pattern I can see myself coming back to time after time.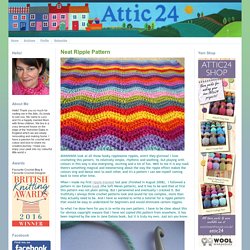 Connaissant mon goût pour les illus de la drôlissime Margaux Motin, MrChéri m'a offert le dernier numéro de Cosmopolitan, avec en cadeau l'agenda 2010. Effectivement, il est très sympa, cet agenda, clair, bien fichu, et plein de petits dessins absolument hilarants. Le seul bémol ?
[DIY] Tuto couverture agenda cosmo 2010 - facile et rapide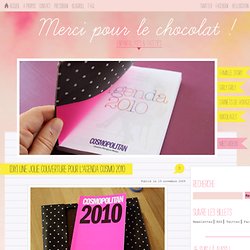 Tutos
Tout d'abord, il faut souligner qu'il ne s'agit que de indications assez générales pour confectionner les petits chaussons que vous pouvez voir ici aussi : http://detinmarin.canalblog.com/archives/2010/08/31/18945389.html#comments ... d'ailleurs j'ai pas fait de pdf parce que ce n'est pas vraiment un patron... bon, je me me lance. 1. Ce dont on a besoin...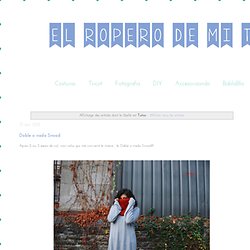 Milanese Loop pattern by tante ehm
70637365
Emporté par le vent
Tout à fait de saison ce petit châlepour faire écho aux feuilles qui voltigent au vent,merci Muriel d'avoir rebaptisé ce modèlec'est beaucoup mieux ainsi ! Le tuto vous est offert ici : chale_emporte_par_le_vent and in english too, thanks a lot Potiron : gone_with_the_wind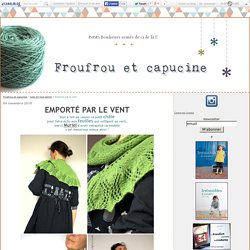 tuto de la robe caresse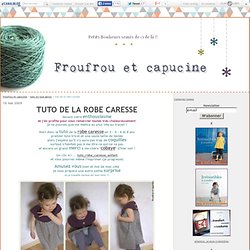 Devant votre enthousiasmeet j'en profite pour vous remercier toutes très chaleureusementje ne pouvais que me mettre au plus vite au travail ! Voici donc le tuto de la robe caresse en 2 - 4 - 6 et 8 anspremier tuto tricot et une seule taille de testéealors j'espère qu'il n'y aura pas trop de coquillessurtout n'hésitez pas à me dire ce qui ne va paset encore un grand merci à ma chère "cobaye" d'hier soir ! Un clic ici ... tuto_robe_caresse_enfantet vous pourrez même l'imprimer (je progresse)
Pour aider quelques irrésistibles couturières, j'ai réalisé un tuto technique et je me disais que ce serait sympa de vous le proposer aussi. "Coudre un biais sur l'intérieur d'un vêtement"
un petit tuto ?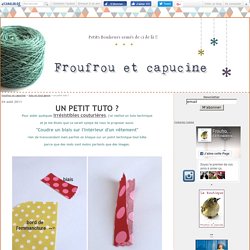 Tout d'abord, je tiens à préciser que j'ai appris à coudre la fleur paupiette grâce au tuto de Stef.Et c'est aussi en admirant celles de Lila Fanfreluche que j'ai voulu essayer à mon tour. De là est née celle-ci, puis celle-là ou encore la petite dernière ... Et comme certaines me réclamaient un petit tuto, je m'exécute avec plaisir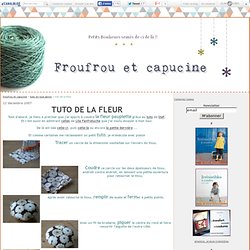 tuto de la fleur
Je vous laisse avec ce tuto ...commandes et jolis projets me demandent beaucoup de temps, je vous en reparlerai ! Bon week-end à toutes et tous !!! Certaines me l'avaient déjà réclamé mais j'attendais le Kaffe Fassett swap pour le publier, car je voulais que ma swappeuse en ait la primeur ! A présent, c'est à vous toutes (et tous ?) que je vous l'offre ...
tuto de la pochette
Non, ce titre n'évoque pas mon état psychologique actuel, rassurez-vous mais il me semblait tout à fait approprié pour vous présenter ce nouveau projet ... Avec le crochet, je trouve que l'on est toujours un peu limite je ne sais pas pourquoi mais le mauvais goût n'est jamais bien loin et il suffit de peu de chose pour basculer d'un côté ou de l'autre ...
Border line
Sunny Spread Crochet Pattern
Le Trendy Châle (Concours chez Melle Sophie)
Here is the promised tutorial to make this cardigan in your size, with your yarn choice using knitware software to generate the pattern. A free demo is available to download here. The demo is fully functioning and will allow you to make the cardigan with any yarn, in any size but will not allow the pattern to be saved. The best way to save the pattern is to select all, copy and then paste into Word.
Top Down Round Yoke Cardigan tutorial « Without Seams