Future Type
Cake postcard tutorial. Make a mailable slice of cake I have so many friends and family members that always say "I wish you could mail me a birthday cake!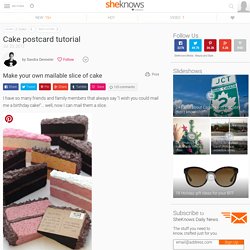 " ... well, now I can send them a slice. Put your stuff up in the air! Hanging DIY ideas & tutorials. Posted by ScrapHacker.com on onsdag, juni 27, 2012 · 9 Comments To heck with both feet on the ground!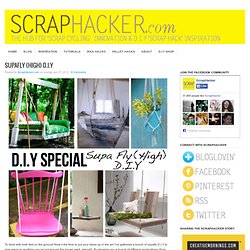 Now's the time to put your ideas up in the air! I've gathered a bunch of supafly D.I.Y to give wings to anything you've got around the house (well, almost!). PHOTOS: Stunning Mason Jar Crafts. Never Lose Those Keys Again! That is right… I said it.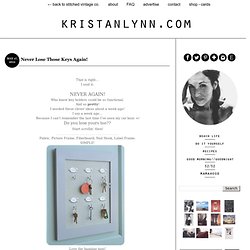 Who knew key holders could be so functional. And so pretty! I needed these clever ideas about a week ago! I say a week ago… Because I can't remember the last time I've seen my car keys =/ Make-up Magnet Board - StumbleUpon. We all know with craft blogs that original ideas are often hard to come by, we find ideas we love and make them our own but we didn't come up with the idea ourselves.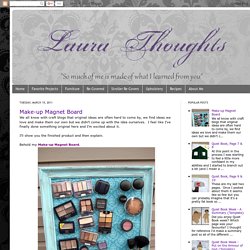 I feel like I've finally done something original here and I'm excited about it. I'll show you the finished product and then explain. Behold my Make-up Magnet Board. Cork Board ~ - StumbleUpon. DIY Project | Inspiration I created this cork board for my recent sale, but decided to keep it for myself.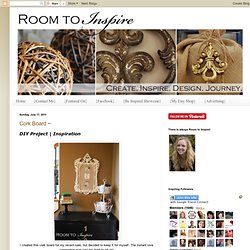 The instant love connection was just too tight to let go! Here was my inspiration photo: from Houzz: Three Men and a Lady. How to Make Leaf Skeletons - The Idea Room - StumbleUpon. I wanted to share with you a project from one of my readers who shares with us how to make leaf skeletons.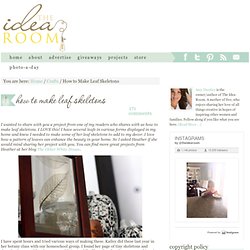 I LOVE this! I have several leafs in various forms displayed in my home and knew I needed to make some of her leaf skeletons to add to my decor. I love how a pattern of leaves can enhance the beauty in your home. So I asked Heather if she would mind sharing her project with you. Easy electic hall - eclectic - hall - other metros. 10 DIY Gifts for Friends and Family. DIY Gifts for the Family: Build Them With Care for Loved Ones Make a Magnetic Knife Block This is a gorgeous project for the chef on your short-list.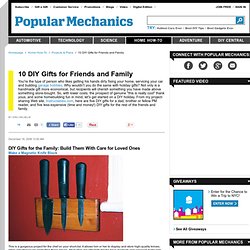 Make your own / A magnetic spice rack. A cookie sheet screwed to the under side of the cupbaord. Then magents hot glued to the lid of baby food jars. - So clever. How to, Creative DIY, Crafts, Patterns & Tips - Christmas Decorating Ideas DIY Affordable Easy Holiday Decorations. Christmas is one of my favorite holidays of the year, and the beauty of Christmas decorations is part of the reason.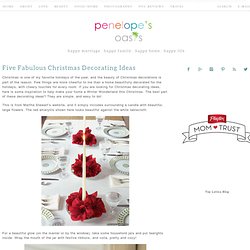 Few things are more cheerful to me than a home beautifully decorated for the holidays, with cheery touches for every room. If you are looking for Christmas decorating ideas, here is some inspiration to help make your home a Winter Wonderland this Christmas. The best part of these decorating ideas? They are simple, and easy to do!
Tutorial - makeanddogirl.com. 10 Beautiful Fabric Flower Tutorials | Skip To My Lou - StumbleUpon. It is spring!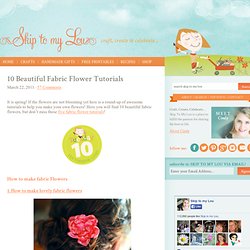 If the flowers are not blooming yet here is a round-up of awesome tutorials to help you make your own flowers! Here you will find 10 beautiful fabric flowers, but don't miss these five fabric flower tutorials! 1. Tutorials for Recycling Books - StumbleUpon. We rode bikes around our neighborhood this weekend and stopped at all the garage sales we found along the way.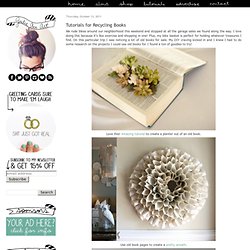 I love doing this because it's like exercise and shopping in one! Plus, my bike basket is perfect for holding whatever treasures I find. On this particular trip I was noticing a lot of old books for sale. My DIY craving kicked in and I knew I had to do some research on the projects I could use old books for. 80 How-To Sites Worth Bookmarking - StumbleUpon. Sitting on my dining room table, I currently have half a dozen projects in various states of doneness. Some involve vivisected computer parts, others will eventually be wearable and a few are just cool things I've ran across on the internet.
I like doing things myself — I think the DIY bug is one of the best communicable diseases in the lifehack community. These eighty sites are the places I turn to when I'm trying to figure out how to accomplish any particular goal. Any time I'm facing a new project, I start searching for how-tos that will help me figure out how other people did similar things and how likely I am to finish the project with all ten fingers still intact.
---