Lesart
watelle
infographiste freelance
TipOfTheWeek - ParticleFlow pt. 2: Make cool effects using 3ds max curve editor. Demolition Master. Home Gallery Manual Tutorials FAQ Changelog Demolition Master is a 3dsmax tool based on Thinking Particles for make quick, and easy destructions.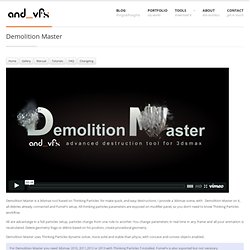 I provide a 3dsmax scene, with Demolition Master on it, all debries already connected and FumeFx setup. All thinking particles parameters are exposed on modifier panel, so you don't need to know Thinking Particles workflow. All are advantatge in a full particles setup, particles change from one rule to another. You change parameters in real time in any frame and all your animation is recalculated. VRay To Nuke - Compositing Passes. This video tutorial is about setting up your render settings in VRay to get the most of its render passes system.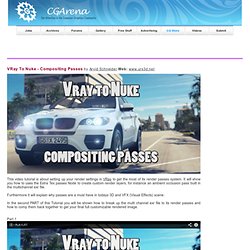 It will show you how to uses the Extra Tex passes Node to create custom render layers, for instance an ambient occlusion pass built in the multichannel exr file. Furthermore it will explain why passes are a must have in todays 3D and VFX (Visual Effects) scene. In the second PART of this Tutorial you will be shown how to break up the multi channel exr file to its render passes and how to comp them back together to get your final full customizable rendered image.
Part 1 Part 2. ICT Pour Tous. Art lesson online | Learn how to draw and paint from TheArtClasses.com. Digital painting tutorial soldier with jetpack concept art This gallery contains 2 photos.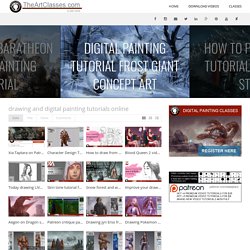 Digital painting tutorial soldier with jetpack concept art. This tutorial shows you my speedpainting process. Usually I will have some sort of a story before I start painting. Brutus' by Martin Carlsson. C o m: Ambient Occlusion with Transparency! I ran into a scene where I wanted to render an ambient occlusion (AO) pass, but certain objects were using transparency maps as cutouts.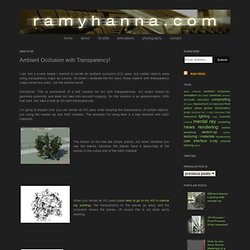 So when I rendered the AO pass, those objects with transparency maps turned out solid...not the desired result. Disclaimer: This is some-what of a half solution for AO with transparencies. AO works based on geometry proximity and does not take into account mapping. So this solution is an approximation. With that said, lets take a look at AO with transparencies. GhostTrails for 3dsmax. EnRich your renderings in a second. What is rain ?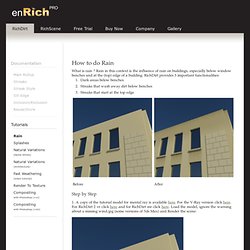 Rain in this context is the influence of rain on buildings, especially below window benches and at the (top) edge of a building. RichDirt provides 3 important functionalities: Dark areas below benches Streaks that wash away dirt below benches Streaks that start at the top edge. For 3dsmax. GhostTrails Older Plugins This page contains a number of free plugins for 3dsmax.
These are largely unmaintained and may not be available for the newest 3dsmax versions Edgemap is a procedural texture plugin that allows you to draw a line along the edges of a mesh object. The purpose of ZDeSat is to desaturate the colour of a rendered image depending on the distance that part of the image is from the camera. Raylight Games » Tools. Xrayunwrap15 Video Tutorials. Tutoriels 3D. Info Pour afficher les vidéos en haute résolution, cliquez sur le logo vimeo ou sur le titre du tutoriel afin de l'ouvrir sur le site Vimeo.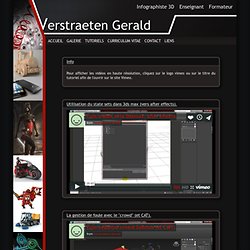 Utilisation du state sets dans 3ds max (vers after effects). La gestion de foule avec le "crowd" (et CAT). Les lampes dans 3DS max Une vidéo explicative concernant les lampes dans 3DS max. SLS AMG' by Dai Xinqi. Photoshop Texturing in 3ds Max and Photoshop by Dhilip Somesh. Changsoo Eun - animBoost. Back to home animBoost v0.8 What is it.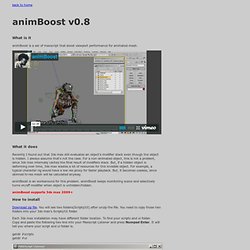 Google Traduction. ..:: Graph Concept ::..: Tutos. Dans cette page vous trouverez des tutoriaux sur 3dsMax / Mental Ray / VRay N'hésitez pas à les commenter !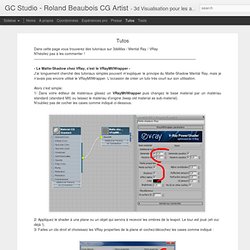 - Le Matte-Shadow chez VRay, c'est le VRayMtlWrapper - J'ai longuement cherché des tutoriaux simples pouvant m'expliquer le principe du Matte-Shadow Mental Ray, mais je n'avais pas encore utilisé le VRayMtlWrapper. L'occasion de créer un tuto très court sur son utilisation. Alors c'est simple; 1/ Dans votre éditeur de matériaux glissez un VRayMtlWrapper puis changez le base material par un matériau standard (standard Mtl) ou laissez le matériau d'origine (keep old material as sub-material).
N'oubliez pas de cocher les cases comme indiqué ci-dessous. Infinity Vision +49 30-308 314 21. Hi Guys, Welcome to new Render Optimizer V3.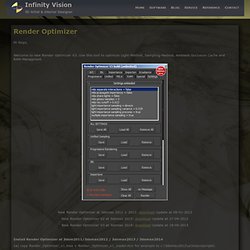 Use this tool to optimize Light-Method, Sampling-Method, Ambient Occlusion Cache and RAM-Managment. Infinity Vision +49 30-308 314 21. Photo Studio Pro (PS Pro) is a photographic exposure control tool for computer generated images. The tool is made of various mentalray shaders that are combined in a phenomenon. This phenomenon is named Photostudio_V2.mi and runs on Maya, 3dsmax, XSI in both 32bit and 64bit. Uploader Plugin for ZBrush — Verold. Step 4: Upload away! The Verold plugin provides more than simply an upload to Verold Studio. We've attempted to streamline the entire process of preparing your models for real-time viewing, providing easy step-by-step access to some very powerful features in ZBrush. In most cases, you can follow these steps in order, to merge subtools, produce UVs and textures, decimate your model, generate normal maps, then upload. Tip of the Week. Create scratched edges in 3ds max. Archexteriors vol. 17 from Evermotion.
Take a look at these 10 fully textured Asian exterior scenes with professional shaders and lighting ready to render from Archexteriors vol. 17. All scenes are prepared for V-ray 1.5 with 3dsmax 2010. All presented renders are with postproduction. PSD files are included. Boulevard Création : Hair Farm : des cheveux pour 3DS Max. << Retour aux actualités Actu proposée Mercredi 02 Décembre 2009 à 22h24 par Panther 01 commentaire. Hair Farm, une nouvelle solution de création de cheveux et autres poils pour 3DS Max vient de naître et une première démo est déjà disponible. Ashwathy par Anish Mohan. Visage réaliste de femme - Page : 4 - 3D - Work In Progress. Files : 3dSky - 3d models. Livre Blender 2.6.
Making of Underground Escalator. Vidéos P3D Lumiscaphe. Stan the Man' - Part 2 by Andrew Hakim Lee. Vidéos – Scanner portable Go!SCAN 3D. Contactez-nous | Go!SCAN 3D. Old Man' by Frederic Scarramazza. Compositing in Nuke by Narek Gabazyan. VRay Best Settings : Le bilan de l'année. MetaSL Material Library | Home. Autodesk Labs Innovation Edge Newsletter - February 2013. Miauu's Script Pack. Informations sur Rhino. 123D Creature - Blog. 3Ds Max Floor Generator - FREE PLUGIN | VRayART Arch. Viz. online training. Faceshift | face animation software: we put markerless motion capture at every desk. Le Forum • Afficher le sujet - vidéo : intro à Cycles+vidéo page3. NOX download. Making of National Assembly of Wales. Kinect Pro Face. PolyShoot | par Thomas Roussel, spécialiste de la photo panoramique et visites virtuelles sur Bordeaux. Anatomy For Sculptors.
Mitsuba - physically based renderer. Next Steps Webinar: Procedural Modeling. BadKing. Ready, Set, Render! Part2. Ready, Set, Render! Character Assets Update #3: "Picatinny" Rail Creation - Video Parts 1, 2, 3. Archives pour la catégorie 'Trucs et Astuces' - le ZBlog : Tout sur l'univers de ZBrush. Tutorials | Sorin Lupu. Making of Student Residence. V-Ray for 3ds Max Tutorial by Sergio Merêces. Bio-Machines Design & Illustration Challenge. Informations. Installation d'un serveur Linux Debian 6.0 (Squeeze) | Eolya Consulting. Art Rage chouchou de ma tablette. Cerebro : outil de management et gestion de données. // LayerPaint.com - 2d artists homepage with fresh 2d industry news //
Dedalus by Marcin Jakubowski. Danny Williams. Le ZBlog : Tout sur l'univers de ZBrush. ZBrush France : La sculpture digitale sur ZBrush et Sculptris. Démarrer avec ZBrush - le ZBlog : Tout sur l'univers de ZBrush. Introduction to MaxScript - Creating a Voxel Tree - Part 1. Faite vos jeux, sans savoir programmer ! HDRI Package #005. 3ds Max | Plugins. Making of City Life - New York Intersection. Login. Comment la simplicité peut aider la créativité, en bref. The Pixel Farm PFClean™ Introduction. Emotimo. Autodesk 3ds Max 2013 & MediaSync Interop. Zap's mental ray tips: Making Better Metal with mia_material. Box#2 Soft Bodies and Deformations | John Rand. Leap Motion. Video Tutorial : A Realistic Fruit Splash in Blender.
Main Stage Presentation - Chaos Group at CG Event Moscow 2012. Fiat Abarth - Moment Of Inspiration: Ze Zen Nurbs Modeleur ! Frank Tzeng's sketchbook - Page 11. Rendering of the Car: An Approach to a Creation of the Studio. Artistic Rendering: The Way of the Samurai. Tutos V-Ray et 3dsMax par Matt Guetta. Lightpainting: Illuminating Models.
CAO
Ressources. A suivre. Artist. Windows astuce. Making_of. Composition_image. Xtreme sport. Tattoo. 2D.
---
lesart Jul 15 2011

j'ai oublie de te remercie pour la video donc merci et tout doucement je glisse mes favoris vers pearltrees

lesart Jul 10 2011

merci, je n'ai pas encore tout compris au systeme mais sa ne serais tarde meric pour l'acceuil ;)
---