Lesart
watelle
infographiste freelance
TipOfTheWeek - ParticleFlow pt. 2: Make cool effects using 3ds max curve editor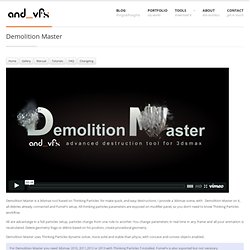 Demolition Master | and_vfx Eloi Andaluz
Home Manual Tutorials Changelog Demolition Master is a 3dsmax tool based on Thinking Particles for make quick, and easy destructions. I provide a 3dsmax scene, with Demolition Master on it, all debries already connected and FumeFx setup. All thinking particles parameters are exposed on modifier panel, so you don't need to know Thinking Particles workflow. All are advantatge in a full particles setup, particles change from one rule to another. You change parameters in real time in any frame and all your animation is recalculated.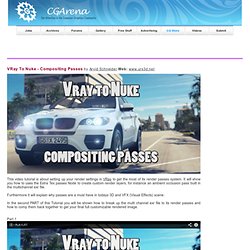 VRay To Nuke - Compositing Passes
This video tutorial is about setting up your render settings in VRay to get the most of its render passes system. It will show you how to uses the Extra Tex passes Node to create custom render layers, for instance an ambient occlusion pass built in the multichannel exr file. Furthermore it will explain why passes are a must have in todays 3D and VFX (Visual Effects) scene. In the second PART of this Tutorial you will be shown how to break up the multi channel exr file to its render passes and how to comp them back together to get your final full customizable rendered image. Part 1 Part 2
ICT Pour Tous
Brutus' by Martin Carlsson
r a m y h a n n a . c o m: Ambient Occlusion with Transparency!
I ran into a scene where I wanted to render an ambient occlusion (AO) pass, but certain objects were using transparency maps as cutouts. So when I rendered the AO pass, those objects with transparency maps turned out solid...not the desired result. Disclaimer: This is some-what of a half solution for AO with transparencies. AO works based on geometry proximity and does not take into account mapping. So this solution is an approximation. With that said, lets take a look at AO with transparencies.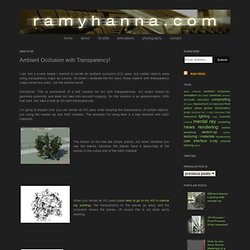 GhostTrails for 3dsmax
enRich your renderings in a second
What is rain ? Rain in this context is the influence of rain on buildings, especially below window benches and at the (top) edge of a building. RichDirt provides 3 important functionalities: Dark areas below benches Streaks that wash away dirt below benches Streaks that start at the top edge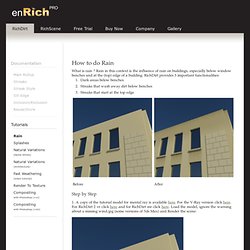 for 3dsmax
Raylight Games » Tools
Xrayunwrap15 Video Tutorials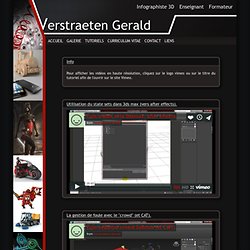 Info Pour afficher les vidéos en haute résolution, cliquez sur le logo vimeo ou sur le titre du tutoriel afin de l'ouvrir sur le site Vimeo. Utilisation du state sets dans 3ds max (vers after effects). La gestion de foule avec le "crowd" (et CAT). Les lampes dans 3DS max Une vidéo explicative concernant les lampes dans 3DS max.
Tutoriels 3D
SLS AMG' by Dai Xinqi
Photoshop Texturing in 3ds Max and Photoshop by Dhilip Somesh
Extras - JokerMartini
3dsMax C# Matcaps Materials Maxscript Mental Ray Photoshop Shaders Zbrush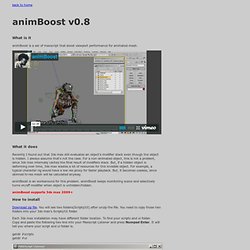 Changsoo Eun - animBoost
back to home animBoost v0.8 What is it
Google Traduction
..:: Graph Concept ::..: Tutos
Infinity Vision +49 30-308 314 21
Hi Guys, Welcome to new Render Optimizer V2. Use this tool to optimize Light-Method, Sampling-Method, Ambient Occlusion Cache and RAM-Managment.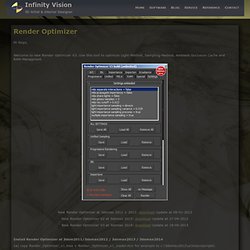 Photo Studio Pro (PS Pro) is a photographic exposure control tool for computer generated images. The tool is made of various mentalray shaders that are combined in a phenomenon. This phenomenon is named Photostudio_V2.mi and runs on Maya, 3dsmax, XSI in both 32bit and 64bit.
Infinity Vision +49 30-308 314 21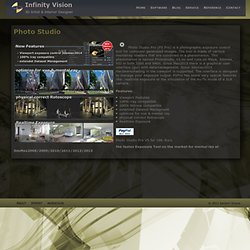 Authenticating: The first step in the plugin is to setup your account information. For this, simply copy and paste your user key from http://studio.verold.com/api . Using the plugin:
Uploader Plugin for ZBrush — Verold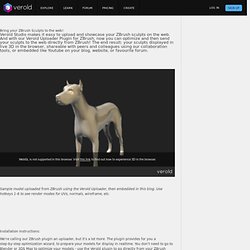 Tip of the Week. Create scratched edges in 3ds max
Archexteriors vol. 17 from Evermotion
End User License Agreement of Evermotion products To use or distribute Archmodels, Archinteriors, Archexteriors, Archshaders, Textures4ever, HDmodels, 3Dpeople, tutorials (hereinafter referred to as an "Evermotion Products") you have to accept the terms and conditions set below. Evermotion s.c. grants a limited license to use Evermotion Products for any purpose, including commercial use and redistribution, excluding following restrictions: You can not resell or copy Evermotion Products (used in your project) for a third-party, which do not have its own license for Evermotion Products.
Boulevard Création : Hair Farm : des cheveux pour 3DS Max
<< Retour aux actualités Actu proposée Mercredi 02 Décembre 2009 à 22h24 par Panther 01 commentaire. Hair Farm, une nouvelle solution de création de cheveux et autres poils pour 3DS Max vient de naître et une première démo est déjà disponible. Ashwathy par Anish Mohan
Bonjour Kazis, Je pense qu'il serait bon de diminuer la grosseur des cheveux. Du moins sur l'implantation périphérique. A vu d'oeil, je dirais qu'ils sont au moins deux fois trop gros. (On dirait du nylon piqué sur un tête de poupée) Le cerné des yeux est également un peu fort, trop rouge.
Visage réaliste de femme - Page : 4 - 3D - Work In Progress
Livre Blender 2.6
Making of Underground Escalator
Vidéos P3D Lumiscaphe
Découvrir la qualité du traitement des matériaux dans Patchwork3D Suivez l'exploration d'un produit en navigant en temps réel au plus près du modèle pour en apprécier ses moindres détails. Cette vidéo vous permet de découvrir la richesse du rendu des matériaux dans Patchwork3D, la faculté du logiciel à passer d'un produit à un autre de façon interactive et instantanée et les outils mis à disposition pour faciliter la navigation et l'exploration de vos produits.
Stan the Man' - Part 2 by Andrew Hakim Lee
Vidéos – Scanner portable Go!SCAN 3D
Contactez-nous | Go!SCAN 3D
Old Man' by Frederic Scarramazza
Compositing in Nuke by Narek Gabazyan
VRay Best Settings : Le bilan de l'année
MetaSL Material Library | Home
Autodesk Labs Innovation Edge Newsletter - February 2013
miauu's Script Pack
Informations sur Rhino
123D Creature - Blog
3Ds Max Floor Generator - FREE PLUGIN | VRayART Arch. Viz. online training
faceshift | face animation software: we put markerless motion capture at every desk
Le Forum • Afficher le sujet - vidéo : intro à Cycles+vidéo page3
NOX download
Making of National Assembly of Wales
Kinect Pro Face » Brekel
PolyShoot | par Thomas Roussel, spécialiste de la photo panoramique et visites virtuelles sur Bordeaux
Mitsuba - physically based renderer
Next Steps Webinar: Procedural Modeling
BadKing
Ready, Set, Render! Part2
Ready, Set, Render!
Character Assets Update #3: "Picatinny" Rail Creation - Video Parts 1, 2, 3
Archives pour la catégorie 'Trucs et Astuces' - le ZBlog : Tout sur l'univers de ZBrush
Tutorials | Sorin Lupu
Making of Student Residence
V-Ray for 3ds Max Tutorial by Sergio Merêces
Bio-Machines Design & Illustration Challenge
Informations
Installation d'un serveur Linux Debian 6.0 (Squeeze) | Eolya Consulting
Art Rage chouchou de ma tablette
Cerebro : outil de management et gestion de données
// LayerPaint.com - 2d artists homepage with fresh 2d industry news //
// Dedalus by Marcin Jakubowski
Danny Williams
le ZBlog : Tout sur l'univers de ZBrush
ZBrush France : La sculpture digitale sur ZBrush et Sculptris.
Démarrer avec ZBrush - le ZBlog : Tout sur l'univers de ZBrush
Introduction to MaxScript - Creating a Voxel Tree - Part 1
Faite vos jeux, sans savoir programmer !
HDRI Package #005
3ds Max | Plugins
Making of City Life - New York Intersection
Login
Comment la simplicité peut aider la créativité, en bref
The Pixel Farm PFClean™ Introduction
emotimo
Autodesk 3ds Max 2013 & MediaSync Interop
zap's mental ray tips: Making Better Metal with mia_material
Box#2 Soft Bodies and Deformations | John Rand
Video Tutorial : A Realistic Fruit Splash in Blender - Tutorials
Main Stage Presentation - Chaos Group at CG Event Moscow 2012
Fiat Abarth - Moment Of Inspiration: Ze Zen Nurbs Modeleur !
Frank Tzeng's sketchbook - Page 11
Rendering of the Car: An Approach to a Creation of the Studio
Artistic Rendering: The Way of the Samurai
Lightpainting: Illuminating Models