Tech in Ed
CeLT / LRT Learning Technologies Review | A blog about choosing new learning technologies at MMU. In February, MMU's ICT Strategy group and Executive approved a set of recommendations for upgrading the university's learning technologies to support a step-change enhancement in the quality of assessment and learning for students and staff.
Proposals were developed by the Learning Technologies Review project group, steered by the DVC Student Experience. The group's proposals were informed by HEFCE and MMU policy, advice from JISC and Gartner, evaluations of current systems, focus groups, faculty road-shows, email suggestion boxes, user testing of possible solutions and input from Academic Development Committee. The group presented its findings through a set of scenarios, which set threshold aspirations for staff and students. Educational Technology. 8 FREE Online Computer Science Courses for Beginners and Advances Users. EmailEmail Many people want to learn computer science, but not many can afford to do so at the best institutions.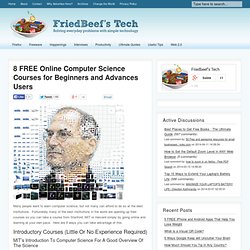 Fortunately many of the best institutions in the world are opening up their courses so you can take a course from Stanford, MIT or Harvard simply by going online and learning at your own pace. Here are 8 ways you can take advantage of this. Introductory Courses (Little Or No Experience Required) MIT's Introduction To Computer Science For A Good Overview Of The Science.
20 Surprising Stats About Technology Use In College | Education Technology, Apps, Product Reviews, and Social Media – Edudemic. The Current State Of Technology In K-12 6.76K Views 0 Likes What is the next device most students will soon purchase?
How many schools have a digital strategy? Find out in the current state of technology in K-12. How Online Education Has Changed In 10 Years. Teachers' Comprehensive Guide to The Use of Social Networking in Education. Part One Update : Part Two has been posted.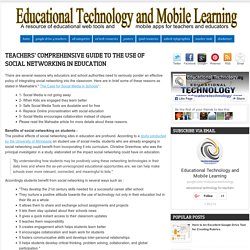 Click here to read it It is a fact universally ackowledged that Internet has radically changed the way we percieve of the world. Reality has been supplanted by virtual reality and geographical borders have dissolved to give birth to a highly interwired world where the information travels both poles in a matter of a click. This drastic change brought about by Internet has touched upon every facet of our life and most important of all on education. 15 Current Technologies A Child Born Today Will Never Use. From the moment that I found out my wife was pregnant with our first child, a son, I've thought of his development in terms of tech.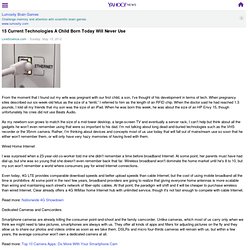 When pregnancy sites described our six-week-old fetus as the size of a "lentil," I referred to him as the length of an RFID chip. When the doctor said he had reached 1.3 pounds, I told all my friends that my son was the size of an iPad. When he was born this week, he was about the size of an HP Envy 15, though unfortunately his cries did not use Beats Audio. Flipped Classroom: The Full Picture for Higher Education. The Flipped Classroom, as most know, has become quite the buzz in education.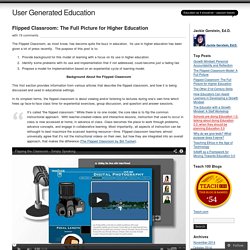 Its use in higher education has been given a lot of press recently. The purpose of this post is to: Provide background for this model of learning with a focus on its use in higher education.Identify some problems with its use and implementation that if not addressed, could become just a fading fad.Propose a model for implementation based on an experiential cycle of learning model. Background About the Flipped Classroom This first section provides information from various articles that describe the flipped classroom, and how it is being discussed and used in educational settings. 20 ways of thinking about digital literacy in higher education | Higher Education Network | Guardian Professional.
Josie Fraser, social and educational technologist, Leicester City Council First define what you mean by digital literacy: The definition I most frequently use is this one: digital literacy = digital tool knowledge + critical thinking + social engagement.
Then it's worth knowing its main characteristics: • It supports and helps develop traditional literacies• It's a life-long practice• It's about skills, competencies and critical reflection on how these skills and competencies are applied• It's about social engagement Top tips for developing the digital literacy of non-traditional students: Begin by exploring the ways in which the group are already using mobile and web based technologies. Many of them will already be engaging with tech for personal use, for example Skyping relatives, keeping in touch on Facebook or using mobile phones.
Curating. Top 100 Tools for Learning 2011. Youtoo Puts You on TV With New Facebook App. Youtoo, which bills itself as the world's first Social TV Network, has just released a new Facebook app that allows users to be on TV.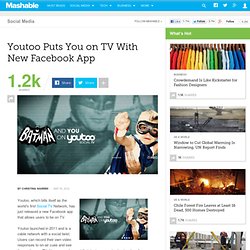 Youtoo launched in 2011 and is a cable network with a social twist. Users can record their own video responses to on-air cues and see themselves on TV. Users can also post their text comments about a show for on-air inclusion. Nearpod. CristinaSkyBox.
---