US / UK Senseis
Get flash to fully experience Pearltrees
Forms & Documents
Associates and Bios Our Leaders Our People Associates Pascal Dennis P.Eng, M.Eng. Open mind, Teamwork, Challenge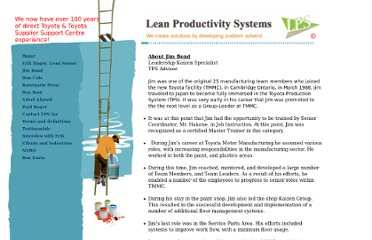 About Jim Bond Leadership Kaizen Specialist TPS Advisor Jim was one of the original 25 manufacturing team members who joined the new Toyota facility (TMMC), in Cambridge Ontario, in March 1988. Jim traveled to Japan to become fully immersed in the Toyota Production System (TPS).
New Horizons for Lean Thinking November, 2010 Chesford Grange Hotel, Kenilworth, Warwickshire, CV8 2LD, UK The Lean Summit 2010 brought together some of the best lean pioneers to share their hard won experiences of what works and what does not.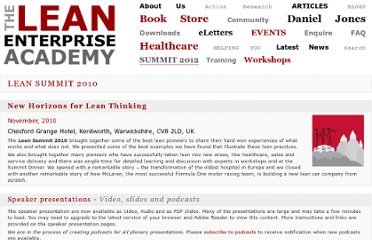 [Current Projects] [Past Projects] [Working Papers] [Books] [Journal Publications] [Conference Papers] Current Projects "Montana Healthcare Extension Program" -- This is a new initiative to set up an outreach program to regional healthcare organizations, with the aim of helping them improve the efficiency and quality of their operations. Lean Product and Process Development -- An ongoing project to disseminate principles, tools and practices of LPPD that are knowledge-based and learning-centered, and to initiate research projects within companies at various stages of implementation. The Lean Product and Process Development Exchange has been established to further these aims on a national and international level.