US Lean Blogs
Rating: 5.0/5 (1 vote cast) We live in a world overwhelmed with waste, and many supply chains suffer the effects of it daily. Luckily, there are many tools out there used to target and eliminate that waste. My personal favorite is the process map in the form of a swim lane diagram. It clearly identifies responsible parties and the points in the process at which they are involved.
How To Create a Swim Lane Diagram | The Lean Logistics Blog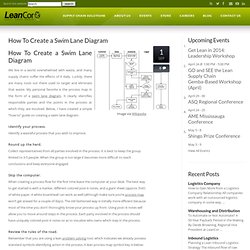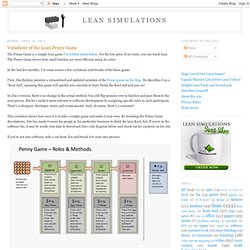 Lean Simulations
The 5S Alphabet Game - Online Version! Learn basic 5S concepts using this on-line 5S simulator. If any of you have used the 5S Numbers Game for training (find it here), you'll recognize the basic idea! This is basically an on-line version of the 5S Numbers Game, only with letters! Thanks to a comment on the 5S Numbers game page by Mo De (sorry it took so long to respond!), I was led to this blog, 5salphabetgame.blogspot.ca, where you can find the alphabet version in all it's on-line glory.
Tera TPS - Toyota Production System
And here's what I want you to know… In the previous post I talked about how to have a successful plant tour and how to get the most information out of the visit. Today's post shares the tricks of the trade on what things the plant does NOT want you to know about.See through the ruse during a plant tour and discover how good the plant really is. Update: Due to popular demand i have added a Lean Shop Floor Visit Checklist. While this post could be used by plant managers as instructions to misguide their visitors, in my experience the plant managers know this anyway.
How to misguide your visitor - or what not to pay attention to during a plant visit! | AllAboutLean.com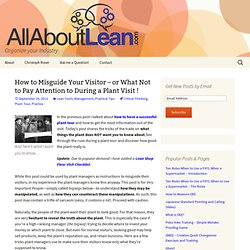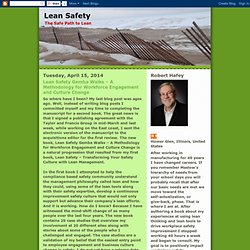 You can continuously cope or you can continuously improve – the choice is yours. Managers who spend their days putting out one fire after another are masters of coping. They go home from work exhausted but feeling good about themselves because they managed to overcome the problems and difficulties that arise constantly in businesses that fail to train their managers to become process focused leaders. Fixing things rather than improving processes dominates each of their work days.
Lean Safety
Toyota's journey from Waterfall to Lean software development Guess what. Toyota uses the waterfall method for software development – and now they're trying to figure out how to go Lean. Surprised? So was I! My lean study tour to Japan in April 2009
s Blog » waterfall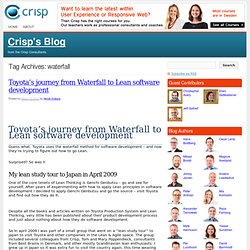 Learn Lean Manufacturing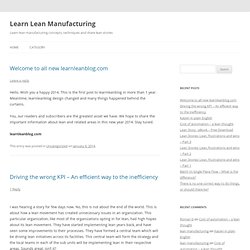 (This is the part 3 of a 3 part series. Please read the part 1 and part 2 of this story here.) Everyone has left the workplace. It is kind of scary to be in this place once everyone leaves and most of the lights are turned off.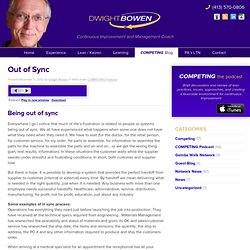 Everywhere I go I notice that much of life's frustration is related to people or systems being out of sync. We all have experienced what happens when some one does not have what they need when they need it. We have to wait (for the doctor, for the retail person, for customer service, for my order, for parts to assemble, for information to assemble the parts for the machine to assemble the parts and on and on….or we get the wrong thing (part, test results, information). In these situations the customer waits while the supplier sweats under stressful and frustrating conditions. In short, both customer and supplier lose.
Out of Sync - Dwight Bowen - Synchronizing Consultant
A3 | A3 Thinking | Toyota PDCA | A3 Problem Solving | Lean Manufacturing
Most problems are dealt with in superficial ways. Very few people and organizations actually arrive at the root cause of their problems. At Toyota, they employ Root Cause analysis in almost everything they do.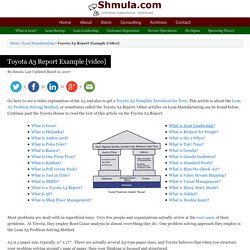 Lean Pics
Lean Insider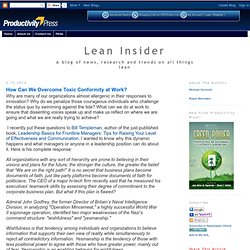 Nick Katko recently published a book titled The Lean CFO: Architect of the Lean Management System, and it fully explains why chief financial officers (CFOs) must rethink their traditional management accounting systems. During a recent conversation, I explicitly asked him: "What are the basic reasons why a CFO, who works for a company engaged in a Lean Initiative, must become a Lean CFO?" Here is his complete reply:
Lean Simulations
Lean Thinking
By Pascal Dennis Deployment leader, Pacemaker, Key Thinking Guy/Gal, Chief Engineer -- these are all synonyms for this critical role. As a chemical engineer, I see the role as akin to an enzyme in a chemical reaction.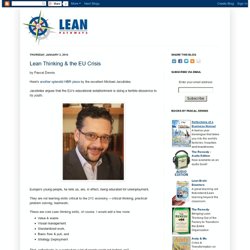 www.Leanleaders.org/home
Walk The Gemba
So today I sit thinking about multiple discussions that I have had during the past week of work. There have been numerous conversations as to how we want 2012 to be the "Year of the Patient" and what that is going to look like. Ultimately, we are here to provide timely, safe, respectful, high quality healthcare services to our customers and their families. The questions start in my mind: What needs to happen? What needs to change? What supports need to be put in place?
Gallery In the Business Value Modelling session at the XP users group 6 teams created a Business Value Model for a mobile phone company struggling to keep customers and regulators happy while reducing call center costs. In the final step, each team had to create a poster that they could use to guide their decisions and to explain the reason behind the project.
Lean | Thinking for a Change
Lean America
Everyone enjoys working with a well run company, whether it is Southwest Airlines or Harley Davidson. People enjoy efficient, effective organizations. The question is, why can't government operate under the same business principles that the private sector does? Lean America is all about helping government organizations throughout America learn and implement lean thinking; by empowering their workers to continuously improve, eliminate waste, and to add value for all Americans.
Gemba walk
"Gemba" is a word from Japanese language [現場] which is meaning of "go to the place, look at the process, talk with people!". There are some explanation as below, 1. Learning model.
Agile Manufacturing Update
Lean For Everyone
Hank Czarnecki's Blog - Auburn Works
Lean Blog: Gotta Go Lean
Got Boondoggle?
Lean Homebuilding
Lean Software Engineering
Improve With Me | Personal and professional development with Lean & Project Management emphasis
Lean Reflections
A3 Thinking
What Could Be Easier? The 4 Step Deming Cycle | Lean Leadership
Learning about Lean
Old Lean Dude
Curious Cat Management Improvement Blog
My Flexible Pencil
Beyond Lean
Evolving Excellence
TWI Blog - Training Within Industry
The Lean Library
Gemba Tales
Lean Blog — Mark Graban's leanblog.org, Lean Manufacturing, Lean Healthcare, Toyota Production System
Lean Is Good
TimeBack Management
Lean Manufacturing Blog, Kaizen Articles and Advice | Gemba Panta Rei
Lean Laboratory
The Lean Thinker
Jamie Flinchbaugh — on lean culture, transformational leadership, and entrepreneurial excellence
2006 April | Daily Kaizen
How to implement "Lean Thinking" in a Business
Lean Enterprise Leadership Information and Resources : Lean CEO