US Lean Blogs
I'm admittedly a bit of a 5S curmudgeon. I blame it mostly on the fact that I have routinely witnessed well-applied 1S, 2S, and 3S, evaporate in the absence of any meaningful 4S. It's like so much in lean, when we fail to understand that any technical change requires a management change, bad things happen. In other words, the first 3S's matter little if we don't do some of the things that 4S requires – assigning 3S responsibilities, integrating 3S duties in regular work duties, and checking on 3S maintenance levels (not to mention preventing things from getting dirty in the first place). Here, our guest-blogger, Tony Ferraro, talks about another critical part of the fourth S – standardizing the lines, labels, shadows, presentation, etc. that was developed beforehand.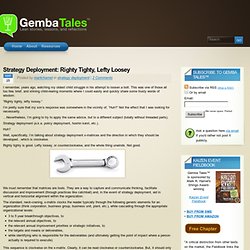 Gemba Tales
Rating: 5.0/5 (1 vote cast) We live in a world overwhelmed with waste, and many supply chains suffer the effects of it daily. Luckily, there are many tools out there used to target and eliminate that waste. My personal favorite is the process map in the form of a swim lane diagram. It clearly identifies responsible parties and the points in the process at which they are involved.
How To Create a Swim Lane Diagram | The Lean Logistics Blog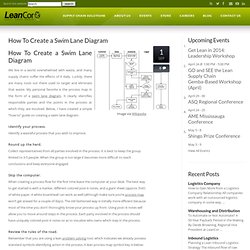 Lean Simulations
Tera TPS - Toyota Production System
Leader Standard Work | Gemba Tales
Lean Safety
Toyota's journey from Waterfall to Lean software development Guess what.
s Blog » waterfall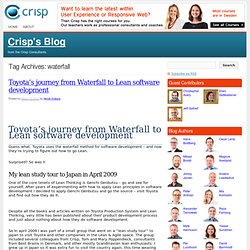 Learn Lean Manufacturing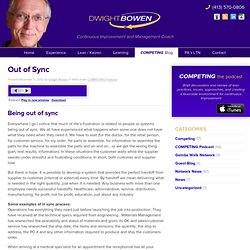 Everywhere I go I notice that much of life's frustration is related to people or systems being out of sync.
Out of Sync - Dwight Bowen - Synchronizing Consultant
A3 | A3 Thinking | Toyota PDCA | A3 Problem Solving | Lean Manufacturing
Most problems are dealt with in superficial ways. Very few people and organizations actually arrive at the root cause of their problems. At Toyota, they employ Root Cause analysis in almost everything they do.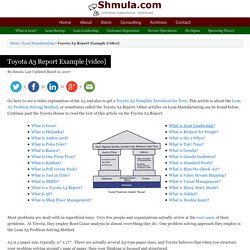 Lean Pics
Lean Insider
Lean Simulations
Lean Thinking
www.Leanleaders.org/home
Walk The Gemba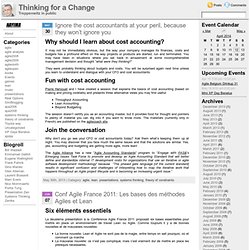 Gallery In the Business Value Modelling session at the XP users group 6 teams created a Business Value Model for a mobile phone company struggling to keep customers and regulators happy while reducing call center costs. In the final step, each team had to create a poster that they could use to guide their decisions and to explain the reason behind the project.
Lean | Thinking for a Change
Lean America
Gemba walk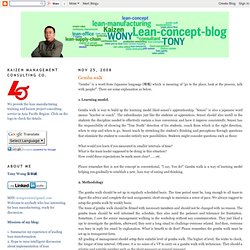 "Gemba" is a word from Japanese language [現場] which is meaning of "go to the place, look at the process, talk with people!".
Agile Manufacturing Update
Let's take a trip in the Wayback machine. Remembering back to my High School days (yes I'm part of the over 40 crowd)
Lean For Everyone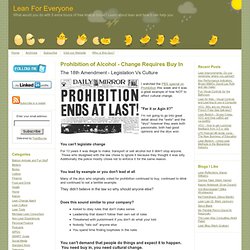 Hank Czarnecki's Blog - Auburn Works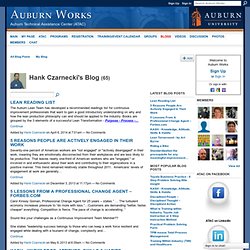 5 Reasons People Are Actively Engaged In Their Work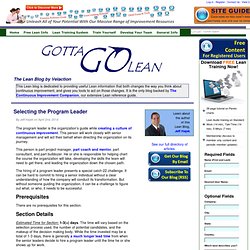 By Jeff Hajek on January 8th, 2014 Notes from Jeff: We've made some great gains in our website's performance, thanks to your feedback and loyalty.
Lean Blog: Gotta Go Lean
Got Boondoggle?
Lean Homebuilding
Lean Software Engineering
Improve With Me | Personal and professional development with Lean & Project Management emphasis
Lean Reflections
A3 Thinking
Welcome to the A3 Thinking Blog.
A Lean Journey
Plan – Do – Check – Act That's not asking a lot, is it? You have just implemented a big change that should save your company a lot of time and money.
What Could Be Easier? The 4 Step Deming Cycle | Lean Leadership
Learning about Lean
Old Lean Dude
Curious Cat Management Improvement Blog
My Flexible Pencil
Beyond Lean
Evolving Excellence
By Kevin Meyer
TWI Blog - Training Within Industry
The Lean Library
Gemba Tales
Lean Blog — Mark Graban's leanblog.org, Lean Manufacturing, Lean Healthcare, Toyota Production System
Lean Is Good
TimeBack Management
Lean Manufacturing Blog, Kaizen Articles and Advice | Gemba Panta Rei
Lean Laboratory
The Lean Thinker
Jamie Flinchbaugh — on lean culture, transformational leadership, and entrepreneurial excellence
2006 April | Daily Kaizen
I have decided to make Friday Quote day for the LEAN blog and will use this day to share some of my favorite quotes. I also believe that others have always said things better then I can so I will steal without shame.
How to implement "Lean Thinking" in a Business
Lean Enterprise Leadership Information and Resources : Lean CEO