Liens lean en france
Home | Lean Global Network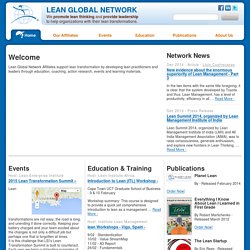 2014 Lean Transformation Summit » Map Data Map data ©2014 Google, INEGI Customers are the reasons our companies exist. And customers have never, as Jim Womack has noted, offered to pay more for a product or service because we've put more management in it. But continuously improving management systems – from product development to problem solving, from capability development to leader development, – allow our companies to provide better value to customers in the form of better quality, more reliable delivery, better service, and lower cost.
We are all trying to transform. That's what lean thinking and practice are all about: challenging us to reflect deeply on how we can improve this situation, improve my organization, or improve myself (and of course, all three.) Each of us knows from experience that this work is never easy.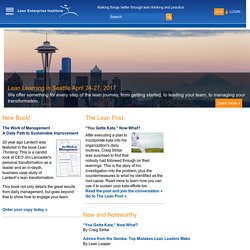 Le Club Lean Aquitaine a été créé en 2010 par Aquitaine Développement Innovation et A2C (Aquitaine Amélioration Continue de la Compétitivité), en partenariat avec l'Institut Lean France. L'objectif du club est de contribuer à l'amélioration de la compétitivité des entreprises aquitaines déjà engagées dans des démarches de Lean Management en facilitant l'échange des bonnes pratiques. Il est ouvert aux entreprises (y compris de service) ayant déjà engagé une démarche Lean, ainsi qu'aux consultants, organismes de formation initiale et continue, institutionnels régionaux, groupements associatifs ayant une activité dans ce domaine. Fin 2012, le Club Lean Aquitaine compte 85 membres, dont 60 % dans des entreprises. Un comité de pilotage composé d'Aquitaine Développement Innovation, A2C, trois entreprises et un consultant, définit les actions du club et fait appel à des experts pour maintenir une veille.
Club LEAN Aquitaine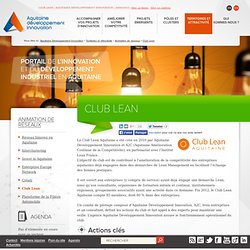 relais_lean_centre - Actualités Odyséé 2013 La CCI Centre organise, le 26 septembre prochain à Orléans, la 3ème édition du forum régional pour le développement international des entreprises : Odyssée 2013 [...]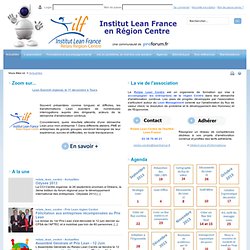 Réseau des CCI en région Centre -  / Accueil
The Lean Edge
Question of the moment The Lean Edge: How do you make time for improvements? As CEO of my company I have a grasp of lean and have experienced it in my career, but now that I'm CEO, I find it difficult to ask my people to make time for improvement work. They're already completely busy doing their regular work. Moreover, this company is in the outdoor sports industry, and many people join these companies because they want time to climb, backpack, canoe, etc., and I'm reluctant to ask them to work more hours and sacrifice time for these activities. Any advice?
Projet Lean Entreprise - WebHome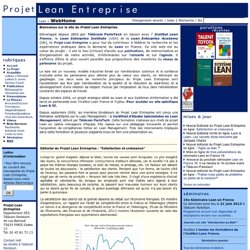 Développé depuis 2003 par en liaison avec l' , le (USA) et la (UK), le a pour but de contribuer à fédérer la recherche et les expériences pratiques dans le domaine du en France. Ce site web est au coeur du projet : il est le lieu (virtuel) d'accès aux , de mémorisation et d'organisation de notre activité, d'information sur et sur . Il s'efforce d'être le plus ouvert possible aux propositions des membres du du projet. Le lean est un nouveau modèle industriel fondé sur l'amélioration continue et la confiance mutuelle entre les partenaires pour délivrer plus de valeur aux clients, en éliminant les gaspillages. Les deux axes de recherche principaux du Projet Lean Entreprise sont l'accélération des flux (par l'amélioration de la qualité et la réduction du lead-time) et le développement d'une relation de respect mutuel par l'implication de tous dans l'amélioration constante des espaces de travail.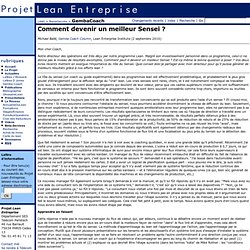 Projet Lean Entreprise - GembaCoach
Michael Ballé, Gemba Coach Column, Lean Enterprise Institute (2 septembre 2010) Mon cher Coach, Notre directeur des opérations est très déçu par notre programme Lean. Malgré son investissement personnel dans ce programme, celui-ci ne donne pas le niveau de résultats escomptés.